The Jazz aren't playing in these exciting 2014 Playoffs, but that doesn't mean there aren't some Jazz interests at stake.
Every year, once the Jazz's season is done, I try to figure out who wins my temporary loyalty. The calculation is multifaceted and not always straightforward, but I've learned over the years what are the things I look at when choosing a playoff horse to bet on, with my ultimate rooting interest at the core of my logic.
You might have your own Jazz-related rooting rules. Mine are based on a few principles.
The ascent
I'm a big believer that teams have to learn to climb the playoff ladder. A team that starts to figure out the secret sauce now could present an obstacle if the Jazz get ready to start competing in the next few years.
This is especially true for young teams and teams in our division and conference. For example, I genuinely like a lot of guys on Portland's and OKC's rosters, but they are clearly teams on the rise with young cores. Them cracking the code now is going to make it harder for the Jazz to carve their own way to playoff relevance.
This is why I tend to be more generous with my rooting where veteran teams with (ostensibly) narrowing windows are concerned. Put another way, if the Spurs or Mavs win, that does nothing to necessarily impede the progress of the 2017 Jazz. Houston learning how to win, though, might.
Philosophy
While we're on the subject of Houston, the Rockets are a perfect example of a team I root against because I can't buy into who they are.
I am not wild about Houston mostly because I can't subscribe philosophically. To me, the Rox are a caricature of an analytics-based team, starting from a place that's principled and heady, and then embracing it so dogmatically that they become a parody of the mindset. Their players either don't have or don't exercise any freedom to qualitatively determine what makes a shot "good" or "bad," so they become a team of iso-improvisers and long distance huckers.1
Some people find them fun to watch, but I don't. There's nothing intellectually satisfying about watching a bunch of "1-4 flat" or 26-foot bricks, and many of their players' effectiveness is predicated on being able to sell/manufacture/feign contact2. It's also hard to believe in a team whose best player gives nary a damn whenever the ball's on the other side of the midcourt line.
Maybe it's just a mechanism for limiting cognitive dissonance on my part — I believe there are right ways & wrong ways to be successful, so I prefer to see teams succeed who don't force me to question my own basketball beliefs. But there are several teams who I must dock points because I find them to be fundamentally flawed. This year's Mavs get a bit of that treatment because of their jump shot reliance and aversion to defense. OKC's playground-style play-calling costs them some loyalty points from me.
The-good-guy factor
This one is as simple as you think. There are guys that are easy to root for. And then there are guys that I really would hate to see dancing in champagne in June.
I know there are Jazz fans who can't stand Tim Duncan or Manu Ginobili, but I'm here to tell you there aren't many classier guys in the NBA than those two. It's hard not to root for Paul Millsap with his lunch pail. Pretty much the entire Portland starting five are, by all accounts, really good dudes. Jose Calderon is ridiculously affable and down-to-earth.3
Conversely, it's hard to root for perceived villains, or at the very least guys we perceive to be self-absorbed and egotistical, lacking respect for their opponents. I'm sure we all have our perceived bad guys for whatever reason.
Sometimes it gets complicated, though. I really like Kevin Durant but find Russell Westbrook a bit off-putting (to say nothing of infamous-to-Jazz-fans Derek Fisher). Steph Curry is supposedly a really nice guy, but I've spent enough of his career rooting actively against his team for Jazz reasons that I've learned to assign him a villainous persona. I might like Chris Paul, but like most of the basketball world I find Matt Barnes annoying and often thug-like. In those types of cases I'm mostly just ambivalent once a team has several good dudes intermingled with a few bonehead types.
This is where a lot of Jazz fans factor in their wishes (good or bad) for former Jazz players, but I don't get too caught up in that. I mean, it may be a little bittersweet, given the way his Utah career ended, to see Deron Williams hoist a trophy, but I don't care that much about that. I'd far prefer a parade for D-Will than for the smug Mark Jackson, with his long list of offenses against Jazz faithful4. It's fun to see guys like Wesley Matthews, Devin Harris and Andrei Kirilenko do well, but that's mostly because they're just good guys in an overall sense.
The Miami postulate 
Finally, there are teams I can't root for because of what their very existence could mean to the Jazz in terms of building a contender. The best of example of this is in South Beach.
If Miami fails to win a title this year, then they'll go into this summer looking for ways to reset given that 75% of their roster is arguably on the decline. They may even lose one or more of their Big Three, but even if they don't, they're going to be left searching for answers.
But if they win… Now you have a team that has been to four straight Finals (winning three) and you'll start to see some anxiety from other teams. You could even have a coat-tail effect (like the 2004 Lakers), and suddenly 29 other teams start to think there's no way to unseat them without assembling their own superteam. Organic team-building starts to look like an obsolete way of creating a contender, and deep-pocketed teams will get involved in an arms race to assemble their own mega-roster.
That is decidedly bad for small-market teams like Utah, whose best chances of building a multi-star roster require drafting with precision, and then applying patience while you develop internally. Unless you want the next 10 years to feature 5 or 6 big-market superteams duking it out while most of the league fights for scraps, it's probably wise to root against that model.
That's why it's a lot easier to get behind teams like OKC or Indy, two squads that became contenders by absolutely nailing their draft picks, making well-timed trades and astute signings to add leadership & complementary pieces, and then waiting for it all to congeal with patience & principle.
The Miami criterion, then, is me asking myself: if this team wins, could it change the way teams respond to the competitive landscape in way that adversely affects the Jazz? Does a certain team winning validate Utah's path? Or somewhere in between?
Coaching fallout
This isn't a huge consideration for me, but if the right or wrong teams lose early, it could effect the coaching market during what could be one of the most important hires the Jazz will ever make.
Unless you believe that a guy like Frank Vogel or Scott Brooks will land in Utah5, then an early out by their teams could create one more job opening Utah has to contend with (demand) without really adding a name to their own list (supply). We'll already be competing with two high-profile job openings in New York and Chicago, so having our candidates eyeing jobs in OKC, Indy, Chicago, etc. might not help land the guy we need.
So what does all that mean for my own personal rooting guide? Here, with zero regard for reality or likelihood, is a ranking of who I'd most/least like to see go all the way.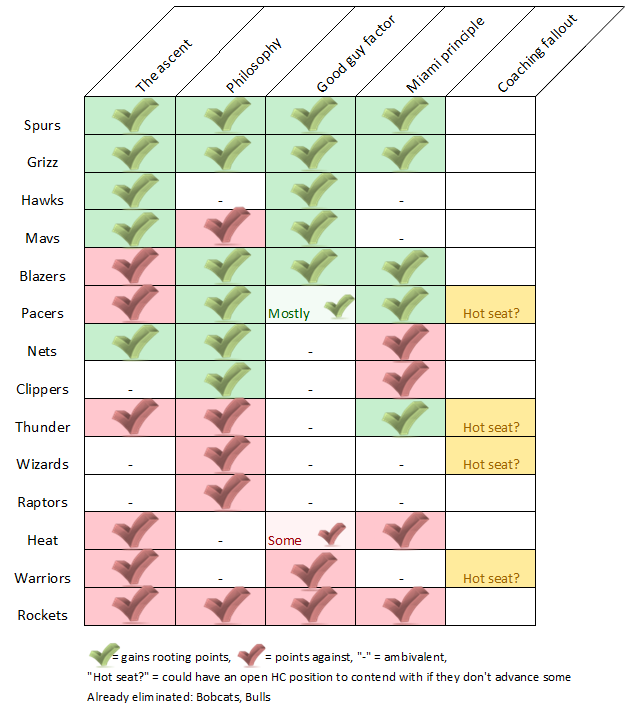 What does your rooting guide look like? Who would you like to see win or lose, and based on what factors?
Other random playoff thoughts:
The road success of teams this year has everybody singing the parity tune, which I agree with. But it's also a great proof point for something I've been saying for a long time: home court isn't as vital to winning a series as many people think. Series are almost never decided entirely by venue. We have now had 90 straight NBA playoff series where the winner won at least once on the loser's floor. NINETY!! In fact, if we add the previous 150 series (10 years) to this year's eight series so far, you wind up with just 1.9% (3 out of 158) of those instances where the series followed the "home team wins" script. The moral of the story – you just gotta win games in the playoffs, no matter where you are. Most playoff teams have at least .500-ish road records, so let's not pretend winning on the road in the postseason is rare, or that being at home insulates you from a tough battle.
There have been eight overtime games already, and cumulative scores have been ridiculously close through Wednesday's games. Toronto is +4 over Brooklyn. SA has a series lead despite each being -7 against Dallas, and Memphis was in the same boat until last night. Portland leads Houston 3-2, but is -3 in the cumulative point count, and Indy leads Atlanta by ONE POINT (!!!). Only Miami, Washington and the Clippers6 are enjoying lopsided point totals.
The downside of close games is that TV audiences have spent a lot of time watching three guys hunch over monitors. The video review procedures are sucking some momentum out of a bunch of really passionate NBA games. What's worse is when they spend all this time looking at the screen and still can't react to obvious evidence of a missed call because it's outside of review parameters. The NBA has to take a broader look at review this summer, including empowering their refs to get it right without killing the flow of the game.