Joe Ingles is arguably the greatest Jazz man to ever play in Salt Lake. 
Perhaps that's a bit hyperbolic, but Ingles has become a revered figure, a perfect staple in the Utah Jazz culture and environment. Why? A flashback to a specific moment in the 2017-18 NBA season perfectly illustrates the value of Jinglin' Joe as he demonstrated every aspect of why Utah loves him: service, toughness, and threes, all in the span of a few days.
March 15: Service
Landon Carter, age 10, was born legally blind without irises. He can see things that are super up close to him, but everything else is a blur. Take a minute to visualize that; living in Utah that means no fall colors in the canyons, no winter snow flurries, no red and orange sunsets… and no Jazz games.
Last April, Landon and his Dad came to a Jazz game where the team provided Landon with special goggles to watch the game live and without a blur or hiccup. Unfortunately for the Carters, the goggles stay at the arena to help others who are visually impaired.
That's where Ingles stepped in.
Ingles met Landon and his father, Ryan, on their first visit to the arena and was touched by the youngster's story. So he forked out $10,000 to give a personal pair of electronic glasses from eSight as a gift to his buddy. Ingles met with Landon before the Jazz's March 15 game against the Suns, and then gave Landon a front row view – in every definition of the word – to watch Joe light it up. Carter got to watch from up close as his new friend Joe drained four of his seven three-point attempts that night. Imagine that. 
"The level of him (Ingles) giving back to the community is huge," Ryan Carter told the Salt Lake Tribune. "It's not just, 'Here's a few dollars,' it's being invested in the community and really giving back."
Ingles insists that helping Landon was a no-brainer. "He's just a regular kid, and wants to play like the rest of the kids and sit in the back of class. To be able to give an opportunity to do that was just something I couldn't not do. To be able to walk down the street and look at the trees or see his friends, it means a lot. It was awesome to see him and his dad. Pretty special."
"He's a great shooter," Landon said of Ingles. "That's what I really like about him. And he's just, like, really, really nice."
March 15: Toughness
That same evening, with the Carters in attendance, Ingles did a little bit of everything to help the Jazz beat Phoenix. He finished with 17 points, two rebounds and three assists in 31 minutes, and the Jazz were +24 with Ingles on the court. His biggest contribution, in my opinion, didn't show up in the box score.
After Jared Dudley and then Marquese Chriss each took Ricky Rubio down with blindside hits, Ingles was, as usual, the first to show up and stick up for his teammate. Notice how he jumps over players to confront Chriss and has to be bear-hugged away by a coach. Minutes later, he applauds once Chriss and Dudley are ejected. Simply put: notice the passion.
Look, I'm not condoning violence or fighting, but I do love players who stick up for their teammates. The Jazz do seem to draw the frustration of opponents on a regular basis, perhaps because they get under people's skins with their style of play on both ends, or perhaps because of the attitude, the chip on the shoulder of some Jazz players. Whatever it is, they do take some heat and I love that Ingles wants to do something about it.
What makes it all the more meaningful  is that this is an inherent attribute with Joe. He doesn't hesitate. He doesn't wait. It's his initial reaction because he is physical, tough but also supportive and caring towards those in his corner. It is who he is to stand up for someone he cares about. This incident versus Phoenix is just a drop in the bucket of what he did for his teammates this season. 
March 17: Threes
As if that combination of touching and tough weren't enough, a few days later Ingles made Utah Jazz history with a simple flick of the wrist. Against Sacramento, the forward did what he does best, nailing a three with just three minutes remaining in a close game. The shot gave Utah enough oomph to get over the hump for their ninth straight win and 21st in a stretch of 23 games. This three was particularly important, though: it was his 179th of the season.
Randy Foye set the franchise record in 2012-13 when he connected on 178 triples, but the record was bound to be broken with the way Ingles had shot in his Utah Jazz career. 
By the end of the 2018 regular season, Ingles ended up with 204 triples on 44 percent shooting. He essentially matched last year's percentage (44.1%), but did so on 5.5 attempts per game compared to 3.5 last season. Compared to his peers, Ingles ranked 4th overall in 3-point percentage (better than Kyle Korver and Steph Curry) but tied for 1st in percentage when ranking those with over 350 attempts (with Klay Thompson). It was monumental for Ingles to crack 200 for the Jazz franchise, but that number also put him in the top 10 for the regular season makes, ahead of shooters like Bradley Beal, J.J. Redick, and C.J. McCollum. Dennis Lindsay proclaimed Ingles a top-10 small forward and one of the best shooters in the game. 
Watch a Jazz game and you see the value, especially beyond the arc. He loves drifting to the corner and popping that left elbow out for a deep swish. When you break his shot selection down further, you learn that Joe indeed loves the three but now the stats back it up. Triples account for 67 percent of his shots. Half of those deep bombs are catch and shoot, of which he makes two of his 4.2 per game. NBA Stats also prove his quick release as he shoots within two seconds of catching the ball 53% of the time. Per NBAsavant, check out all the dippin' dots that pepper the arc: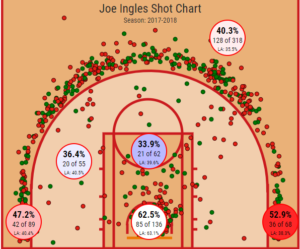 P.S. For some added (and humbling) perspective, Steph Curry holds the All-Time NBA record for threes in a season with 402. He's also in second place with 324… and third place with 286. Ingles' 204 puts him in a 5-way tie for 60th All-Time. (Mitch Richmond 1996-97, Gerald Green 2013-14, J.R. Smith 2015-16 and Ryan Anderson in 2016-17). #TheMoreYouKnow
Putting it all together
I love Joe Ingles.
Yes, we all love rookie sensation Donovan Mitchell and Rudy Gobert, Utah's own "Stifle Tower," but Joe is my cup of joe. We haven't even touched on his defense or intangibles, his ability to switch positions, his unique NBA origin story, the crafty and lazy way he gets into the lane, his middle-age math teacher look, or any of those other details that make Joe so endearing. In short: he embodies Utah, the Jazz, the front office, and community while setting the tone for his teammates and the locker room. 
And, when he's not too busy doing all of that, he even has time to double-thumbs-up the cake my wife made for my last birthday.
Ingles had his best year yet as an NBA player by many measures, but the stats aren't what make the versatile forward such a cherished figure in Utah. His personal, and unique, approach to service, his tough attitude and his prolific shooting, on the other hand, do.
In the 2017-2018 season, all three were on display regularly.