1. On a scale of 1 – 10 (1 being absolutely no agreement and 10 being complete agreement), how closely do you agree with the front office's decisions this summer?
Aaron Hefner: 6. While I don't think the Jazz needed to make any major roster changes this summer, I do think the Jazz could have and should have added some proven bench players (PG, PF, and C). Given how healthy Utah was last season, there will likely be some injuries this season, at which point things could get a bit ugly.
Ryan Hess: 7. I had really hoped the Jazz would be able to upgrade the backup point guard situation. It didn't happen, aside from signing Neto. One thing I always have to remind myself when analyzing NBA transactions (or lack thereof) is that it takes two to tango. For all we know, the Jazz pursued an upgrade at backup point guard but other parties (free agents, agents, and teams) didn't cooperate to the Jazz' liking. For this reason, I give them the benefit of the doubt.
Clint Johnson: 8. I think the Jazz have something really special brewing, and patience with, trust in, and playing time for young prospects are essential ingredients. I would have liked to have seen aggression at the draft result in a move up given both Stanley Johnson and Justice Winslow were available at 8, but overall I have no complaints.
Matt Pacenza: 4 because they failed to add either a decent wing shooter or league-average point guard (I swear I was calling for this before Dante's ACL tear). But overall obviously this team is in good hands and its architects merit at least a 7 or 8.
David J. Smith: 7. While there was part of me who held on to hopes of adding a big free agent, staying put with the main core going forward is probably the wise move. I like that the additions of Trey Lyles, Tibor Pleiss, Raul Neto and Jeff Withey add some potential role players to the mix without shaking the cart.
2. Aside from Exum's injury, what would you change about Utah's offseason?
Aaron Hefner: First of all, I would have aggressively pursued CJ Watson. He would be the perfect backup PG (and now starting PG with Exum's injury) for this squad. I also wonder if the Jazz had the opportunity to jump in on some of the trades (especially the 76ers – Kings trade).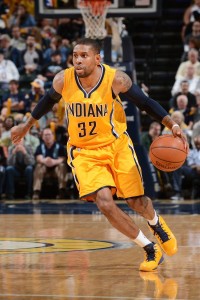 Ryan Hess: As I previously stated, I would have upgraded the backup point guard position. I felt for most of last season that Trey Burke would not be returning for this upcoming season. I have to believe that the Jazz could have acquired at least a little value in a Trey Burke trade. Perhaps the problem was that they felt there was not a better alternative backup PG they could acquire.
Clint Johnson: Disrespect for Derrick Favors. The man had an unheralded season last year and the summer piled on trade rumors and no invitation (practically an un-invitation) to Team USA's training camp. I love me some Paul Millsap, but Favors is already a superior player. Don't even get me started about Kenneth Faried or Mason Plumlee.
Matt Pacenza: Getting a decent point guard. I'd be surprised if there is a PG worthy of starting on a playoff team currently on this roster. Yes, Dante was just 19 last year, but it's amazing to me that after just one half of decent summer league ball, everyone was ready to pretend his rookie struggles didn't happen.
David J. Smith: Knowing what we know now about Ante Tomic (who may or may not have used the Jazz as leverage in his contract talks), it would have been nice to have explored the trade market before he inked that extension with FC Barcelona. Not the end of the world, though.
3. Who will be Utah's best rookie this upcoming season (Lyles, Neto, or Pleiss)?
Aaron Hefner: Raulzinho Neto. Usually the best rookie is the rookie who received the greatest opportunity, and barring an unexpected trade, Neto will be given a lot of minutes come September. I also think his strengths (speed, craftiness, and pass first mentality) will translate to the NBA and Utah's starting unit nicely.
Ryan Hess: My guess is Neto, simply because I believe he'll have the most opportunity of the three to really contribute. Exum's injury gives Neto a chance to play a lot of minutes as a rookie. With Gobert, Favors, and Booker taking the bulk of minutes on the front line, Lyles and Pleiss will have fewer opportunities to contribute.
Clint Johnson: Not Neto. That's my answer. I can see either of Lyles or Pleiss contributing or, frankly, both chipping in relatively little. I doubt both will be regular contributors. I'm skeptical Neto's ready to manage even that. If he ends the season outside the D-League, I'll be surprised. He needs a chance to grow into the league.
Matt Pacenza: Pleiss, who has a role open for him to step into as a backup center/fourth big. Neto's age (older than Burke!) and woeful long-range shooting numbers worry me. Lyles is likely a year away from regular minutes. I'll also nominate family favorite and virtually-a-rookie Bryce Cotton, who only played 159 minutes last year.
David J. Smith: Trey Lyles. He seems to have so many natural skills. Lyles has some solid offensive moves, a nice-looking jumper and can really pass for a big man. Like John Calipari tweeted out, he might be better – even as a rookie – than most expect. His playing time might be sporadic early, but he'll be contributing by year's end.
4. Dennis Lindsey has famously stated that Alec Burks was the Jazz's biggest off-season acquisition. Come the end of season, do you expect Alec Burks will have exceed, reached, or fallen short of expectations?
Aaron Hefner: Based on the overall expectation set by both the media and Lindsay himself (which is quite high!), I am going to say fall short or barely meet expectations. I expect we see his 3-point percentages return to the mean and see some improvement in his passing and defense, but I don't expect third evolution Alec Burks.
Ryan Hess: I hate to be a Debbie Downer, but I feel he will fall short. It's not for a lack of talent on his part. I think he will continue to struggle to overcome some bad habits that have been part of his game (e.g. getting lost on defense and passing up open threes to drive).
Clint Johnson: Depends on whose expectations we're talking about. As an on-the-record Alec Burks fan, I expect quite a lot. But if there is such a thing as a consensus opinion on a player, I'm fairly confident Burks will exceed that – certainly on a league-wide level, and probably locally.
Matt Pacenza: Time for optimism: Exceed! He's only 24 and his numbers before last year were trending in the right direction. I'm going to blame 2014's problems on shoulder woes. I smell the poor man's Dwyane Wade, poised to take some of the offensive-creating burden off of Hayward.
David J. Smith: Exceeded. Alec Burks adds another scorer who can get to the basket, get to the free throw line, shoot (38 percent 3-pointers last year) and make plays happen for his teammates. Seeing as Utah had the second half of the season that they did sans Burks, it is tantalizing to ponder how they could fare with him back in the rotation.
5. With the national media widely selecting the Jazz as a 2015-2016 playoff team, will Utah remain in the media's good favor through the season?
Aaron Hefner: With Gobert on the roster, the Jazz are going to get more media attention than they have had in the last five-ish years, but I don't think they will maintain the media crush status that they reached at the end of last season. Who would have thought a 27th pick would have such a franchise impact?
Ryan Hess: I doubt it, just because the media has a short-term memory and can't help but fix its gaze on Los Angeles and New York. The Lakers will go on a small winning streak and the Jazz will all but be forgotten for a time. I do think writers like Kevin Pelton and Zach Lowe will continue giving the Jazz praise as they meet or exceed their expectations.
Clint Johnson: Absolutely. They'll contend for the playoffs using a style both distinctive and entertaining. Gobert and Favors will cement their reputation as a sentient natural disaster on the defensive end while offensively I don't think Quin Snyder has dropped "pace" from his Three Ps philosophy. The Jazz will turn defense to offense more frequently this season, which makes exciting ball.
Matt Pacenza: Perhaps not. Partly due to point guard woes, and due to the fact that I think the 19-10 finish was a bit of a mirage, I think that 2015-16 may disappoint some. 40-44 wins in a loaded West would be more than last year, nothing to be embarrassed about, but might oddly be spun as a step back.
David J. Smith: Yes. The Jazz will earn either the seventh or eighth seed in the uber-competitive Western Conference and will give their opponent some fits. Quin Snyder, Rudy Gobert, Gordon Hayward and Derrick Favors will force the national media to pay attention. There will be bumps along the way, but the team's defense will propel them upward.