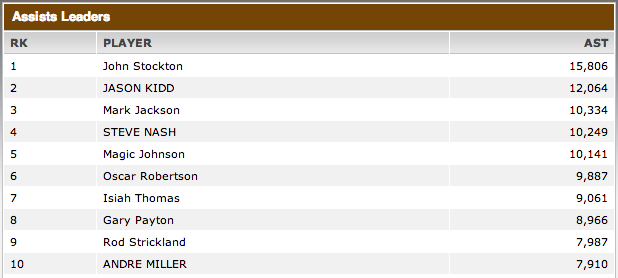 Last week I went 5-on-5 with a few of my TrueHoop brethren for a 5-on-5 piece for ESPN. Take a look at the responses and let me know your thoughts:
1. Breakable or unbreakable: The 1995-96 Bulls' 72-win season.

Spencer Ryan Hall, Salt City Hoops: Unbreakable. That Bulls team descended from Mount Olympus and deigned to play among mere mortals for a season.

2. Breakable or unbreakable: The 1971-72 Lakers' 33-game win streak.

Hall: Unbreakable. I really thought the combination of LeBron's dominance and Shane Battier's clandestine deal with the patron saint of win streaks would be enough to get the Heat to that 34th consecutive win. Breaking the Lakers' mark would have been a more impressive accomplishment than an NBA title, but it's clearly not a mark that any team will challenge anytime soon.

3. Breakable or unbreakable: Kareem's career points (38,387).

Hall: Breakable. As someone who watched nearly every point of Karl Malone's career, it's unfathomable to imagine another player even approaching the combination of scoring ability, durability and longevity it would take to catch Kareem's remarkable 20 seasons at 24.6 points per game. However, LeBron is already 10 seasons into his career, is averaging 27.6 points per game and is just peaking when Kareem was tailing off. Barring retiring and trying professional football, LeBron will only be 38 years old in his 20th season.

4. Breakable or unbreakable: Wilt Chamberlain's 100-point game.

Hall: Unbreakable. The conditions were perfect and irregular for Wilt's 100-point game and will never be repeated. Even though Kobe's 81-point game didn't start to feel remarkable until the second half of the third quarter — making it easier to imagine a James Harden-type getting fouled five or six times each quarter, hitting all 10 free throws, and making seven shots every 12 minutes — no future team will respond to such a performance with single coverage like the Raptors did to Kobe in 2006.

5. Breakable or unbreakable: John Stockton's career assists (15,806).

Hall: Absolutely unbreakable. For reference, despite having Hall of Fame careers of 19 and 17 years, both Jason Kidd and Steve Nash are thousands of assists away from challenging the insane assist total amassed by Stockton. Who else is going to average more than 10.5 assists for more than 19 years? Even more improbable is seeing another player go nearly two decades and only miss games in two seasons. Untouchable.
Read the other responses from Kevin Arnovitz, Curtis Harris, Jeremy Schmidt, and John Converse Townsend.
As for my responses to the other responses, I'm a little stunned that anyone considered Stockton's assist record as breakable. The Johnny Flynn mention was just silly. Amazingly, Stockton's steals record might be even more untouchable.
Some have disagreed with my prediction that Kobe will pass Kareem (most agree LeBron will pass them both, however). I'm just saying, the rumors of Kobe's demise are greatly exaggerated. We're not even sure he won't fly to Germany every year and get an entirely new set of bionic parts. I'm convinced he'll play for at least 4 more seasons.
Anyway, give me your thoughts.