By Matt Pacenza
Special to Salt City Hoops
The NBA trade deadline is less than a month away. Most expect the Jazz to make a move, to flip a talented big for assets. It's the best path, most agree, to take the promising young team one step closer to contending.
Who should the Jazz pursue? Of course it depends who's available, but a point guard is by far the most logical target. The team has young talent up front, and on the wings, but the three point guards on the roster – Mo Williams, Earl Watson and Jamaal Tinsley – are 30, 33 and 34 years old.
It may surprise you the degree to which point guard has been by far Utah's worst position this season. Let's take a quick look at the advanced metrics, which have their limitations, but which tell a fairly clear story.
Let's start with data from 82games.com: PER, which summarizes the offensive production the team is getting from each position – and defensive PER, the production of their opponents. Subtract the latter from the former, and you get a quick assessment of overall productivity.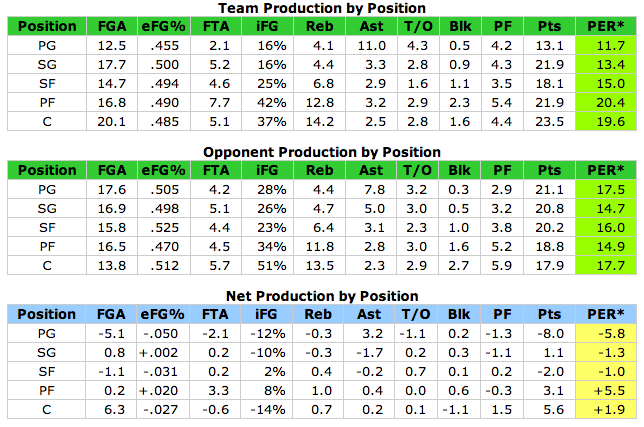 Data from 82games.com
While the data has flaws – a player doesn't always guard his counterpart on defense, for example – the numbers do roughly reflect what our eyes see: The Jazz are strongest in the frontcourt, especially on offense.
The data also clearly shows the team's most glaring weakness: Point guard, where the team doesn't produce enough on offense and is regularly torched by opponents. While the Jazz centers are also over-matched on defense, they make up for it by being among the best offense players in the league.
In case you think the 82 Games data is somehow biased or flawed, check out the oRtg and dRtg data from basketball-reference.com or ESPN's Hollinger stats. Each data set tells roughly the same story.
So, clearly, point guard is a position begging for improvement. And, unfortunately, while the Jazz have several likely-mid-round 2013 picks, it's not considered a particularly strong draft, especially for guards.
So that leads to what might be the most important question for the Jazz over the next month: What point guards could be available via trade?
The following is a list of who might be available: It makes no sense to pine for Kyrie Irving or Damian Lillard, for example. Russell Westbrook and Chris Paul aren't going anywhere.
Point guards other than the eight on this list may very well be available, but don't seem worth pursuing. Some are clearly past their prime (ala Jameer Nelson or Andre Miller) or just not very good (Jerryd Bayless or DJ Augustin.) Once you start listing names such as those, it's easy to argue the Jazz should just be patient, hope for Mo Williams to return in time for the playoffs, and worry about PG in the offseason.
But each of the following players has the potential to be better than that – this year and beyond — and could be available. And the Jazz, as much as any team in the league, have a wealth of trade assets: productive players on expiring deals (Millsap, Jefferson, Foye), young, cheap assets (Kanter, Burks) and draft picks (their own and Golden State's). They can put together a decent deal at basically every salary level.
Without further ado, here's the list. We'll go in order of increasing excitement: from the "hmmmm" ones to the "holy crap, we can get him?" players.
For each, we'll offer a few numbers: Age, their per-36-minute traditional stats, PER (15 is average. Above 20 is excellent) and their DRtg (100 is average: higher is worse.)
8. Jose Calderon, Toronto Raptors
| Age | Pts/36 min | Rebs/36 min | Ast/36 min | PER | DRtg |
| --- | --- | --- | --- | --- | --- |
| 31 | 13.8 | 3.1 | 9.7 | 19.5 | 111 |
The struggling Toronto Raptors have been long-rumored to be interested in dealing one of their point guards. Both have value, and would be a significant upgrade for the Jazz. Two factors make the productive Calderon less intriguing: the first is his age (31) and the fact that he's on the last year of his deal. The Jazz would have to make a three- or four-year commitment to an aging guard to retain him.
However, as you can see, Calderon is a solid offensive player who would immediately boost the Jazz: He's an efficient if low-volume scorer, a terrific passer and can shoot the 3. His defense isn't great, however, and that isn't going to improve as he ages.
Calderon is likely quite available – and if the Jazz main focus is boosting their roster for the 2013 playoff push, he'd be solid choice, if hardly a long-term solution.
7. Isaiah Thomas, Sacramento Kings
| Age | Pts/36 min | Rebs/36 min | Ast/36 min | PER | DRtg |
| --- | --- | --- | --- | --- | --- |
| 23 | 17.6 | 2.6 | 4.7 | 15.6 | 116 |
If Utahns have heard of Thomas' name, it would likely be as the guy who took Jimmer's minutes. An undersized, second-round draft pick, Thomas was a huge surprise for the Kings last year: a genuine offensive threat who both earned plenty of free throws and shot well from the outside.
In his second year, Thomas has both taken a step back and seen his minutes go down. He still scores – if less efficiently — but his assists are way down and his defense, according to the metrics, is abysmal. Both those measures are the worst of any player on this list.
The Jazz would have to hope that Thomas has failed to thrive due to the dysfunctional Kings' organization – and that in a stable organization, he could build upon his rookie year's promise. His size (5'9'') makes it unlikely he'll ever be a plus defender, however. Out of everyone on this list, he would probably come cheapest, although his absurdly low salary (he's signed for less than $1 million next year) mean that if he's available, the Jazz wouldn't be the only team interested.
6. Jarret Jack, Golden State Warriors
| | | | | | |
| --- | --- | --- | --- | --- | --- |
| Age | Pts/36 min | Rebs/36 min | Ast/36 min | PER | DRtg |
| 29 | 15.4 | 4.2 | 6.7 | 16.4 | 107 |
Jack has played well this year as the sixth man for a surprising Golden State team. He's a well-traveled vet, who has been on five teams in eight years (a red flag, perhaps.)
Jack and Calderon offer similar positives and negatives: Each would be a significant upgrade, but each is in the final year of his deal and would need to be re-signed. Jack is two key years younger than Calderon, however, and would be more likely to play well through his next contract.
Jack's strengths are his mid-range game and distribution skills. He rarely shoots 3s, but shoots 2s at a high percentage and takes a decent number of free throws. According to Hollinger's ESPN Insider profile, he struggles to guard quick point guards (as does everyone on the Jazz' current roster), but does quite well against bigger 2s.
Golden State has played so well that it's not clear they want to trade anyone. Jack doesn't start, but finishes most games, averaging nearly 30 minutes. However, given that he has an expiring contract, and the fact that the Warriors are thin up front, they might just be willing to deal him for the right offer.
5. Brandon Knight, Detroit Pistons
| Age | Pts/36 min | Rebs/36 min | Ast/36 min | PER | DRtg |
| --- | --- | --- | --- | --- | --- |
| 21 | 15.4 | 4.0 | 4.9 | 12.5 | 109 |
Knight has objectively been a disappointment for the Pistons over the past two years. However, he's very young and has incredible athleticism. To give up talent for him, the Jazz would have to believe Knight could improve significantly: Perhaps the Pistons haven't used or coached him properly.
His poor PER is largely a reflection of a mediocre shooting rate, relatively few free throws and middling assist numbers. On the more positive side, he shoots 3s at around 38 percent, and has the athletic tools to improve on defense.
21-year-old lottery picks that struggle can take a leap and improve dramatically. Or they remain disappointments. It's impossible to know what Knights' career path will be, but he would certainly be an intriguing talent addition for the Jazz.
Trading for Knight might be difficult: The Pistons' have talent up front – Greg Monroe and Andre Drummond – and if they're willing to trade Knight, would probably want a pick or two, plus a promising wing. The Jazz might need to involve a third team for this trade to work.
4. Brandon Jennings, Milwaukee Bucks
| Age | Pts/36 min | Rebs/36 min | Ast/36 min | PER | DRtg |
| --- | --- | --- | --- | --- | --- |
| 23 | 17.7 | 3.5 | 5.5 | 17.0 | 105 |
Jennings is a quick, young point guard who can score at will – so why isn't he higher on this list? Unfortunately, the promise he showed in moments such as the magical 55-point game from his rookie year has largely failed to materialize.
In some ways, Jennings isn't really a point guard: He's an indifferent distributor and mostly looks for his own shot. The good news is he's a genuine offensive threat – going to the rim and pulling up for 3s. He rarely turns the bull over. His defense, while not sterling, actually measures fairly well.
Whether Jennings is even available is open for debate: He shows up on some lists of possible trade targets, given that he is a restricted free agent after this season. The Bucks have just fired their coach and might be looking to start over, building around their cadre of freakishly athletic bigs. Jennings' game is quite redundant with the also productive but even more one-dimensional Monta Ellis, but Ellis is considered virtually untradeable, so they might have to move Jennings to bring back talent.
Of all the players on this list, Jennings is the one that inspires the most mixed feelings: Yes, he's way more gifted than any PG currently on the Jazz roster. But, despite his youth and the potential for improvement, he might just remain the kind of player with decent stats that doesn't push a team to win.
3. Goran Dragic, Phoenix Suns
| Age | Pts/36 min | Rebs/36 min | Ast/36 min | PER | DRtg |
| --- | --- | --- | --- | --- | --- |
| 26 | 15.7 | 3.2 | 6.8 | 17.2 | 109 |
Dragic has played well this year and was signed to a reasonable deal this past off-season (4 yrs, $30 million). He's one of the few above-average Suns. He only comes available, it would seem, if a team makes a great offer – or, perhaps, if the Suns (which just fired their coach) are in blow-it-up mode.
Dragic's strengths are that he's big, finishes well at the rim and shoots a lot of free throws. He's improved significantly as a passer. While his steals numbers are decent, his defensive numbers overall have been a little weak, and his outside shooting uneven. Three years ago in Houston he shot 51 percent from the 3 – making nearly 3 a game – but this year he's below 32 percent.
Overall, the Jazz would likely be thrilled if they could land the Slovenian: He's signed for three more years and is in his prime. The question is how dear the price would be.
2. Kyle Lowry, Toronto Raptors
| Age | Pts/36 min | Rebs/36 min | Ast/36 min | PER | DRtg |
| --- | --- | --- | --- | --- | --- |
| 26 | 18.4 | 5.7 | 7.7 | 22.1 | 106 |
And now we take a big jump up in quality. Lowry would seem to be the perfect target for the Jazz: He's in his prime, he's signed for next year as well at just $6.2 million and he has a reputation as an above-average defensive guard, which the Jazz badly need. And, as we note in the Calderon comment, the Raptors are desperate to shake things up and have an extra point guard.
One potential problem is that Lowry has developed a reputation as a difficult character, a label which the Jazz tend to shun. How true that is, who knows, but by the numbers, Lowry would be a massive upgrade – and give the Jazz a dynamic, productive athlete at the point guard.
Statistically, it's hard to find a hole in Lowry's game, although his defensive numbers aren't as strong as the reputation. He shoots at a high percentage, including from 3, and is a terrific rebounder and a solid distributor. He's actually has the fourth-highest PER in the league among PGs right now, behind only Chris Paul, Russell Westbrook and Tony Parker. That certainly overstates his value – you won't find anyone on Earth that would prefer him to Kyrie Irving or Jrue Holiday or Rajon Rondo – but he's a very productive and efficient player the Jazz should work hard to obtain.
1. Eric Bledsoe, Los Angeles Clippers.
| Age | Pts/36 min | Rebs/36 min | Ast/36 min | PER | DRtg |
| --- | --- | --- | --- | --- | --- |
| 23 | 16.5 | 5.4 | 5.1 | 19.5 | 98 |
It's drool time. Bledsoe has had an eye-opening season as part of the Clippers' vaunted second unit, but he's still only playing 19 minutes a game. He's easily the best defender on this list, and observers such as Bill Simmons regularly write about how opposing point guards often struggle to simply bring the ball up the court because Bledsoe is so athletic and relentless.
Until this year, the knock on Bledsoe was his offense: He turned the ball over way too much and couldn't shoot at all from the outside, which kept his PER down around 11. However, his numbers are up across the board this year: He shoots a ton of free throws and is actually shooting 36 percent from 3, suggesting his outside shot will become an effective weapon. And, of course, he's very young – with room to develop better shooting and passing to go with the world-class motor and finishing skills.
So why in the heck would the Clippers trade him? He's productive, young and cheap – and virtually certain to get better, maybe a LOT better. He's also in the final year of his deal. ESPN's Chad Ford wrote this week, "The problem is there is almost no chance that Bledsoe is wearing a Clippers uniform next year. A restricted free agent in the summer of 2014, he will get a major offer from a team under the cap, and the Clippers already know they won't be able to afford to match it."
Maybe a great trade offer would force the Clippers to act. They're thin up front and have title pretensions, so maybe a Millsap or Jefferson plus Burks (who would replace some of Bledsoe's offense off the bench) gets it done.
Probably half the league will make an offer for Bledsoe if he's available. However, he's shown such a huge boost in performance this year, it's possible to project him as an All-Star – one of the best wing defenders in the league, with an offensive game opponents have to respect.
—
Follow Matt Pacenza on Twitter: @mattpacenza