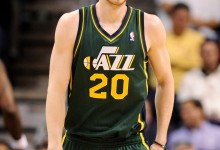 Gordon Hayward
September 13th, 2014 | by
Dakota Schmidt
As we near the start of the 2014-15 season, the current iteration of the Jazz franchise that's centered around youth and potential will be looked at to move their way out of their current spot in the Western Conference...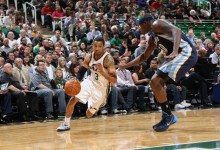 Trey Burke
August 18th, 2014 | by
Dakota Schmidt
After the expected departures of Al Jefferson and Paul Millsap during the 2013 offseason, it was apparent that the Jazz were in the midst of an extended rebuilding period. While that chapter of the franchise was on the verge of...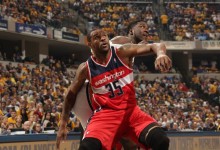 Trevor Booker
August 11th, 2014 | by
Dakota Schmidt
Earlier this week, Andy Larsen did a terrific piece on this very site about the different reasons behind Utah's signing of veteran forward Trevor Booker. In that article, Larsen pointed out the level of energy and toughness...
Draft
June 16th, 2014 | by
Dakota Schmidt
Just a week and a half after a big hire and a week and a half before the NBA Draft, the focus of Utah Jazz fans has been on the recently signed coach Quin Snyder and the possibilities surrounding their early lotto pick. With...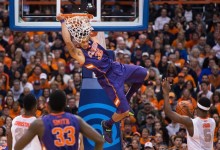 Draft
April 14th, 2014 | by
Dakota Schmidt
With Utah's uneventful 2013-14 season quickly coming to a close, it's about time to take a peek at the wide array of potential prospects who will be available for June's NBA Draft. As this season has progressed,...
Alec Burks
March 17th, 2014 | by
Dakota Schmidt
The main objective for the Utah Jazz going into the 2013-14 season was centered around trying to find the pieces that will be with the squad as they continue their rebuilding process. While that state-of-mind basically killed off...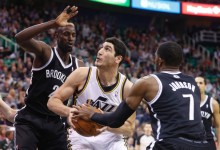 Enes Kanter
February 20th, 2014 | by
Dakota Schmidt
On the eve of the 2013-14 season,  the Utah Jazz brass were cautiously expecting the duo of Enes Kanter and Derrick Favors to be the team's frontcourt catalysts for the next decade. As we reach the unofficial start to the...
Malcolm Thomas
January 26th, 2014 | by
Dakota Schmidt
On late Saturday afternoon, it was announced that NBA journeyman Malcolm Thomas was acquired off waivers from Utah after being released from San Antonio earlier in the week. Prior to his less than stellar stint with the Spurs,...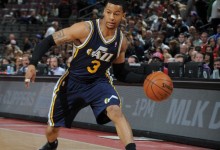 Trey Burke
January 20th, 2014 | by
Dakota Schmidt
Since John Stockton hung up his Jazz jersey in the spring of 2003, Utah has struggled to find that one special point guard that can be the general for a brigade of talented basketball players. From Mo Williams to Jamaal Tinsley,...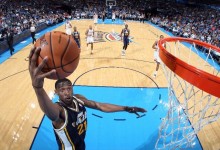 D-League
December 17th, 2013 | by
Dakota Schmidt
One of the paths towards respectability for a number of teams in the NBA is to assign some of their younger players towards the NBADL (NBA Development League). While the D-League has been around since the early parts of the 21st...