 Utah Jazz
August 7th, 2017 | by
Julia Mecham
This summer, Jazz fans endured an Independence Day full of plot twists and posturing to rival the 1996 blockbuster of the same name. While it wasn't completely apocalyptic, the aftershock of "The...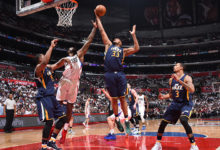 Utah Jazz
April 19th, 2017 | by
Julia Mecham
The saying goes, "Gobert or go home." The meaning of those words often eludes even Jazz Nation faithful, but game two against the Clippers may have shed some light on it. The Jazz do indeed now head back home after...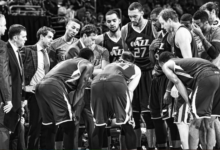 Utah Jazz
March 9th, 2017 | by
Julia Mecham
Recent controversial tweets from Chandler Parsons, CJ McCollum, Javale McGee and even Shaq have set Twitter ablaze these past few weeks. In an attempt to stop, drop and roll, the NBA issued a new edict addressing social media...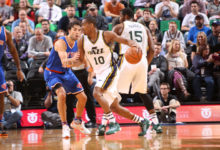 Utah Jazz
January 11th, 2017 | by
Julia Mecham
When Alec Burks slashes to the rim eluding long-armed defenders and gravity itself to finish, Jazz play-by-play announcer Craig Bolerjack often shouts in amazement, "Houdini!" After essentially just over a year out...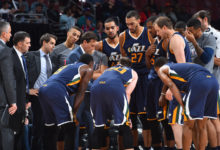 Utah Jazz
December 6th, 2016 | by
Julia Mecham
The mere mention of the injury bug makes most Jazz fans' skin crawl. It sends some into fits of denial or superstition. Can simply talking about injury invoke the wrath of the basketball gods and send the final seven...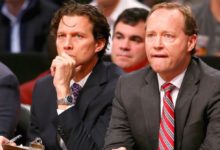 Coaching
November 3rd, 2016 | by
Julia Mecham
Jazz coach Quin Snyder is sometimes described as intense. His terrifying glare, fit for the Halloween season, is only one of the reasons why.  In 2014-2015, Snyder's first season as an NBA coach, we saw him vary his...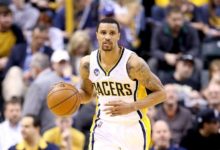 George Hill
October 3rd, 2016 | by
Julia Mecham
This summer when then Pacers point guard, George Hill, received news he was being traded to the Jazz, the Indiana native was shocked. "Last time I checked, I was supposed to retire from Indiana," Hill said per...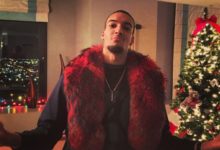 Rudy Gobert
September 6th, 2016 | by
Julia Mecham
It's nearly impossible to overlook Rudy Gobert. I discovered that quite literally a couple years ago standing behind his 7'1" frame in line at the grocery store. He browsed the candy at the check stand, impulsively taking...