Utah Jazz
November 1st, 2018 | by
Riley Gisseman
Thanks to Derrick Rose, the Minnesota Timberwolves got a night off from being the NBA's Team Turmoil.Rose, a former league MVP, went off for a career-high 50 points, on just 31 shots. He shot lights out, which sometimes...
Analytics
October 28th, 2018 | by
Riley Gisseman
Before Ricky Rubio broke out of his shooting slump with a 28-point performance on Saturday it appeared to most observers that he had gotten off to a rough start. The 28-year-old veteran point guard went into Saturday's...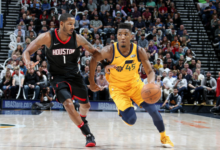 Utah Jazz
April 29th, 2018 | by
Riley Gisseman
The Houston Rockets came into the 2018 postseason confident and ready to build off of their best regular season in franchise history and the top record in the league. Led by Chris Paul and James Harden, Houston logged the 10th...