A portion of the narrative surrounding Dante Exum's interesting rookie season has been commentary on others in the league at his position he should be attempting to emulate in the future. Dante should watch tape on John Wall attacking with pace, or should mirror Russell Westbrook's all-out usage of his superior athleticism, consequences be damned. Seemingly half or more of the league's elite point guards have popped up as those Exum should imitate as he looks to improve his shaky offensive game.
Add another to the list, this one quite a bit closer to home: Bryce Cotton.
In his very brief time with the Jazz thus far, including a few recent chances to perform in a larger role while Trey Burke rests a nagging back injury, Cotton has in many ways been emblematic of an approach the entire Utah team, not just Exum, could stand to pay close attention to.
Despite indications last fall that Quin Snyder's new system would attempt to quicken Utah's attack and emphasize exploiting every possible odd-man situation on the break, much of the opposite has been the on-court result. The Jazz are the league's slowest team by pace, a measure of possessions per game. Some of this is certainly due to their thriving defense, which often forces opponents to pursue multiple options and therefore eat more time on the shot clock, but this isn't enough to mitigate the trends on the other end. In fact, per a late-March article on inpredictable.com that isolated offensive and defensive pace by seconds per possession, Utah posted the slowest offensive pace in the NBA.
"We're like a running team in football with a good defense," Quin told me before continuing to some of the reasoning behind it. "I think one of the things that affects our pace is our shooting. We haven't been a great shooting team, we haven't taken a lot of 3s."
But despite this, in has stepped Cotton, a speedster with quick handles and a legitimate NBA-level shot. He's among the smallest guys in the league, and as a mature rookie (he's 22) has already realized that his physical profile requires he push even his slightest advantages to have a chance at this level.
"As you know, I'm not the tallest guy on the floor," Cotton told Salt City Hoops. "So I've had to use my speed to my advantage, and just always try to keep up the pace because I know that's one thing that's a strength of my game."
Watch how he appears to be shot out of a cannon following a Sacramento miss:
Note how even as the ball is still in the air, Cotton has read its eventual path to Joe Ingles and is taking off in the opposite direction.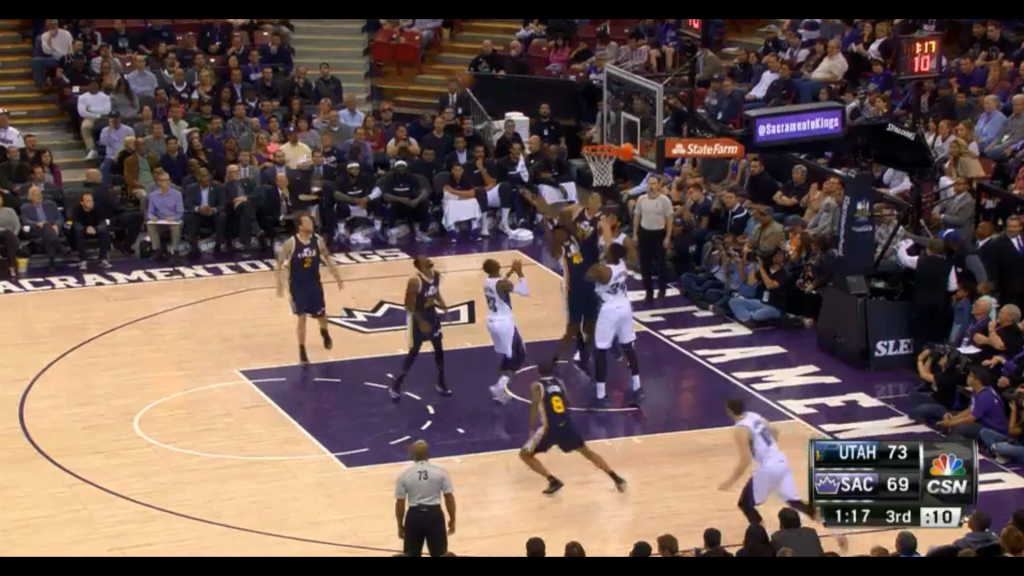 By the time Ingles has the ball in his hands, look how far Cotton is ahead of Sauce Castillo, his mark on the previous play.
And once he finds himself with just a single defender between him and the basket, there's no question as to his next move. Cotton knows that even if he's smaller than basically any guard or wing he's up against, his momentum and the way fouls are called in today's NBA makes any attempt here more efficient in the long run than nearly any halfcourt set Utah could conceivably run.
In 14 appearances for the Jazz thus far on the year, Cotton has flipped the team's pace numbers on their head while on the floor. Their aforementioned 92.59 figure zooms up to 99.18 with Bryce at the helm, nearly as wide a chasm as one will see with a single player, even one still on a slightly small sample1. Were one to extrapolate this mark out over the full season, the Jazz would go from the league's slowest team all the way to the second-fastest, behind only the Autobahn-like Warriors.
Cotton is pushing in more than just one-on-one or odd-man situations, as well. He seems to have a natural aversion to spending more than about three seconds in the backcourt following any opponent turnover or missed shot, constantly hunting the slightest advantage that might materialize as he relentlessly prods backpedalling defenders. He's already above average as far as his recognition of which circumstances are most advantageous, like when he has a big man well-positioned to set a drag screen2 before a defense can set itself:
"We had a good stretch of pick-and-roll in transition in that second quarter, and he was a big part of the reason," Snyder told Salt City Hoops following a close loss to Memphis Friday night. This has perhaps been Cotton's greatest asset thus far.
This type of approach to initiating offense has become more and more popular around the league in recent years, and with good reason. Teams have recognized just how often a mistake or small advantage can be turned into an easy bucket with the right level of aggression, and that even moderately promising transition chances are typically more efficient in the long run than the majority of other types of offense. Most importantly, it takes just the slightest error or bit of laziness from an opponent on the break to yield what are basically free points. Look, for instance, at the positioning of players just before another of Cotton's transition chances, this one against Denver: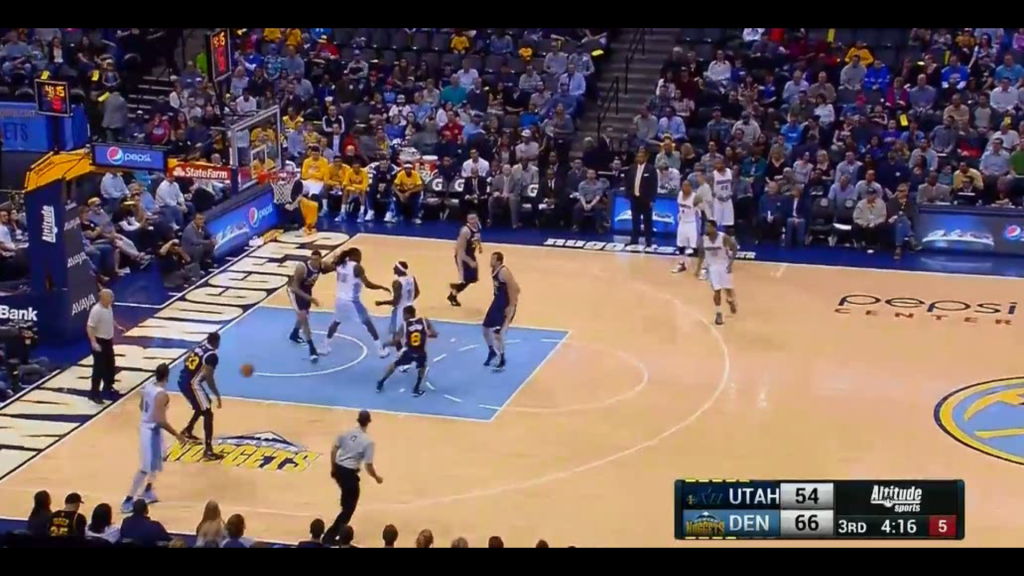 Doesn't look all that threatening, right? Denver has two guys further back than any Jazz player, and Utah's three guards/wings are all roughly parallel to two more Nuggets.3 But due to a healthy bit of laziness and a miscue in coverage from Denver, watch what happens:
Some of Utah's hesitancy to push these sorts of advantages through the year ties into personnel and relative inexperience, to be sure. The Jazz play two traditional big men almost exclusively, and though each of Derrick Favors, Rudy Gobert and Trevor Booker is mobile and capable of running the floor, the combination of size and general lack of confidence in these situations from Jazz ball-handlers has slowed them down.
"I think some of it has to do with our bigs," Snyder told me. "And how quickly our bigs run. I think our bigs will continue to run better when we have guards that push the pace more."
Exum is still far too timid to recognize and attack even some of the most obvious advantages while still on his own side of the court. Trey Burke actually does a good job of looking for opportunities here4, but he's a disaster near the rim and a turnover machine on the break due to his frequent unwillingness to pass off to an obvious trailer. And with both, there are also issues with available practice time and areas Snyder chooses to prioritize.
"It was more important for me right now to make sure that Trey was defending on the level that I wanted rather than being in his ear all the time about pushing the ball, pushing the ball, pushing the ball. And I'm not sure that would have been the best thing for our team," Quin said.
What's developed is something of a chasm – Utah is actually fourth overall in per-possession efficiency on all finished transition sets, per Synergy. But they've racked up the third-fewest possessions of this nature on the year, due in large part to their common inability to quickly recognize advantageous situations. It's a chicken-and-egg thing; their efficiency is so high because they take only the very most obvious opportunities, and it would surely drop if they were a bit more adventurous. But there's the rub: Even a nominal drop-off in their overall efficiency would be worth it if they replaced some of their plodding halfcourt offense with moderate transition attempts.
He's indeed far from the only one in need of a makeover here, but one can't help but wonder just how powerful Exum could become if he were ever capable of harnessing Cotton's recognition and level of aggression. Once again, look where Cotton is in comparison with all nine other players on the floor as he collects this loose ball against Portland: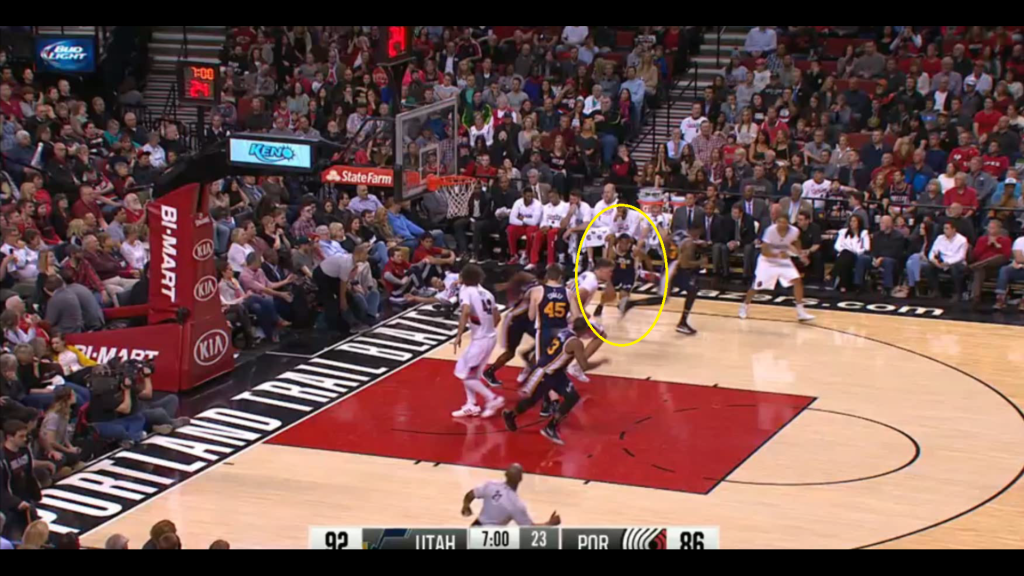 But through nothing more than some quick acceleration and an opportunistic approach, look where the play ends up:
Imagining what Exum could be if he emulated Cotton's mentality on these types of plays is salivating. Bryce is quick, but Dante has among the fastest first steps in the league for his size and may have one of the ten highest top speeds from end to end in the entire NBA. If he can bring his awareness and ability to enter and finish in traffic up to speed with the rest of his physical profile, he could quickly become one of the game's most feared transition operators given his ridiculous length, speed and court vision.
Snyder stops short of listing these elements as specific expectations, noting that personnel and the way Utah's young pieces have developed haven't quite lent themselves to a huge emphasis on speeding up their offensive pace. But he remains optimistic, even going to more of a macro level to describe the ways things may change over time, particularly on offense.
"I think that's an important part of coaching, and I've maintained this: I think your defense will be similar through the years, [but] I think offense you have to adjust based on who your personnel is," he said.
And as the Jazz enter a summer where there's plenty of talk about said personnel likely improving – whether through trades, free-agency, the draft, or some combination plus the return of Alec Burks next year – this particular element has to be on the minds of many. Utah has managed a league average offense despite all their injuries and roster turnover, and these sorts of developments may allow them to threaten top-10 status which, along with continued elite defensive play, could vault them straight into the legitimate contender conversation.
For Cotton himself, he's just doing what he knows best in an attempt to stick in the toughest league in the world. He's earned himself a legitimate look over the summer and into next season, and is on an uber-cheap non-guaranteed deal that makes him an attractive salary piece. If he can rub off just a little on his new teammates, all the better.