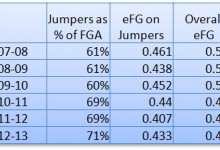 June 13th, 2013 | by
Dan Clayton
The NBA offseason hasn't technically begun, and yet the Jazz are already preparing to craft a new offensive identity. Franchise brass has already hinted at changes to the offensive system, no small consideration as they...
April 4th, 2012 | by
Spencer Hall
Listen to this episode at 1320kfan.com. This week on the podcast from the 1320 KFAN studios I was joined by Kirk Goldsberry to talk about his work with statistical visualization and his presentation at the MIT Sloan Sports...