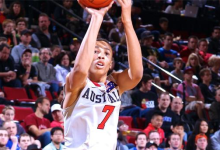 August 8th, 2014 | by
Dan Clayton
A hoopless August? No way. A few Jazz players are keeping busy this summer in preparation for FIBA's World Cup of Basketball in Spain. And even though that tournament doesn't start until the very end of August, the...
July 31st, 2012 | by
Spencer Hall
As a public service in promotion of better pronunciation of foreign names, here is the proper way to say the names of the players on the French men's roster, brought to you by the great basketball minds at the French site...