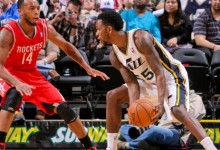 August 21st, 2014 | by
David J Smith
While training camp is still several weeks away, the Utah Jazz roster is starting to materialize quickly. In the past week, three names have emerged: point guard Dee Bost, shooting guard Kevin Murphy and forward Jack Cooley. Who...
September 7th, 2011 | by
Spencer Hall
If you've ever dreamed of playing professional basketball under the tutelage of former Jazz guard Randy Livingston, now's your chance. The Idaho Stampede are holding open tryouts in their affiliate cities Denver,...