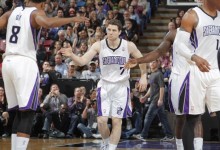 August 22nd, 2014 | by
Jimbo Rudding
Editor's note: At Salt City Hoops, we know that covering a losing team without any humor can be dreary. As such, we decided to add a little bit more levity to our site. Welcome to Jimbo's Mailbag! For those of you... September 23rd, 2013 | by
Clint Johnson
We at Salt City Hoops aim to please, and that includes responding to comments and requests, such as these to my September 9th post projecting Hayward and Favors as primary offensive options this season. Casey said: I'd be...