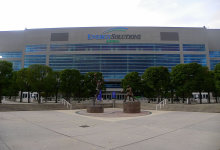 September 29th, 2014 | by
Ben Dowsett
5:08 PM MST: That'll do it for our SCH Jazz media day live blog! Thanks to everyone who followed along live, and in advance to those who will catch up later on. Another big shout out to our fearless leader Andy Larsen, who... October 2nd, 2012 | by
Spencer Hall
In case you haven't listened to the David Locke one-on-one interviews with the players and Dennis Lindsey on Media Day, here they are: Utah Jazz Media Day: Randy Foye Utah Jazz Media Day: Enes Kanter Utah Jazz Media Day: Al...