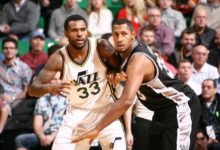 July 12th, 2016 | by
Laura Thompson
Last time, I scoured the interwebs looking for information on George Hill, and came away a big fan. For this post, I wanted to learn more about Boris Diaw and see what kind of character we'll be lucky to have for the next year...
September 24th, 2010 | by
Mychal
Huge trade talk today as many sources are reporting that the Jazz are involved in a proposed massive four team deal.  As a result of this proposed deal the Nuggets would trade Carmelo Anthony to New Jersey who would then ship...