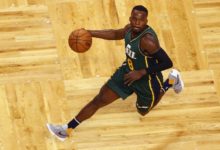 September 28th, 2016 | by
Thatcher Olson
What's the first thing you think of when you hear the words "Utah Jazz"? Do you think of Jerry Sloan, Karl Malone and John Stockton? Or do you think of more recent seasons with Quin Snyder, Gordon Hayward, Rudy Gobert, and...
August 25th, 2016 | by
Dan Clayton
The Utah Jazz signed guard Marcus Paige this week, a move that makes it less likely they'll still hold the former Tar Heel's draft rights once the season begins. Yeah, you read that right. Less likely. Because of...