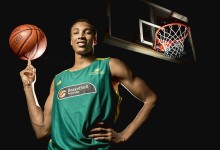 June 27th, 2014 | by
David J Smith
For the second year in a row, Utah Jazz GM Dennis Lindsey and his fellow front office cohorts had a stellar NBA Draft night. In 2013, Lindsey's first at the helm, he brokered three trades that netted All-Rookie point guard...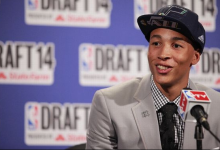 June 27th, 2014 | by
Dan Clayton
Twice in the first round of Thursday's NBA Draft, the Utah Jazz were looking up at players they coveted and hoping for a good bounce or two. Both times, they got the bounces. Australian guard Dante Exum (no. 5) and Duke...