November 1st, 2016 | by
Thatcher Olson
After an active NBA offseason, several different media outlets ranked the 30 teams' starting units and benches. The Jazz bench consistently came out as one of the best in the league, if not the top bench. For example,...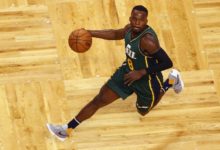 September 28th, 2016 | by
Thatcher Olson
What's the first thing you think of when you hear the words "Utah Jazz"? Do you think of Jerry Sloan, Karl Malone and John Stockton? Or do you think of more recent seasons with Quin Snyder, Gordon Hayward, Rudy Gobert, and...