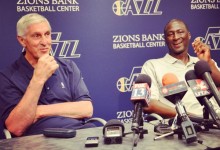 June 20th, 2013 | by
David J Smith
A few weeks ago, assistant coach and Utah Jazz legend Jeff Hornacek left the team for the Phoenix Suns coaching gig. That was a bittersweet day for most fans, as few are as adored as Horny was/is. We were sad to see a beloved... October 3rd, 2012 | by
Spencer Hall
NEW YORK, Oct. 3, 2012 — The NBA will adopt an anti-flopping rule beginning with the 2012-13 season, Executive Vice President, Basketball Operations Stu Jackson announced today. "Flops have no place in our game – they...