If you don't know what this post is going to be about based on the title alone, you need to stop what you're doing and rent this movie. Celtic Pride, starring Dan Aykroyd, Daniel Stern and Damon Wayans is a 1996 film about two crazed Celtic fans who kidnap their opponent's best player in order to guarantee their team the championship. (Easiest way to find it is probably Amazon video for a 3-day rental for just $2.99. Well worth the money.)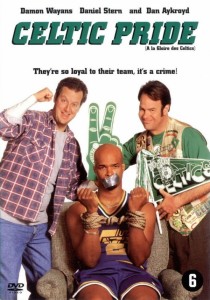 I'll assume that if you're still reading this that you've either, A) previously watched the movie, or B) stopped reading after the first paragraph, watched the movie and are now proceeding with the rest of the article.
There will be spoilers, so don't say I didn't warn you.
Celtic Pride is by no means critically acclaimed. But then again, neither were Vincent Van Gogh or Beethoven during their own lifetimes. For any sports fan, especially a Jazz fan, this film is an absolute must-see.
Let me run through a few of the ingredients that made this mid-90's classic such a masterpiece, and quite possibly the Jazz's greatest cinematic representation in history. Celtic Pride mixed brutal irony with actual events, some more accurate than others:
It was released in April of 1996, which would theoretically mean Boston and Utah would have been playing for the 1996 NBA finals. That would have come during the dark ages of Celtic basketball, after Larry Bird had retired and before the draft of Paul Pierce. During the '96-'97 season, the Celtics lost a franchise-worst 67 games. The Jazz, however, fit right into the role they were cast: Western Conference champs. With Stockton and Malone in their prime, they would be playing for the actual NBA Finals against the Bulls for the first time the following year.
Game 6 and 7 were both played in Boston. Following the NBA's 2-3-2 Finals format would mean Boston held the better regular season record. Even more laughable at that time.
At the close of the portrayed season, the city would be closing the Boston Garden permanently, which is what made the quest for a title so much more rampant. The real Boston Garden had in fact already closed its doors before the '95-'96 season got underway, and would be torn down completely in 1998. The Celtics then moved to the Shawmut Center, now known as TD Garden, or more commonly "The Garden."
No matter the success of their team, Boston fans might actually be crazy enough to pull something like this off. Wayans' character of Lewis Scott even made the comment to his captors, "I wish Utah fans were this passionate." You have no idea Mr. Wayans, you have no idea.
Lewis Scott was sponsored by Nike, including several TV commercial deals. So who says small market athletes can't make as much money from sponsorships? It may have been a slight stretch of the truth, though. I wonder if any other Jazz player has ever come close to that sort of sponsorship? Carlos Boozer, Mehmet Okur and Deron Williams were all Nike athletes, but even that's a long shot in comparison.
This film featured special appearances from Chris Berman, Marv Albert, Bill Walton, Deion Sanders and Larry Bird. That's a star-studded sports cast right there. (Possibly one of the best lines comes from Wayans when talking about Bird, "Who needs his lanky ass?")
During the first basketball scene in game 6, Celtic fans attempt to heckle Jazz players by shouting out three references to Utah/Mormon subculture:

"Why don't you go back to Utah and get yourself a few more wives?!"
"Why don't you go join the Mormon Tabernacle Choir you Donny and Marie loving freaks?"
 "Jazz music sucks!"

Not a specific Jazz-related point, but the best heckle of the film is directed towards Wayans, "I hear Manut Bol is banging your mom."
Shooter McGavin plays Utah's head coach. I choose to never look up the actor's real name. He will always be Shooter to me.

When referencing the lack of discipline in Wayans' character, Shooter says, "Grant Hill wouldn't have done this. He would have gone to church, and then showed up to practice early."
The Jazz were playing in their original Purple, Green and Gold uniforms. The following year would have been Utah's first official year with the new mountain logo/color scheme.
The Jazz roster featured a very animated European center. Casting that proved to be well ahead of its time, nearly prophetic.
As far as the consequences for actually kidnapping someone, here's what I could find. (I'm not remotely claiming to be an expert in law here.) Since they weren't seeking a ransom of profit of any kind, it wouldn't be considered first-degree kidnapping, but rather a second-degree, which is classified a Class B felony. A person convicted of a class B felony can be sentenced to one to eight years in prison.
After all was said and done, it made me wonder why the producers chose to represent Utah as the other team in this film. Was it because of the actual team success in real life at the time? Was it because Utah seemed like the most willing to cooperate? Or the least likely to make a fuss about how their organization was depicted? Did they seem like an easy target? Or a possibly even more ironic one?
We may never know.  But at least the Jazz won the NBA championship. Oh, the irony.