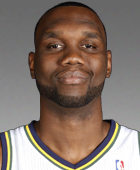 Dear Big Al,
We both knew this relationship would eventually come to an end, but perhaps neither of us expected such an abrupt conclusion.
You've served as the veteran leader of the Jazz organization for three long years, and I'm grateful for what you've done, although I must admit I expected more from one of the only true centers left in today's NBA. Looking back, perhaps it was unrealistic to expect you to mentor the young stars on the Jazz roster while simultaneously carrying the offensive load, coexisting with Paul Millsap, and playing any defense at all.  It's possible the Jazz asked too much of you. Wouldn't any other NBA franchise appreciate near double-digit averages in both points and rebounds? Wouldn't any other NBA franchise appreciate the veteran leadership of a player who has suffered severe career setbacks, including: injuries, consistent criticism, failed post-season attempts, and yet still found a way to persevere? Maybe both parties made mistakes.
Before this letter draws on any more, I want to apologize for my tendency to reflect on the past. Maybe it's true what people say—when you approach the end of a relationship, you begin to focus on how it all began. I still remember when you arrived in Utah as one of the premier big men in the NBA, with the potential to be a perennial all-star and a force in the paint. In your best season with the Minnesota Timberwolves, you averaged 23.1 points per game, and 11 rebounds per game. Undoubtedly the front office spoke to you about the need for a strong leader, and everything required of you to fill that role, as a player and as a person. You seemed up to the task, and they seemed more than willing to give you the additional responsibility.
The Jazz only made the playoffs once during your time here, and for that I apologize.  Is that why you finally decided to turn away, or did you always feel like the aging veteran waiting for the young stars to take over your spot? Was it a contract issue? Did you need more money, or less money? Does Coach Corbin have bad breath? Did you want players on your team that never shoot, but only pass? In all honesty, I believe the organization tried to build a franchise around you, give you a legitimate supporting cast, but none of that was good enough. You wanted more. You needed more, and now every Jazz fan is forced to sit back and reflect on what might have been.  If you could do it all over again, how would you begin the story, and how would you end it?
It seems you were destined to be somewhere else all along. You need to play for a team that works for you, and a coach that fits your playing style. I wish you the best with the Bobcats—I really do. The contract you secured is a good one, but did you take it because you really want to win, or are you in it for the money? Hopefully you find what you're looking for, and in the meantime the Jazz need to find a way to deal with the new vacant spot in their offense.  Prior to this season I assumed the franchise would lose either you or Paul, but surely no fan planned to lose both of you.
It's clear you and the Jazz front office made some mistakes during this wild three-year journey, but maybe everyone will know better next time. The NBA is a business, even if I don't want to admit it. Players come and go every year in the NBA, and it's up to you to make the most of your experience, even if you're playing for the Charlotte Bobcats. You'll have to excuse the abrupt ending to this letter, because now I need to hurry and write a letter to Paul.
Sincerely,
Kyle Hunt (a slightly disappointed, slightly optimistic Jazz fan)