When do defensive coaches make their mark? We keep hearing about defensive-minded coaches and I was curious as to how much impact a defensive-minded coach has on his team. Obviously there are many variables: players come and go, have injuries, are better one year than another, players are playing for a contract, etc., but I was curious what the general trends were for defensive-minded coaches. I set out to see if there was any sort of pattern to some of the top defensive teams and coaches, and here's what I found (using John Hollinger's Defensive Efficiency Rankings).
For the teams I looked at (Utah, Boston, Chicago, Indiana, Memphis, Orlando, and San Antonio), a team's defensive ranking increased dramatically in a defensive-minded coach's second full year, with Tom Thibodeau being the exception: the Bulls were 10th defensively the year before he started coaching, and they were 1st defensively in his first year as a coach.
For example, Frank Vogel took over head-coaching duties for the Indiana Pacers in January 2011. The Pacers were ranked 12th defensively in 2010-2011 and were 15th the year prior. In 2011-2012—Vogel's first full season as a head coach—they were ranked 10th defensively. Where Indiana made the leap to the elite defensive team in the league was during Vogel's second full season as a head coach, the 2012-2013 season. The chart below shows Indiana's progression defensively, with Vogel's second full season as head coach highlighted (note: each highlighted box in the charts represents the coach's second full year).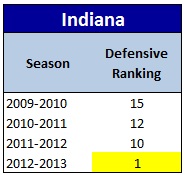 Folks might reason that Indiana's admission to the elite defensive teams club was because of Roy Hibbert's increased playing time, but his playing time actually decreased this past season (though Paul George's did increase by nearly eight minutes per game).
Memphis is another case that supports the Second-Year Theory. Lionel Hollins started coaching Memphis in 2009, and their defensive ranking for the 2009-2010 season was 23; it was 20 in the year prior. However, in his second season as the head coach of the Grizzlies, they jumped to 8th.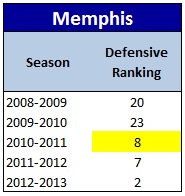 The Orlando case is interesting because they already had a top defensive player in Dwight Howard, but didn't have a top defensive team until Stan Van Gundy came along. Howard was a rookie in the 2004-2005 season, playing over 32 minutes per game, and the Magic ranked 18th defensively. Van Gundy started coaching and they ranked 11th during the 2007-2008 season. Again, the dramatic jump happened in Van Gundy's second year–once again supporting the Two-Year Theory–2008-2009, when the Magic were 1st defensively, and they remained at or near the top for several years.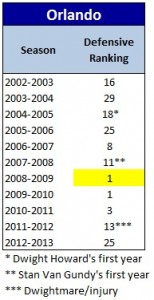 Chicago is a unique case because Thibodeau was able to transform his team immediately, as the Bulls went from a 10th-ranked defensive team the year before he started coaching in 2009-2010, to the top defensive team with Thibodeau in 2010-2011. This is where understanding Thibodeau's background as a defensive coach in Houston (top 5 in league scoring defense and field goal percentage defense from 2004-2007) and Boston (top rating in several defensive categories in 2007-2008) helps give context.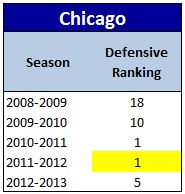 Boston is an interesting case where the coach didn't have a great influence defensively, but Kevin Garnett did: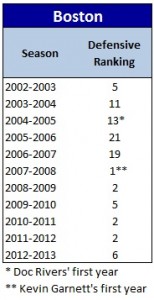 Unfortunately, Hollinger's stats don't reach as far back as when Poppovich started with San Antonio, but we can still see that San Antonio has been an elite defensive team for the last decade. Yes, they've had Tim Duncan manning the middle, but Pop's adjustment of increased minutes for Splitter helped the Spurs jump back into the Top 3 defensively this last season.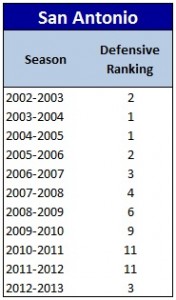 What does this mean for Jazz fans? Considering the Jazz have been ranked in the 20's defensively for the last three years, I think it's safe to say that Corbin is not an elite defensive-minded coach. You could argue that's because Jefferson has been manning the middle, but Thibodeau had Boozer and found a way to compensate by playing Noah as much as he could. I would counter that this is part of why Favors and Kanter should have gotten more minutes, especially last year.
Since the Jazz now have some defensive-minded players in Favors, Kanter, Hayward, and Burks, and they may actually get a significant jump in playing time this year, we have a chance to be a much stronger defensive team. As Locke has mentioned quite a few times, the top three defensive teams in the league made the Conference Finals. And the fourth team was a Top 10 defensive team with the best player in the league.
Point being: Because the Jazz don't have a defensive-minded head coach, they should make sure to bring in an assistant who is specializes in defense for the vacant assistant coach position. (I was hoping Mike Budenholzer would be available as a head coach when Corbin's contract expired, but that's not going to happen now, unfortunately). Thibodeau was an assistant in Houston and worked his defensive magic there, so if the Jazz could find some sort of equivalent in this situation, the Utah defense would be in much better shape.