The fifth pick in an NBA draft is normally a huge asset, but if was ever OK to feel a little dejected about occupying that spot, it's this year.
It's supposedly a 4-man draft at the top, with potential franchise stars Andrew Wiggins, Jabari Parker, Joel Embiid and Dante Exum likely to be off the board right when Utah's draft clock starts.
This is particularly disconcerting to the Jazz, who, as GM Dennis Lindsey discussed with us on Tuesday, came into this off-season hoping to land a franchise-type player. As Lindsey told SCH the other night, "There's nothing sacred." Translation: everything's negotiable relative to finding that type of guy.
Which has many fans wondering if there's opportunity to move up. Consider this your guide to the trade-up landscape. Let's take a look at what might be involved and render a verdict on whether or not there's actual hope to do so.
The market
The trade-up discussion doesn't go anywhere unless someone sitting above the Jazz is willing to talk. Since that's a pretty finite list, let's start there.
Reports out of Cleveland suggest the Cavs would be willing to discuss trading the #1 overall pick, but only for a "bona fide All-Star." Even if we take the rumor at face value, the Jazz clearly don't have an All-Star to offer. The closest thing that they have that is actually tradable leading up to the draft is Derrick Favors.1 Not sure if Favors + 5 + whatever else gets it done if there are teams on the line with All-Star offers.
There's absolutely no noise about the Bucks willingness to trade #2, and it's hard to imagine them coming to terms with moving all the way back to #5 when they were initially in line for the top pick. They do have needs all over the board, and they have a bad contract or two, but so far it sounds like they're zeroing in on the talent at #2, with Parker and Exum in their sights.
The Sixers tanked so exquisitely and deliberately to get inside the top 3 that I can't imagine they'd trade #3. They don't really have bad salary, they don't need cap help, and they already have multiple picks in the top 10.
Orlando is marginally interesting, only because a fair amount of noise suggests they're seriously considering Marcus Smart, who they could certainly grab with the #5 pick if they wanted to score an extra asset and get their guy all at the same time. However, they also already own a second lottery pick and they possess a fairly clean salary sheet.
Remember, not everybody's draft board looks like the Jazz's, and not every team has the same priorities. But with these four teams in particular, it will be tough to get them to sit down at the negotiating table.
The history
History only matters as much as the parties decide to let it influence negotiations. To wit, there was no historical precedent that would suggest swapping 14 & 21 for the ninth pick (Trey Burke) should have been possible, but that happened.
Still, past trades will be many front offices' point of reference for how to start a conversation about what a particular move is worth. Here are 10 years' worth of trades involving first round picks. These are only the trades that were carried out immediately around the draft (as trades involving picks at other times of the year have their own separate economics and uncertainties), and in this table the team that moved up or in is listed first.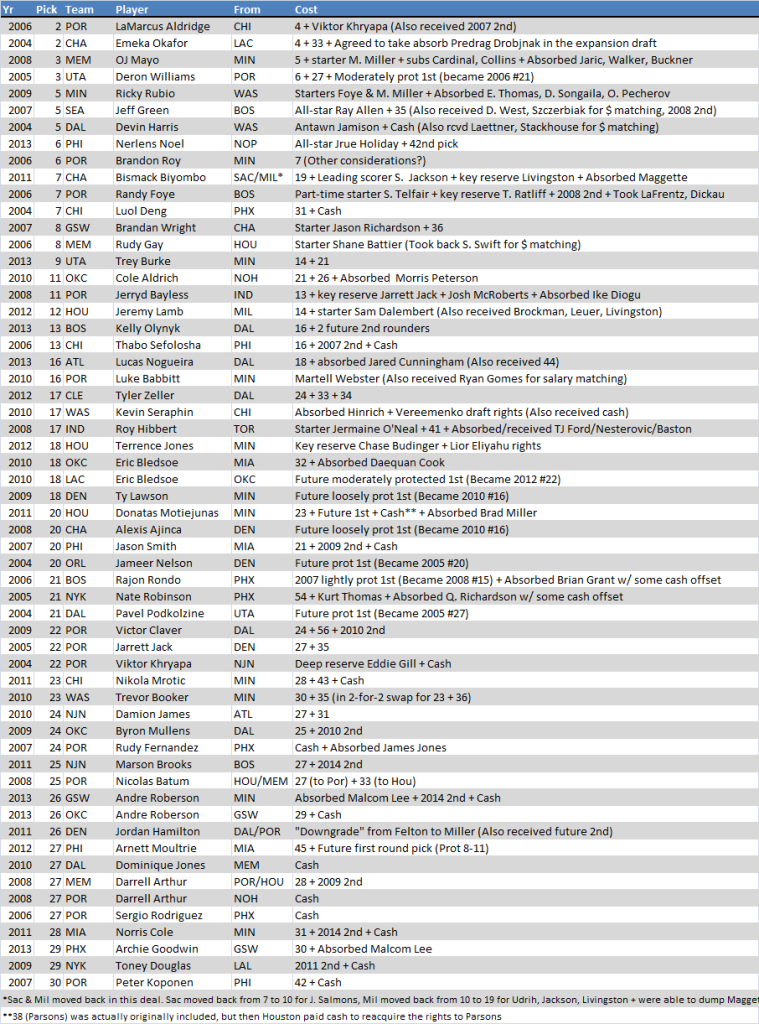 There are a few outliers there that might encourage you, but don't buy that snake oil. Teams generally aren't able to get #7 for cash and a 2nd like Chicago did with Deng, so that's the exception, not the rule.
The general trend here is that teams get picks in the 20s fairly often, but a top 10 pick usually requires at least two of the following three pieces: 1) multiple picks, 2) starter-caliber players (and in some cases All-stars), and 3) the ability to bury bad salary in your backyard. The Jazz are in a position to offer all three of those things, and it sounds like they're willing.
The other trend to point out is that there have only been four occasions in 10 years when a pick better than the Jazz's current 5th was moved. So just be aware of what you're asking. It's possible, and the Jazz certainly have the assets and motivation. But you can't sit back and say, "The Jazz are good at trading up, I'm sure they'll find a way to get ___." This is a tough area to get something done.
Who/what can't be traded
The ping pong balls were still settling when Jazz fans started putting Gordon Hayward into trade packages to get back into the top 42 Let me save you the time: stop building Hayward trade scenarios.
Hayward, like all pending free agents, cannot be included in draft-day trades. And contrary to what people are piecing together on Twitter, he also can't be involve in any Sign & Trade discussions that take place on Draft Day because it's illegal for the Jazz or any other team to negotiate with Hayward until July 1, long after the draft has fully congealed.
What the Jazz could do, in theory, is start new S&T discussions involving Hayward on July 1, and if teams want to bring their unsigned3 picks into the negotiation, they can. But no team is going to make even a tentative agreement on June 26 involving a top 4 pick when they have no idea if Hayward is going to want to play there, much less for the right amount of money. So this is a non-starter.
A few have challenged that assessment based on the 2013 Tyreke Evans trade. That was a completely different scenario. While that trade technically involved a 2013 pick (the unsigned Jeff Withey), that did not begin as anything remotely resembling a draft day trade. Those S&T negotiations were born out of the Pellies' attempt to court Evans in free agency and the Kings' desire to get something in return for letting him go. Withey hadn't been signed yet (the Pellies wanted to keep their options open for just this kind of scenario), so as the talks matured, the former Jayhawk was eventually added in. Again, no team is going to make a handshake agreement on June 26 that's still subject to all the variables associated with free agency negotiations.
By the way, same goes for Marvin Williams, Richard Jefferson and Brandon Rush, who can't be part of any deal associated with the draft.
The other thing the Jazz technically can't trade on draft night is their cap flexibility — because it doesn't exist yet. The Jazz's cap opens up in July, but there's an easy way around this. Teams make verbal agreements all the time and then consummate once the new cap year has begun, because unlike the S&T scenario, there's no third party that can mess up the deal-in-principle. This happens fairly often, like in 2007 when Portland needed to wait for their cap to clear before they could absorb James Jones in exchange for the 24th pick from Phoenix.
It's unclear whether John Lucas III and Diante Garrett are on team option years or if they have contracts with no guarantee dates. If it's the former, they can't be traded until July 1, either. It sound, though, like Erik Murphy, Malcolm Thomas and Ian Clark don't have option years, but rather contracts that can be terminated at some specific later date, so they are in play.
The assets
Having said that, here's what the Jazz DO have available to trade on June 26:
#5
#23
#35
Any of Utah's own future picks
2017 unprotected 1st from GSW
2016 & 2017 2nd rounders from GSW
2018 2nd rounder from Den
Draft rights to Raul Neto and Ante Tomic
Favors
Enes Kanter
Alec Burks
Trey Burke
Rudy Gobert
Jeremy Evans
Murphy, Thomas and Clark, unless the rumored details of their 2014-15 contracts are wrong
Cap space that can be used in verbal agreements to be officially consummated after the July mortatorium
Competition for pick sales
Also remember that there are 28 other teams to compete with for each of those four spots. Even if the Jazz find a team willing to deal, understand the historical price and are willing to cough up the right assets to get a deal done, they still have to outbid any other potential suitors.
With that in mind, keep an eye on Boston, who owns #6 and #17, although they don't have quite the stockpile of young talent the Jazz have. The Suns' picks don't have as much juice (14, 18, 27 and 50), but they have some intriguing pieces. The Timberwolves have Kevin Love and the 13th pick.
So, just remember: it's not enough to be able to assemble a good trade package. You have to assemble one that's better than what anybody else is offering.
The verdict
Trading into the top four is doable, but this particular time around it will be tough. That said, the Jazz made trades in 2005 and 2013 that history says they shouldn't be able to pull off.
Like I said, watch Orlando, who may be operating with a draft board that looks different from other teams. Also, keep an eye on injuries and the workout performance. If Embiid's back continues to worry people, or if someone like Smart, Noah Vonleh or Aaron Gordon starts to shine relative to the big four, then suddenly teams may be more open to picking up an asset in exchange for "settling" for one of those next-tier guys.
The Jazz could also make a two-step move to try to move up. Maybe 23 + a player + a cap dump could get that pick up into the teens, and then 5 + teens + another player might be sweet enough to compete with what other multiple-pick teams could offer.
Basically, explore everything. Every rumor about every team's willingness to talk, negotiate, ideate, coax or cajole could matter to the overall market and to the Jazz's asset position.
And if none of it works, then Utah will pick fifth in a supposed four-stud draft, and make the best of it.