Every NBA General Manager has a plan. Every GM has different ways of carrying out said plans, and every GM answers to different owners with different mandates and goals.  But every GM (eventually) wants to build a championship team. Utah Jazz General Manager, Dennis Lindsey has not minced any words in laying out his plan.
"We're a small market, and there's just certain ways that it's the best way to team-build, and to team-build here, it's build your foundation through the draft; parlay up via trade, and augment in free agency," Lindsey told local Utah sports radio hosts back in July of 2013. Those exact words and phrases have been used multiple times by Dennis Lindsey in describing his plan. Of course Lindsey has not outrightly disclosed his definition of the team's foundation, and he has not yet laid out a timeline for this team.
In fact a week later Lindsey specifically said in another radio interview that he didn't have "an hourglass" for the team building process, but that the team would be very processed oriented in acquiring "basketball players of strong character and mindset, a competitive mindset that we'll want to compete with" while "first and foremost…building a championship-caliber defense."
But there is one quote I have always found  to be the most revelatory in the way Dennis Lindsey thinks and wants to build this team. "when you are able to draft and develop a base, there's just something about it. It's a little bit like raising your own kids and there's an organic feel. It's just, it feels right. It tastes right. It looks right."  September 26, 2014 radio interview
The Ego and Art of Team Building
General Managers are inherently competitive people. The exclusive group contains prior basketball players and coaches, sports agents and people who form ping pong tournaments they believe they will win. And since they don't get the chance to affect the game on the court, they take pride in the way they construct a team and in what manner they do it. Dennis Lindsey is no different than many GMs.  Recently in an interview with ESPN's Zach Lowe, Sam Hinkie, manager of the Philadelphia 76ers expressed a similar sentiment. "We've been on a path to build something special. We're planting seeds to have an orchard. Some would have us go out and buy apples. But we want to build the whole orchard."
The NBA community has seen how committed Sam Hinkie is to staying true to that sentiment. The 76ers currently have an open field filled with fresh compost, but if you are in the apple-selling business, Hinkie isn't currently interested. But what about Dennis Lindsey and the Jazz?
Some Good News
The Jazz are a good team, perhaps even better than most Jazz fans know. It has been hard to evaluate the Jazz this season with all of the injuries and make shift lineups, but the Jazz appear to be a perfectly average NBA offensive team with a defense that is about the 10th best with a healthy roster.  The Jazz appear to have championship defensive potential, as was demonstrated for much of last season and given their offensive personnel, an average offense is somewhat of an overachievement.  Even amid the series of poor health and missing key players, the Jazz are currently 7th in the Western Conference and the 5th seed is still a realistic achievement if Favors and Gobert both return to the lineup in the next 10 or so games.
Bad News
Even with the favorable position for a playoff qualification, the Jazz have some glaring holes in the makeup of this team. The Jazz are set at the forward spots and center and they appear committed to Dante Exum as the present and future point guard of the team.  Hood is an imperfect fit at starting shooting guard, but has also shown stretches of being the "3 & D" type player the Jazz desperately need at shooting guard. And with Trey Burke's improved play and the playmaking of Raul Neto, it's hard to complain about the back up point guard position, which was an obvious weakness of last year's team.  The back up big man situation has been a problem this season, but if the Jazz like Trey Lyles' potential as much has been reported, then Lyles appears to fit the bill of an organically grown player that Lindsey (and Hinkie) seem to prefer.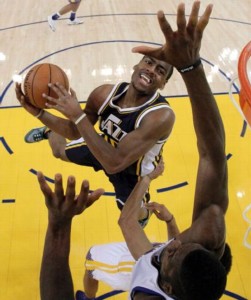 Is Alec Burks Part of the Foundation, or the Seeds?
But the question that will have to be asked, and that I believe will be answered by Dennis Lindsey in the next 13 months, is "where does Alec Burks fit with this team and within the plan?" Burks is not on his rookie contract anymore. He is not so young that the Jazz still have ample time and finances to wait for him to figure out his place in the league. But Burks is also not good enough to be considered among Hayward, Favors and Gobert's tier of influence.
Much like his shooting guard counterpart, Rodney Hood, Burks has had an overall disappointing season accented with spurts of brilliant play. For 4 or 5 games in the beginning of November, Burks looked like a real difference maker for the Jazz either filling the box score with points or assists. His playmaking was at an all time high, and so was his impact on the team's ability to win games.
But overall Alec Burks has been poor this season. Even with his very good three point shooting percentage and ability to draw free throws, his true shooting percentage is below 52%, better than only Chris Johnson, Raul Neto, Trevor Booker, Trey Lyles and Elijah Millsap on the team. His personal numbers aside, which have been fine in some areas, Burks impact on the Jazz winning games has been almost negligible. The Jazz are more than 2 points better per 48 minutes offensively with Burks on the bench as opposed to on the floor. The Jazz are 2.6 points better defensively with Burks on the bench as well.
Real Plus Minus, which tries to summarize a player's individual impact on winning, regardless of the game situation or the teammates he is playing with, ranks Burks as 41st among 88 shooting guards to play this season. It's not a perfect stat by any means, but gives a peek into Burks' struggles to play efficient offense while struggling with defensive concepts as well. Even the biggest fans of Alec Burks' game, have to admit that he is at best a subpar defensive presence.
The Jazz and Their Complicated History with Shooting Guards
Every Jazz fan has a different level of patience for Alec Burks' development, but it's hard to justify the performance of a player who plays 27 mpg and such a large role in the team's overall ability to win. For Jazz fans and front office members who want the team to win, Burks deserves a long look of critique. But the only amount of patience for Burks' development that matters, is the level that Dennis Lindsey and the Jazz organization have. There is no doubt that Burks has time to figure it out. And his contract is friendly enough that there is no pressure for the Jazz this trade deadline, or even this offseason, to move on from him as a player. But there should be doubt and trepidation that Burks will be worth all the pruning and fertilizing and waiting.
The great irony in this story is that 5 seasons ago, similar things could be said about CJ Miles and the long-suffering patience of the Jazz organization then.  And now the Pacers are reaping the rewards of all of the waiting and encouraging that the Jazz did. There are two ways to look at CJ Miles and his ability to help an NBA team win games now as opposed to a few seasons ago: either Burks will eventually grow and become a CJ Miles type player for the Jazz, or he will need to go somewhere else first to figure it out and the Jazz would be better off to reap off the hard work of another NBA team.  This could be accomplished through free agency, or even by Dennis Lindsey's admission, a trade depending how committed he is to his current apple orchard.
"With our young guys, look, if we start trending well, we don't have to use the first pick that we have in the Golden State pick, and what looks like it's gonna be an early second round pick to draft young players. In some level, we got enough players to develop. We can go get a veteran, and boom, let's build our team from there."  January 11, 2014
To steal a phrase from Sam Hinkie, the Jazz need to go out and buy some apples to replace this unfruitful tree they have in the orchard. Trade deadline for this season is just 44 days away.