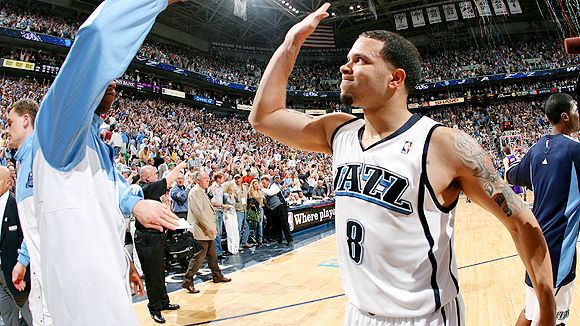 Deron Williams has been selected as a reserve on the Western Conference 2011 All-Star team. In a Jazz year marred with come from behind victories, a horrible January road skid, and ice picks in parking lots, it's nice to have something for Deron to smile about.
Over the past few years, the NBA has had a resurgence of brilliant guard play, so it's even more of an accomplishment to be named a player in this year's All-Star game. Williams beat out other Western guards like Tony Parker, Steve Nash, Eric Gordon, and Kevin Martin to join this team. Pretty amazing when you think about what those players have meant for their respective teams.
Williams has many All-Star appearances to go if he wants to catch other Jazz greats Karl Malone (14 selections) and John Stockton (10 selections). Saying that, he only needs one more to reach Jazz legend Pete Maravich (three selections), so he's working his way into pretty good company.
Congratulations to Deron and the Jazz organization for this honor. He'll represent the team well.