On the eve of the 2013-14 season,  the Utah Jazz brass were cautiously expecting the duo of Enes Kanter and Derrick Favors to be the team's frontcourt catalysts for the next decade. As we reach the unofficial start to the 2nd half of the season and near Thursday's deadline,  the time may be right to take a glance at the progress of the more controversial part of that duo: Enes Kanter.
In his third season in the NBA, Turkish forward Enes Kanter was expected to be the offensive powerhouse next to the defensive-minded Derrick Favors. While Favors has been a solid figure on the rebuilding Jazz squad, Kanter has been an extremely inconsistent player who's struggled to find a solid place in the rotation. After being etched as the starter during the early stages of the season, Kanter has basically been demoted to the team's first front-court bench option.
As we near the unofficial start to the 2nd half of the season,  and Thursday's trade deadline, we're going to try to judge Kanter's overall on-court impact. In a similar mold to my previous piece on point guard Trey Burke, I've compiled a handful of graphs consisting of front-court players who've been drafted in the first part of the 1st round since the 2008 draft. From Kevin Love to John Henson, Kanter will be compared to the best young frontcourt players in the NBA.  By utilizing advanced numbers from Synergy and NBA's stats site, I've made sure that these players are currently active (apologies to Brook Lopez) and who have at least averaged 25 minutes per game. Despite his current reserve role, Kanter fits those credentials by averaging 25 minutes per game.
Offense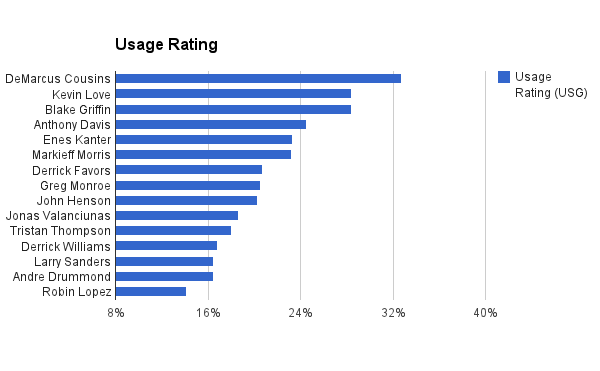 As a means to judge a player's overall offensive performance, it's important to look at both Offensive Points Per Possession (OPPP) and Usage Rating. For example, Sacramento big DeMarcus Cousins is the most utilized player on this list (and in the NBA) but isn't the most efficient offensive weapon. While that definitely doesn't hinder Cousins' overall impact on Sacramento, being tasked as undoubtedly been the team's top option which could lower the overall efficiency because of how often he's used on the court.
While his low OPPP could be looked at in the same way as Cousins, Kanter's limited offensive improvement is more worrisome. During last season, Kanter started to develop into a solid low-post option in a reserve role behind Al Jefferson and Paul Millsap. From the depths of the paint, Kanter shot a solid 51%, a higher shooting percentage than the departed duo. As we've transitioned into the 2013-14 season, Kanter's previously solid performance has taken a tumble down the Wasatch Range. During the up-and-down season, Kanter's has shot a below-average 43% from inside the paint, a troubling sign for the 21 year old forward.
Rebounding

Another sign of Kanter's steady decline during his 3rd season can be pointed at his lack of improvement as a rebounder. While it's possible to see some sort of decline in per 36 or advanced stats as a player moves into a larger role, Kanter's been on a steady decline since his rookie season. Between his rookie season (18.3 TRB%) and 2013-14 (14.0 TRB%), Kanter's overall decline as an overall rebounder is pretty troubling.
Defense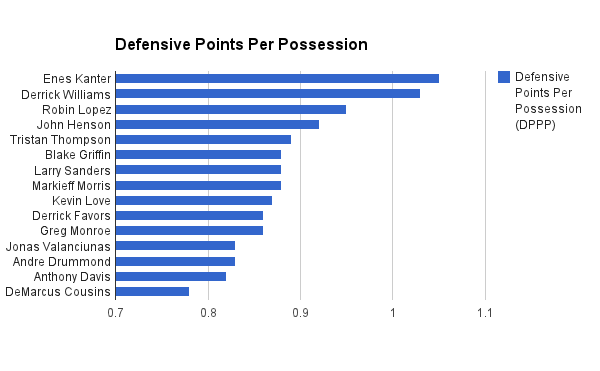 While the overall message of this piece has centered around Kanter's steady decline in multiple facets of his game, his poor play on the defensive end over-cedes the aforementioned offensive and rebounding flaws. Was Enes Kanter expected to be the same defensive force as Derrick Favors? Absolutely not, but that shouldn't excuse his awful play.
With his extremely high DPPP may come off as alarming, Kanter's overall hesitance on the defensive end could be even worse. While Kanter has occasionally been able to utilize his solid 6'11 frame effectively, he's still incredibly raw. As apparent from the above compilation, Kanter is consistently being pushed around by the opposing bigs in the low-post, strange for a player with his bulky frame. One of the biggest reasons for this could possibly be his stance in the low-post where he really doesn't push off on the opponent, leading him to be pushed closer to the rim.
Conclusion
While this post mostly centered around how Kanter's a step or two behind his young frontcourt counterparts, the 21 year old Jazz forward shouldn't be considered the 2nd coming of Darko Milicic. While he's in his 3rd season in the NBA, Kanter is still an incredibly raw, 21 year old prospect who didn't play much in terms of actual organized ball besides a single season in high school and a limited role with Fenerbahce Ulker in Turkey. Even though his lack of improvement is a troubling sign, Kanter has shown flashes of being solid mixed with long stretches of mediocrity.
As an unabashed optimist, I'm still excited about what Kanter could possibly bring in the 2nd half despite his clear flaws. One of the more interesting and important parts of Kanter's 2nd half will be his performance while next to Derrick Favors. In the 340 minutes where they've shared the court, the duo has a 143 point disadvantage on the opposition. Could that turn around in the 2nd half? Hopefully… because it can't get much worse.