The Utah Jazz just inked Rudy Gobert to a four year contract worth almost exactly what the Miller family paid Karl Malone during his entire 18-year career in Utah. And if that dollar figure seems exorbitant, buckle up: that is just the first of a long string of mammoth paydays that the club will hand out over the next 11 months.
Gordon Hayward, Derrick Favors, Rodney Hood and Dante Exum are all in line for massive raises, whether through new contracts, rookie extensions or, in Favors' case, a possible renegotiation & extension. When you start to do the math (as Dan Clayton did here), it becomes obvious that money gets very tight very fast. So tight in fact that the Jazz could potentially be paying the luxury tax as early as next year — something we're not sure the Millers are willing to do.
In spite of that number crunch, there is one more name that should not only join that list, but should leap-frog others in terms of importance: George Hill.
NBA news outlets have spent the early part of the season remarking on the enormous impact Hill has had on the Jazz in his seven games1, including Salt City Hoops multiple times. He has been phenomenal. His recent Player of the Week award validates the social media chatter, and it's doubtful anyone needs convincing that the Jazz should try to retain Hill beyond this season. Utah should not only make every effort to keep Hill, but there are plenty of reasons why they should do almost anything in their power to renegotiate and extend (R&E) his modest expiring contract:
He is really really good at playing basketball.
Because of his length and shooting ability, he can play both guard spots.
Hill told ESPN he is "very interested" in extending with Utah.
He and Hayward have apparently become friends, so a Hill extension could help re-sign Hayward.
It behooves Utah (both financially and strategically) to R&E him rather than attempt to re-sign him as a free agent him next summer.
Financially speaking, the road to a deal with Hill is not easy. Most plugged-in writers are reporting that a Favors R&E is likely. Let's assume that Favors gets his '16-17 salary bumped by $8.2 million, That figure, with max annual raises, would put his incremental earnings on the deal at around $63M for adding the two year, roughly equivalent to the max two-year deal he could sign as a free agent in 20182. Utah could do that deal and still have approximately $5.5M in salary cap space for this season.
If they used the entirety of that $5.5M to bump Hill's salary to $13.5M, they could then extend him for three additional years based off that figure. It would get Hill a total of about $52M incremental money for the three additional years3. Based on his recent play, that is probably not enough to convince Hill to forego what would be a lucrative free agency with many suitors.
So, what steps should Utah be willing and ready to make to clear enough room to get Hill to agree to R&E? There are several ways they could clear more space, presented here in order from most favorable to least favorable.
Option: Save $2.43M by shedding Shelvin Mack
Remember how enamored fans became with Mack last season? That spellbind has expired along with his inspiring performances. Mack is capable of the occasional fantastic play, but can then quickly follow it up with a blown defensive rotation followed by neglecting to set up the offense on the other end of the court. One step forward, two steps back. Having said that, would dumping Shelvin hurt Utah's depth? Of course. But what would hurt Utah's depth more, losing Shelvin or losing George Hill? Either way, it isn't likely Mack returns to Utah beyond this season as he becomes a free agent in July and will certainly look to go where the money is (which won't be the Wasatch Front). Fortunately the Jazz have Raul Neto locked up for a relative puny $1.02M next season (1% of the salary cap).
Option: Save $0.9M by shedding Neto
Trading Raul Neto would have a tiny impact on Utah this season, both financially (shedding only $900,000) and on the court, where the Brazilian guard has logged just five minutes this season. However, given how expensive the Jazz roster will be in the coming seasons, Neto's miniature $1M/yr cap hit will be quite valuable. Then again, cheap veteran point guards aren't terribly rare (e.g. Jordan Farmar).
Option: Save $0.9M by waiving Jeff Withey
To many Jazz fans, this will not seem like an exciting option. Withey doesn't have glaring weaknesses like Mack, but he also is a pretty vanilla player. He has a non-guaranteed contract, of which $932K still has not been paid4. If Utah needed an extra $1M in cap space to R&E Hill, Dennis Lindsey should absolutely waive Withey. Like Mack, Jeff will be a free agent next summer anyway.
Also, if Withey did clear waivers, Utah could re-sign him for the minimum after extending Hill (best of both worlds).
Option: Save $7M by trading Boris Diaw
The Spurs traded a second round pick to dump Diaw's $7M. The cost for Utah to dump Diaw midseason would probably be about the same. The fleshy Frenchman has struggled in his three games this season, but given his recent history in San Antonio, it's safe to assume he'll pick it up at some point after returning from injury, right?
Option: Save $10.15M by trading Alec Burks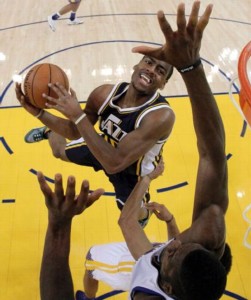 This is a painful consideration. Poor Alec has been injured for 35.3% of his eligible NBA games, and that number will likely grow to nearly 40% by the time he returns from his latest setback. Because of these injuries, Burks' potential is still somewhat unknown, even after 259 career games. Alec has improved his shooting three seasons in a row, is a skillful slasher, and gets to the free throw line frequently. This combination makes him a very potent offensive weapon off the bench, a combination that most sixth men of the year award winners possess.
Let's pretend Utah finds a way to extend Hill and Favors without trading Burks this season. Let's also pretend Hayward re-signs with Utah for a max deal this summer. This puts the Jazz salary total around $133M — $11M over the estimated luxury tax! So Dennis Lindsey declines to pick up Boris Diaw's option to save money. Now Utah is only $3.5M over the tax… but with only 12 players on the roster and without counting their two 2017 draft picks. By the time the remaining three spots are filled, it'll be closer to $8M over the tax. Once again, trading Burks' $11M annual salary would be the financially prudent decision.
Given that, here is a difficult question: Rather than waiting until this summer to trade the oft-injured Burks, should Utah try trade him now and give Hill more upfront money via R&E?
Keep in mind, the more money the Jazz can give Favors and Hill this season, the more breathing room they'll have going forward. To be more direct, if Utah doesn't R&E Favors and Hill this season, one of the "core" Jazz players will not be on the Jazz roster beyond 2017-2018. Therefore, if Utah can R&E Favors and Hill rather than re-signing them when they are free-agents, the Jazz won't necessarily have to say goodbye to Rodney Hood, Dante Exum, or Trey Lyles.
Given all the Jazz players in line for major raises, it will be expensive to retain Hill, but not as costly as it would be to say goodbye to him.