We interrupt the collective glow-basking of Jazz fans everywhere following a resoundingly successful draft to look at the next phase of the offseason.
That's right, fellow Jazz fanatics.  You only have mere minutes left to enjoy the acquisitions of Dante Exum and Rodney Hood before free agency frenzy begins in full swing.  (Adrian Wojnarowski is chugging a 55-gallon drum of espresso as we speak.)  Now that the draft is over, a much clearer picture is forming in regards to what holes positional and skill-based holes each team will need to look to the free agent pool to fill.
With the selection of the Australian wunderkind Exum, Utah gets an exceedingly young combo guard with a potent combination of size and speed.  Exum is a promising, albeit unproven prospect whose prior level of competition caused many to wonder out loud if his impressive stats and skills are  a product of this lower level of opposing play.  Rodney Hood brings good athleticism and versatile scoring ability to a squad that often struggled to score.  Like Exum, Hood's strengths lie almost exclusively on the offensive end.  From a pure on-court standpoint, the Jazz could use some defensive assistance from incoming free agents, especially on the perimeter.  There are a handful of free agents who could fit the bill.
Shawn Marion would provide defensive help, but has certainly lost some of the zip on his fastball since is "Matrix" days, and will likely be looking to join a contender.  Avery Bradley and Eric Bledsoe are two restricted free agents who, although would be solid young talent who would immediately shore up Utah's perimeter defense, are quite unlikely to be pried away from their current teams.  One interesting defensive talent would be Thunder pending free agent Thabo Sefolosha.  If you just threw up in your mouth after remembering his performance in the Western Conference semifinals, I sincerely apologize.  After seemingly forgetting how to shoot, Sefolosha's stock has never been lower.  If coach Snyder and his staff have faith in themselves to correct Sefolosha's offensive woes, he could be a good value.
From a development and off-court standpoint, the Jazz will likely be targeting established veterans who, in addition to having solid work ethics and good habits to pass along, have professional and positive attitudes.  These intangibles can be invaluable for members of a team that's as young and impressionable as Utah to have.  As I don't have unfettered access to every NBA locker room to see the interactions between players behind closed doors, it's a bit more difficult to peg down just who fits this bill that Utah could be targeting outside of oft-repeated anecdotes and what has been reported.  By many accounts, one person who fits the good person and good habits role is Utah's own pending free agent Marvin Williams.  Williams looks like an ideal mentor to Hood, who has a similar build and somewhat similar skill set to Williams.  Utah Jazz radio commentator David Locke repeatedly raved about the class and professionalism with which Williams conducted himself; what better influence to have around a handful of still-developing players who are all hovering just above or just below the legal drinking age in Utah?
Though Hood figures to help boost Utah's shooting numbers a few notches, Utah's 25th-ranked offense in '13-'14 could use some knock-down shooters who won't break the bank. Mike Miller from Memphis could fit the bill.  The 34-year-old played in all 82 games for the Grizzlies and clocked about 20 minutes-per-game while shooting a crisp 45% from behind the arc, good for 2nd in the league behind former Jazz man Kyle Korver.  Matt Bonner from San Antonio will likely not be brought back after seeing sparse playing time this season, and is a three-point specialist whose work Jazz fans are familiar with from the numerous times he went 6-7 from three-point land against Utah.  While his contributions would largely be one-dimensional, a steady long-distance shooter would be even more valuable after adding a speedy player like Exum.  The slash-and-kick possibilities are endless!
Spencer Hawes is another, more versatile option.  A 7-footer who can stretch the floor, Hawes hit threes at a 41.6% clip last season for the Sixers and Cavs, and could add a veteran to Utah's front court as at least a placeholder until Kanter and/or Gobert develop into reliable starters.  The competing offers for Hawes will likely include more years and money than the other previously mentioned candidates.
Oh, I forgot one last possibility.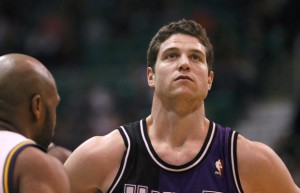 Happy free agency, everyone!