If you look up Joe Marcus Johnson on basketball-reference, you will see that he has 4 credited nicknames: Iso Joe, Joe Cool, Big Shot Joe, and the Armadillo Cowboy.  Tonight, at least three of those nicknames were on full display.
It was truly a script for Hollywood. An unproven, up and coming team, overcoming the loss of their defensive backbone Rudy Gobert1 and besting two individual performances with consistent team effort. It wasn't as dramatic of an upset as David and Goliath, but it may have been more Rocky and Apollo Creed (Rocky was the Clippers, by the way.)
To keep the Hollywood theme going, let's pass out some awards.
Best Actor in a Leading Role: Joe Johnson
He may have been cast in a supporting role, but there is no doubt that Joe Johnson was the main man tonight. It wasn't just the obvious game winner. Joe Johnson was a consistent and steady source of offense all night long, scoring 21 points on 9-14 shooting and dishing out 3 assists. In the first half, it looked like he was going to have a hard time keeping Blake Griffin off the boards, but in the second half, Joe Johnson got the better of Griffin on the defensive end with veteran plays. The scene where he "pulled the chair" from Blake Griffin, causing him to fall to the floor was really the pinnacle of his defensive performance.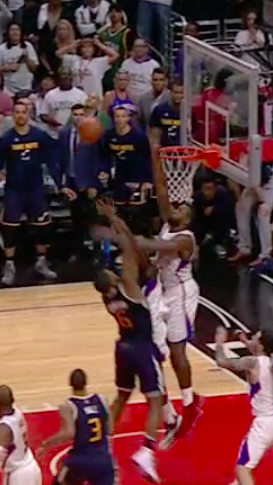 Best Actor in a Supporting Role: Joe Ingles
Ingles missed a couple of layups and missed two wide open three pointers, but he was vital in disrupting the Clippers offense at key times tonight. He made JJ Redick uncomfortable from the opening tip, keeping him off the three point line and pickpocketing him a couple of other times. Redick never got going. Ingles also took turns on Chris Paul at key times. The scene that secured this award was on the final play when Ingles essentially bear-hugged Blake Griffin causing a defensive switch which allowed Johnson to isolate on the Clippers' weak link in Jamal Crawford. We love you Joe. We really love you.
Best Visual Effects: Chris Paul
Chris Paul is just a national treasure. Watching him cock his head all night like he's been hit with a paintball, never gets old. He's great. He was very good tonight and nearly got his team the win singlehandedly. Appreciate Chris Paul, because we won't have many more seasons of this play…or of this: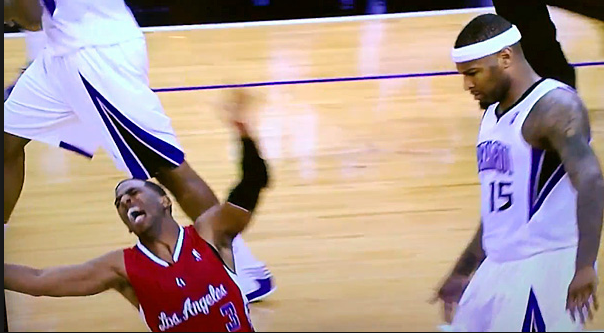 Best Directing: Quin Snyder
It's fun to see a lot of these Jazz players get their playoff feet wet, but it's especially rewarding to see Quin Snyder making big decision on a big stage that yields big results. His decision to not call a timeout on the final play was essential, if not risky. But his overall choice of pace and roles for each of the players paid off all night. In Hollywood terms, Rudy Gobert's unexpected exit was like George Clooney turning down the role last minute, leaving Snyder to make a hit movie with Shia Labeouf.
Best Film Editing: Gordon Hayward
Hayward didn't have a great shooting night and he didn't have any big plays that left an imprint on the game. However, he had a good game and did a lot of the things that go unnoticed at first. No one ever thinks, "man the editing in this movie is incredible," but without proper editing a movie can be a complete disaster. It's vital to the overall product. Hayward was huge all night on the defensive glass, getting position against a very good rebounding team. He pulled down 10 rebounds, 9 defensive, and even drew an important loose ball foul on Luc Mbah a Moute. He was huge in the third quarter and really set up the team for success.
Best Writing (Adapted Screenplay): Doug Collins
After discussing his son's close relationship with coach Quin Snyder, Collins still made the curious decision to refer to the Jazz coach as Quin "Schneider" which added a lot of tension and bravado to the commentary. I mean, nobody is scared of Darth Vader, if his name is Ralph Nader. What's in a name? Everything. Bravo, Doug Collins.
Best Picture: La La Land.  No wait. Wait a minute. Armadillo Cowboy is the best picture. This is not a joke. The Armadillo Cowboy is the best picture.
We will see you Tuesday night for game 2. Have a good night.