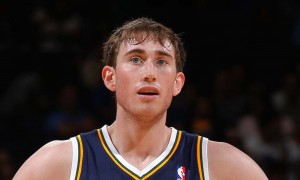 Expectations were high for the 9th pick in the 2010 draft. Very high. The Jazz received the pick as part of the 2004 Tom Gugliotta trade, and before Jazz fans watched the Warriors' record with bated breath, we watched the Knicks' record with bated breath. We were hoping for a game-changer, a franchise player, someone who would take us out of the first or second round of the playoffs.
When David Stern announced Gordon Hayward as the Jazz pick, Kevin O'Connor heard boos at Energy Solutions Arena where the Jazz were hosting a Draft party. Lots and lots of boos. O'Connor, seeing something we didn't in Hayward, said, "The only thing I hope is that in two years you're not booing."
Sure, our expectations were too high, so when we ended up with a 9th pick that turned into a skinny, white kid from Indiana, we were disappointed. How would he help us become a championship-caliber team?
In the middle of the Hayward's second NBA game, Deron Williams—All-Star point guard and team leader—grew visibly frustrated with a route Hayward, with a fresh hair cut and a cleanly shaved babyface making him look 12, didn't run, yelled at him and hurled the ball at his head, while only being 10 feet away. Welcome to the NBA and grumpy teammates, Gordon.
But now, three years later and with the boos silenced, it's Hayward's turn to be a leader.
Dennis Lindsey has cleared the deck, making room for Derrick Favors and Gordon to step up to the plate and be leaders. Both have gone on record saying they're grateful for the opportunity, saying that this is exactly what they want.
How will Hayward be as a leader? What kind of a leader will he be?
I think it's safe to say that Gordon won't be chucking the ball at the head of any of the rookies this season. If you remember Jody Genessey's great feature on Hayward around Father's Day, there was a telling story in there about Gordon, his mom, and a high-school tennis match. During the match, Gordon threw his cap down while changing sides. His mom decided that she had seen enough, so she gathered her things and left. He saw her leave, and knew his behavior disappointed her. From that point, he learned to maintain a cool-and-collected temperament.
So beyond that temperament, what else can we expect from Gordon Hayward as a leader?
There have been some good signs.
In high school, he led his team to the state championship.
At Butler, he led the team to its first Final Four appearance, almost launching them to a championship trophy with a half-court, buzzer-beating heave that nearly went through the net.
He was there in Orlando with the team for the first couple days of Summer League, getting to know the rookies.
His babyface and personable nature bely his competitive nature—starting with tennis, extending to video games, and bleeding into basketball. He hates to lose. Remember the rumors in his first offseason a Jazzman, that he and Favors were unhappy with defensive schemes and hated poor defensive play? That's another sign of a true winner—and hopefully a great leader—because if you're in the NBA and you want to win, you have to be on a team that plays defense.
I think what we're going to see is a gradual transition into a slightly more vocal John Stockton-type leader. He's not going to be out there on the court yapping away at the rookies or throwing balls at their heads. He's going to quietly, intensely get the job done. He's got that competitive fire that reminds me more of John Stockton than anyone else. He might not be the guy who's throwing big parties so everyone can hang out, but he'll be the guy they quietly respect because he gives it all on both sides of the court and he hates to lose.
He'll be the leader by example.