The Utah Jazz lost their 34th game of the season to the Atlanta Hawks Tuesday, turning what was once a 13-point lead into a seven-point loss after four quarters. Jeff Teague had a monster game for the Hawks, clocking1 24 points on 18 shot attempts, making half of his six three-pointers and dishing six dimes. The Jazz were lead in scoring by Gordon Hayward, (who played just over 38 minutes in the loss) whose stat line was 22/6/3.
'We Need to Talk About Kevin Turnovers'
So, the turnover monster came out from under the proverbial bed again during Tuesday's game and the Hawks' active defense gobbled up 20 often yikes-worthy TOs that resulted in 26 of their 91 points.
On the turnover problem, coach Quin Snyder said, "Atlanta's really quick. They did a really good job of hawking the ball, no pun intended."
That's okay, Q. Puns are the bread and butter of Salt City Hoops2.
Speaking of bread and butter, Gordy-Hay broke down what specifically the Hawks did well to force so many Jazz cough-ups.
"I think first off, they're a good defensive team. They're really good at shutting down the pocket pass, which is one of our bread and butter things."
Rudy Gobert, who had 6/15 with a pair of assists to go along with it "toussa" ("coughed" in French) the balled up once for every point he made. The boo-birds were even out a little bit at the Viv late in the game when the Jazz lost the ball. The team is going to have a tough go at the Roaracle against the reigning champs tomorrow night if they don't take care of the ball.
Dropping leads makes for the sadz
Even though the Jazz's record over the past nine games is 2-7, the good guys have actually won nine straight first quarters and came out strong tonight, closing out the first 12 minutes with a nine-point lead, (27 to 16). The problem came afterward when the Jazz shot the ball poorly and only scored 15 points in the second and third quarters.
And for the fifth game in a row, the Jazz gave away a double-digit lead.
"We played well the first quarter and then Atlanta did some things that really bothered us and we started turning the ball over," Quin said in his post game interview.
Once a 35-22 game, a massive Hawks run turned into a 41-38 lead for the Atlantans3 with 2:30 left in the half. The Jazz shot the ball poorly, but the Hawks have also boasted the second best defense since the All Star break, which resulted in some serious scoring droughts.
Gordon remarked after the game that the team has to find a way to not give away those leads, saying, "We've had double-digit leads (against good teams), we just need to find a way not to have a lapse."
"We just stopped getting good looks," Gordon said, "and it's hard to constantly be making tough shots."
It's easy to diagnose the problem, but is it as simple to assess and rectify?
Trey Burke gets another DNP-CD
Shelvin Mack did not, how you say, have a traditionally 'good' game. I mean, the shot chart: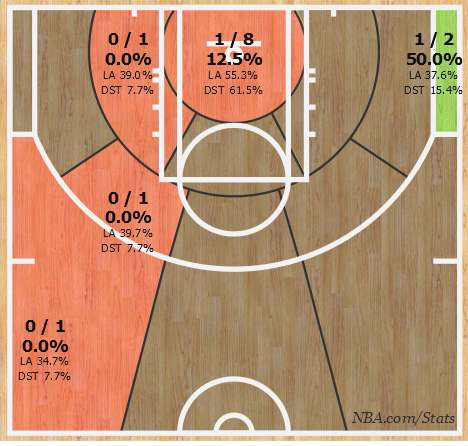 And the one shot Mack made in the restricted section? That came on a gimme at the end of regulation when the Hawks weren't even trying to guard him. When asked about whether or not he thought about inserting Trey into the game for scoring, Quin had some interesting things to say.
"This is kind of a tough situation when it's hard to play three-point guards," he said. "I made a decision tonight, you know, obviously, that Shelvin is our starter. Shelvin didn't play well tonight. Raul has been coming off the bench because he's, you know, a good defender."
When neither Shelvin or Raul were cutting it, Coach Q went without a traditional point guard down the stretch, using Point-Jingles in place of his starter/backup/3rd string PG.
On Mack's struggles, Snyder said that what he saw was "a different type of struggling," namely that he was getting looks that he's "watched him make for years."
"He didn't … shoot well," Quin said. "But he was getting great looks, and at some point, you have to show confidence in a player."
A little sunshine
Hey, the opening play was awesome!
Big-to-big passing is just the best. And Fav had two awesome dishes to Rudy.
Someone in the arena had a really great sign:
I know it's been true in my life, but Jazz games are really bigger than sports. There's a lot to be said for the kind of bonding/sense of community/family time that Jazz games provide. Maybe that's my rosy, sometimes-there's-stuff-bigger-than-sports hot take, but there it is.
Favors had some serious man moves in the post. He refuses to quit, and that's awesome.
Another win was that my laptop didn't die on press row, despite not plugging in for the duration of the game, which was a tiny miracle. Okay, I think I've scraped the bottom of the barrel for things that made me happy during the game. I'll just leave you with some wisdom from the Jazz's top scorer, Gordon "G-Time"/"H20″/"Dad Calves" Hayward: "We're still right in this thing."