A team starting two rookies and a borderline NBA player alongside Gordon Hayward and Rudy Gobert in the latter's first start since returning from injury was not enough to overcome a talented Heat squad with a combined 23 All-Star appearances in its starting lineup…
…was a sentence I was prepared to use to open tonight's game recap.
INSTEAD, Gordon Hayward came within 3 points of tying his career high and led the crazy thin-benched Rocky Mountain squad to a 98-83 win, snapping a three-game losing streak.
Believe the hype
Despite losing Rodney Hood to a shadowy ankle injury for an indeterminate amount of time (boo you, basketball gods *shakes fist*), there was much to be excited about leading into tonight's matchup against the 22-15 Heat. For starters:
Secondly, this was the first time Rudy Gobert and Hassan Whiteside, two block-heavy, hype worthy 7-footers were able to go head to head since Rudy was injured during the two teams' previous meeting in November. The Stifle Tower and the South Beach Swatter (idk) have similar enough games and quickly became fantasy favorites around the same time last season.
Hassan is currently the league block leader, tallying 3.8 a game. Rudy was on that top-tier board before the MCL strain, and seemed eager to get a chance to go nose-to-nose with his southern counterpart.
Tonight, Whiteside racked up 10 points on 4/8 shooting, grabbed 11 boards, had 1 steal and blocked 4 shots during his 30 minutes on the floor and was a -6 in the Heat's 15-point loss.
After playing just 15 minutes in Houston on Thursday, Rudy played 28 minutes scoring 9 points, grabbing only 5 rebounds (Trey Lyles had 10, btw — way to go, rook!), stole the ball once and blocked 4 shots, ending the as a +10 on the night.
Pretty evenly matched, despite the out-of-character rebounding disparity.
EXCEPPPPPT I left out one stat: assists!
As every other writer worth their salt is likely to point out, where Rudy really outshone HW tonight was with his passing, dishing out 4 !FOUR! assists in under 30 minutes of play. It's no secret that Mister Whiteside is somewhat loathe to give up the rock, as illustrated by these stats —–>
But Rudy is a pretty nifty passer. And boy, oh boy, were some of his assists tonight pretty.
I mean: *fans self*
Rudy is becoming quite adept at that pass to the cutter. Brilliant. Magnifique. Other fancy French words that mean good things!
A matchup no one saw coming (and if you did, you're LYING)
I will be honest, learning Chris Johnson — a player who is on his 6th team during his 4 years in the league — was starting in lieu of the hobbled Rodney had me feeling like we were already waiving a white flag with SORRY, WE'RE SOOOO INJURED scrawled across it. CJ looked a bit overwhelmed initially and didn't look great in the first quarter, checking out after 5:51 having scored no points and turning the ball over twice. Oof. Chris Johnson vs. Dwayne Wade was looking like a horribly lopsided affair.
But, Quin Snyder being the genius we all know and love, didn't lose faith in Chris and the Jazz's shooting guard, who was asked to step up literally from the end of the bench, ended the game with 14 points, shot 2/3 from behind the arc, dished out 3 assists, had 2 steals and 2 blocks, including THIS:
Chris Johnson also had the highest +/- on the team with +22 (!) and held D-Wade to 8 points in just over 32 minutes. The perennial all-star is averaging 18.8 points on the season.
My favorite tweet on CJ manning up and playing big:
Oh Em G-Time
It's too bad that we need to have a game a few times a season that reminds people just how good Gordon Hayward is.
Tonight was that game.
Gordon 'G-Time/Baby Daddy' Hayward swagged his way to a season-high 34 points on 14/22 shooting (63.6%!) in 37 minutes. G was obviously fatigued, as evident by his 8 turnovers and 4/10 FT shooting, yet he still found a way to carry the offensive load on a team whose second option on that end of the floor was sixth man Trey Burke, though CJ and Raul 'Wolfie' Neto each scored 14 and 13 respectively.
Hayward was absolutely en fuego in the 3rd quarter, scoring 18 points on 8/9 shooting while playing the entire 12 minutes. He scored from everywhere, notching a 3-pointer, fade away 2s and getting to the rim. Chris Bosh also had an excellent 3rd, scoring 11 points on 5/7 shooting in 10 minutes. It kept feeling like the Heat were about to pull away, and it never happened, in huge part to Gordy Hay's relentless scoring attack.
Gordon is good, y'all. Don't fight it.
Other fun
Earlier this week, D-Wade gave some mad props (is that how the young people say it?) to our very own Alec Burks when asked whom he thought was the most underrated player in the league. Would've been nice to get to see the two match up.
Get well soon, AB.
Joe Ingles — all of your parents' favorite player — has a bunch of great nicknames, none of which the Jazz broadcasters choose to use. Jingles, Jose English and Slow-Mo-Joe are all excellent. During this hilarious second quarter breakaway, Joe showed why he has earned the latter during a breakaway where he let off the gas a liiiiittle too soon.
Oh and hey, here's Dante eating gummy bears!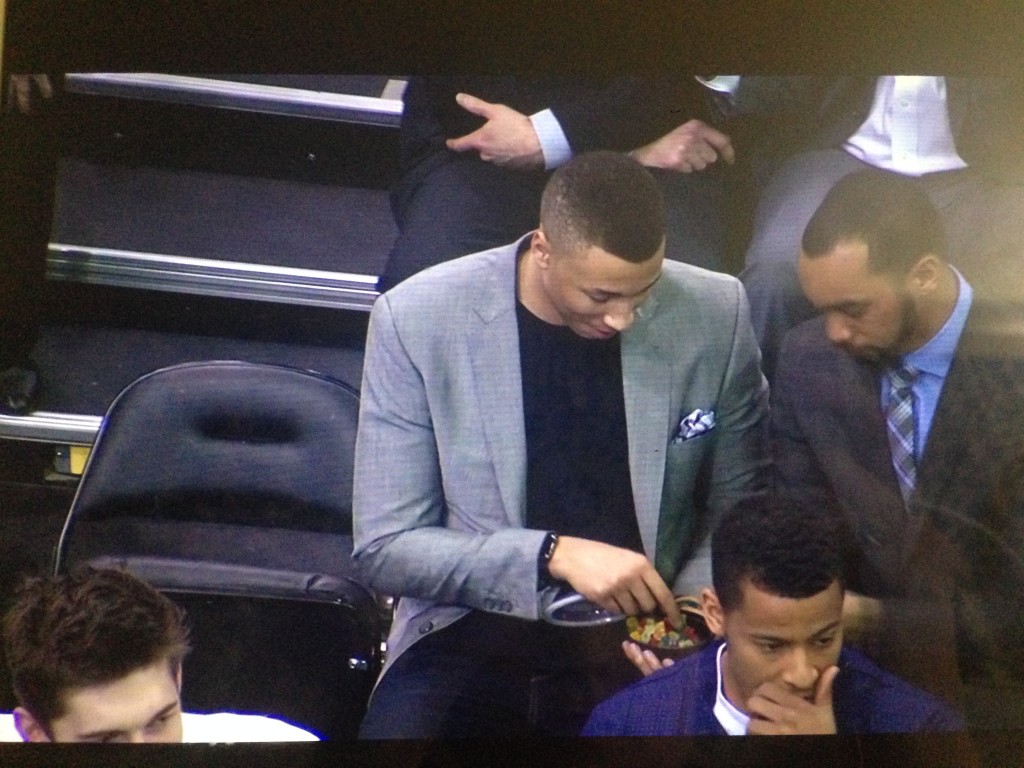 Let it be known that this is the second time I've written a recap. Both wins. So, there you have it, Universe.
On to the next!