Last year, there was a point where I was just so over the makeup of the team. A growing sense of indifference with all the upcoming free agents changed to drastic annoyance and came to a head for me with two games in a short period of time. I know there's the argument to be made that boxscores don't tell the full story, but I think sometimes they can get pretty close. See Exhibit A: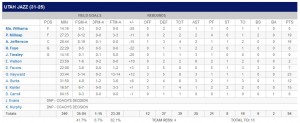 This is the box score from the game against the Clippers, February 23, 2013 in LA (I was there and, yes, it was as painful as it looks).
There are ciphers in the FGM column, along with the FTA column for three of the starters. THREE. That combination is brutal. Marvin Williams, Jamal Tinsley, and Randy Foye combined for 0 points, 4 rebounds, and 6 assists. If your shot isn't falling, at least attempt to get to the line. And then if that doesn't work, see what else you can do to contribute—steals, rebounds, assists, blocks, deflections, hockey assists. Okay, so maybe those last two aren't kept on official stat sheets, but we know they're important and valuable. Tinsley and Foye both at least had a couple of assists, but when your starting point guard is neither scoring nor collecting more than one assist (admittedly, in just over 14 minutes of game action), you're going to be in trouble.
Then Monday, March 4 against the Milwaukee Bucks (read, second time in five games), Exhibit B: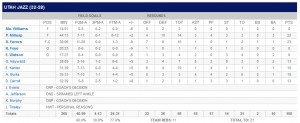 Slightly different scoreless threesome—this time Marvin Williams, Earl Watson, and Randy Foye—but same unfortunate effect: a loss. Again, ciphers in the FGM column along with the FTA column. Between the three of them, they had 0 points, 3 assists, and 7 rebounds (PG Watson outrebounded Marvin Williams and Randy Foye combined). That's just unacceptable.
One point Locke hammered on last season—and rightfully so, in my opinion—was back-court rebounding. Foye and Mo were the worst-rebounding backcourt in the league, and that was not an insignificant stat. So, why bring up these backcourt ciphers from last season? I'm going to make a couple predictions:
1. We will be a much more balanced rebounding team in 2013-2014, which will contribute to being a better defensive team
2. We won't have any games where our three backcourt starters don't score.
Even in a summer league debut where his 1-12 shooting night was derided for weeks, undersized Trey Burke managed to snatch 7 rebounds. Yes, that was a summer league game, but at least Burke was putting in some effort to get that number of rebounds. In his college career he averaged over 3 rebounds per game, which will be an improvement over Mo's 2.4 rebounds per game in 2012-13. Also, assuming Hayward plays significant minutes at the 2, he'll be snatching some rebounds, too. There are times when, again and rightfully so, Locke called out Hayward to rebound better and he often did. He had a few 6, 7, and 8-rebound games. Burks is also a decent rebounder for a 2; his per-36 projections are 5 rebounds per game. Lastly, at 6'6'', Brandon Rush has shown he can also be a pretty good rebounder from the shooting guard position, averaging 3.6 over his short career, a nice replacement for Foye's 1.5 boards per game last season.
While there have been many jokes about the entire team's ability to score this upcoming season, I'm positive we won't have any games where our backcourt starters don't score. First off, Hayward didn't have any scoreless games last year. Burks, with one exception, scored in every game in which he played more than 10 minutes (the one exception was a game where he played 11 minutes and didn't score on 0-3 shooting). I think it's safe to say that, with more consistent minutes and an expanded role this season, there won't be any games where Burks goes scoreless. Trey Burke didn't have the best summer league, but he has a knack for scoring, as evidenced by his 18.4 points per game at Michigan last year. He won't be averaging those numbers this coming year, but he's a good balance of passing and scoring.
What's even more important to this point is that our new starters each do multiple things. Hayward can shoot the three, he can rebound, and he can get to the line. He's one of the kings of the chase-down block. Burks also gets to the line, started developing a three-point shot last year, and is active defensively, getting steals and deflections. Burke is a good shooter, a very good passer, and pulls down rebounds at a decent rate. I've made the prediction that these guys won't all go scoreless in the same game, but the more important point is that they all do things other than score—which couldn't always be said for the Marvin/Foye/Tinsley (or Watson) trio from last year. And when you have play like that that creates so many zeroes in the box score, you put an undue amount of pressure on the other two guys to pick up slack.
Thankfully, we won't have to worry about that this year. Bring it on.