For the past several years, Jazz players have been spending weeks at a time during the summer training with the Peak Performance Project, or P3, in Santa Barbara. I sat down with several members of the P3 staff at their facility to find out what exactly they do with the Jazz and other NBA players. This is part one of a two-part series.
There's a scene in the movie Moneyball when Brad Pitt, portraying Oakland A's GM Billy Beane, explains to his team of baseball scouts that he's going to field a team differently than what they are all used to. He would use a system based on numbers and statistics, figures and predictions. It didn't change the face of the sport, but it definitely introduced a revolutionary approach to the game.
A similar effect is trickling into other sports, especially basketball. John Hollinger got hired away from ESPN to work in Memphis' front office, for crying out loud. It's all the rage right now.
But there's another trend happening in sports that less people know about. One that stands with equally as much potential to change the game as analytics have: sports science.
Simply put, sports science is the use of scientific principles to improve athletes. You might have seen some of the segments on SportsCenter over the past few years. One of the major leaders in this category is the Peak Performance Project, more commonly known as P3. You may recognize the name from several social media posts over the summer involving multiple Jazz players (Check them out on Facebook and Twitter @P3SportScience). P3 is a world-leading sports science institute and training center for power-sport athletes. They sum up their position pretty succinctly on their website by claiming to be "Where science meets athletic performance." One of the most impressive things about their approach is the specific and detailed solutions they offer for every individual athlete; no more one-size-fits-all, cookie-cutter workouts.
If you've ever wondered why so many Jazz players mention taking a trip to Santa Barbara over the summer, P3 is the answer. They work with more than 100 different NBA athletes from nearly two dozen different teams, including a handful of international players. According to P3 founder and director, Marcus Elliott, M.D., "The NBA is going to jump ahead of other sports in the sports science area." He attributed this largely to the manageable size of basketball rosters opposed to other sports such as baseball and football. As one of the category leaders, this is also one of the reasons P3 is focusing so heavily on basketball.
Dr. Elliott has quite the list of credentials. He's a Harvard-trained physician specializing in performance enhancement and the development of elite athletes. He worked as the physiologist and injury prevention specialist to the NFL's New England Patriots during their Super Bowl years. He's an internationally renowned leader in the field of sports science and serves on several boards in the sports and performance nutrition fields. Elliott is in his third season as the Seattle Mariners first-ever Director of Sports Science and Performance, as well as a consultant for a number of other professional organizations, including the Utah Jazz. Basically, the man does it all. And he surrounds himself with some of the best talent in the world, including former professional athletes and coaches, neuroscientists, biomechanical engineers and exercise physiologists from schools such as Yale, Stanford and Harvard.
P3 first got involved with the Jazz through an unlikely source—Rafael Araújo. The summer after being drafted by the Toronto Raptors, Araújo went to the P3 facilities in Santa Barbara for two months at the recommendation of his strength coach. He eventually found his way back to Utah in his third season. After that, Paul Millsap and Ronnie Brewer became the next Jazz players to work with Dr. Elliott and his staff.
According to Dr. Elliott, when Brewer first got there, "He could jump, but wasn't as good on lateral speed." So they put him through their evaluation process and starting customizing his training.
"When Ronnie first started, he said he wanted to work on his jumping ability, when that was actually his best area." Elliott continued to share stories about Brewer's development and how they helped him in certain areas. "Even Sloan said he was a liability at the time. Now he's making a name for himself for being a defender."
The trainers at P3 use state of the art technology to help improve the performance of their athletes. They focus on a few areas: identifying development targets, predicting injuries, and making player projections. They look for holes, find solutions for those areas and ways to strengthen them.
"Basketball isn't just about how high they jump," emphasized Dr. Elliott as he talked to the complete package of sports science.  "There are physics behind beating someone off the dribble."
A lot of athletes will approach P3 after sustaining an injury, as was the case with Al Jefferson. "Injuries don't come out of the blue. There are signs, just like heart attacks." While unable to name specific teams or players, due to contractual obligations and the sensitivity of information, Dr. Elliott shared stories about predicting injuries before they even happened. One specific athlete started training with them after being drafted. His evaluations showed signs of favoring his right side and was later confirmed to have a stress fracture in his right leg.
He acknowledged the uncertainties that exist within the sport, but firmly believed in his approach to training, "We analyze the hell out of players and take the guess work out of it."
To date, P3 has worked most exclusively on an individual player basis, with the Jazz being the only NBA organization to fully utilize their training facility. Recently, however, they have received calls from around 6-8 different teams around the league with interest. Even after reaching out, Dr. Elliott said their first question was usually, "What is sports science?"
The team in Santa Barbara could have expounded on that question for days. They gave me a glimpse into a few specific evaluations with which they test athletes. The most interesting was the force plates, as seen in the picture below.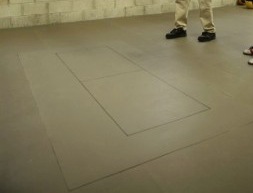 Force plates feature a left and right leg sensor to measure impact and takeoff. They perform a number of different tests with these plates. In this video below from their Facebook page, you can see John Lucas III testing lateral quickness. Look closely for the lines on the ground.
They also use the force plates for a drop box test. This is performed by standing on an 18-inch box, dropping onto the force plates and exploding into a vertical jump. The images below feature Alec Burks from this summer's workouts during his drop box test. You will also see line graphs, which represent the amount of force generated during different phases of the test. They receive hundreds of different data points for each single jump.
You can also watch how all this data is collected in real time with this video.
During each of these exercises, P3 also uses a 3D motion capture featuring 10 cameras running simultaneously. They use this footage to plot and track body movements. By cross referencing visual body cues with force data, they can begin to identify problems and weaknesses.
P3 were the first to use force plates. Some other training facilities, even NBA organizations, are now copying or mimicking their techniques. None of which seemed to bother Dr. Elliott: "They have to know what they're doing and how to analyze and approach the data." It may seem like a lot of math and science for athletic training, but he again emphasized the importance of these numbers and figures, "They tell a true story."
The measurements and data they gather go into a database used to compare players with others around the league, as well as against themselves. For many of the young Jazz players, they've been training with P3 their entire time in the league. The goal for P3 is to be able and track their progress throughout their career.
The entire staff at P3 had nothing but positive things to say about the Jazz players and organization. They seemed just as excited as the Jazz fan base for this upcoming season, with all the potential in each of the players.
Part two of this series will focus more on specific players and their off-season development.