It was only 3 seasons ago that the Jazz took only 12 three point shots a game, good for the 2nd fewest in the league.  The Jazz have never been in love with the 3 pointer, and I'm not sure they've even taken the long range shot on any second dates.  Even during the 3 seasons the Jazz had Kyle Korver, the Jazz were a bottom 6 team in 3 point attempts every year.  Before this season, the Jazz never shot more than the 23rd most long range attempts in the league since 2000.  This year they are 18th.
It's not like shooting 3 pointers guarantees you will have a good offense, but when you get good looks from 3, it usually says something about the effectiveness of your penetration, your ball movement, and your game plan.  Consider this: of the top 10 most efficient offenses in the NBA, 8 of them are top 10 in 3 point attempts.  They don't make the most 3 pointers, they just take them.  Only 4 of the top 10 offenses are in the top 10 in 3 point percentage.  There is higher correlation with attempts than makes.
Which is why it is interesting, and worth following, how much the Utah Jazz continue to embrace the 3 point shot moving forward, as they try to develop a top offense in the league.
If You Believe It, You Can Achieve It
There is no question that the Jazz believe in the 3 point shot more than ever before.  The three pointer is available for almost anyone who wants to take it; there have been times when coach Quin Snyder has threatened to take people out of games if they pass up open threes.
Trevor Booker has taken 39 three pointers this season.  He only took 10 during his previous 4 seasons. Enes Kanter has taken 35 after taking only 3 in his first 3 years.  Coach Snyder was in Atlanta last season when Paul Millsap and Pero Antic attempted 212 and 171 three pointers respectively.
A few weeks ago I half-jokingly tweeted that Derrick Favors was going to be awesome when he adds the three point shot to his arsenal next season.  Not one response from fellow Jazz fans was positive in that regard.  Nobody vocalized, at least to me, that they believed Derrick Favors could extend to the 3 point shot.  Now I'm not sure he can, but at the same time, I can't see why not.
15-23 Foot Jumpers During First 5 Years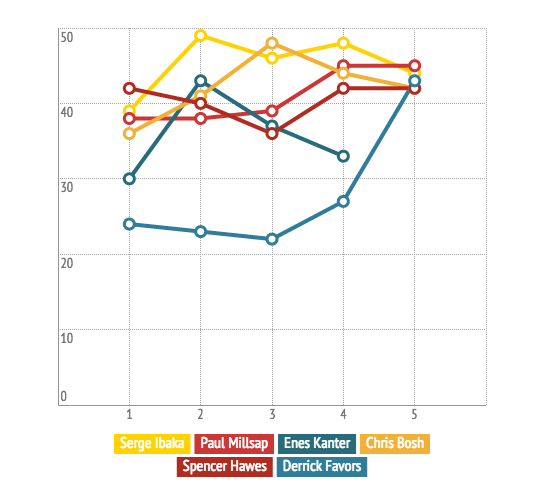 Looking at this graph, it is obvious that Derrick Favors got a slow start on his mid range jumpers.  He was pretty bad at them his first years.  But it's important to note that while taking basically 2 midrange jumpers a game, Derrick Favors is shooting at a similar percentage to a handful of big men who made a transition to 3 point shots.  Shooting touch is shooting touch, and Derrick has developed it this season. There is still to see whether this year is a fluke, or if Derrick ever feels comfortable shooting from even farther (some guys like Al Horford are snipers from mid range, but never learn to shoot from 3), but I'm confident that if Derrick feels comfortable shooting 3s, Quin Snyder will allow it.  And with the year Derrick is having, I wouldn't bet against him in the future.
Three Point Shooters Power Rankings
1. Kyle Korver – The man is 499/1036 (48.2%) on three point attempts over the last 2 and a half seasons.  That's almost 50% at 5.5 attempts per game.  He's the sweetest shooter of this generation and both Kevin O'Connor's best trade and worst mistake (letting him go).
2. Steph Curry – He's shot 649/1506 (43%) on three pointers the last 3 seasons, which is made more remarkable by the different ways he gets his looks.  He's not just a spot up shooter. He shoots off the dribble, fading away, with 2 hands in his face.  Over 7 attempts per game.  Korver and Curry are on their own tier.
3. Klay Thompson – The other half of the splash brother duo, Thompson shoots almost 7 three pointers a game for his career and has hit 41.5% of them (656/1579).
4. Jose Calderon – Over the last 3 and a half seasons, Calderon is hitting 43.6% of his 969 three pointers.
5. Danny Green – Career 42% three point shooter. Will be an offseason target for the Jazz, but will ultimately be too rich, most likely.  Maybe not.
6. Wesley Matthews – Career 40% three point shooter and hitting 40% of his 7.6 attempts per game this season.  Volume and efficiency.  Probably should be a top target for the Jazz this summer.
7. Anthony Morrow – A career 42.4% shooter from long range, but has cooled off some as his role has increased.  He shot a ridiculous 45% from deep his first 3 seasons in the league. Still has at least two more years on his contract with the Thunder.
8. Courtney Lee – Second best three point shooter this season by percentage and 184/461 (40%) over the last 3 years.  One of the better "3 & D" guys in the league, along with Matthews, and becomes a free agent in 2016.
9. Bradley Beal – In his first 3 seasons Beal has hit 208/707 (40.7%) of his three pointers making a pretty nice complement to back court mate John Wall.
10.  JJ Redick – Just above 40% on three point attempts the last two and a half seasons at just over 5 three point attempts per game. His reasonable contract is not up until 2017.