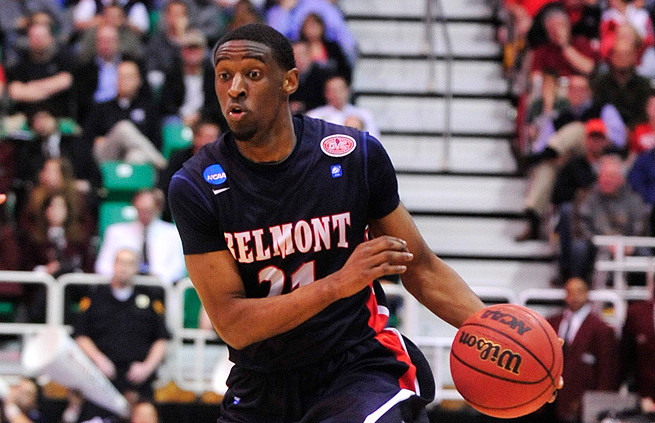 Ian Clark had a great college career at Belmont University: his senior year, he averaged 18.2 PPG, 3.3 RPG, and 2.4 APG. More incredibly, he also had a True Shooting Percentage of 68.8% and an eFG% of 67.0%. Clark was the Ohio Valley Conference Co-Player of the Year, while also nabbing the conference's Defensive Player of the Year honors. He propelled his team to the NCAA Tournament. Things were looking good for him.
Yet NBA Draft night came and went without Clark's name being called, and as an undrafted rookie, he had to show teams what he could do in the summer leagues. Playing for both the Miami Heat and the Golden State Warriors' summer entries, he displayed solid defense, the ability to handle the ball, and above all, a pure shooter's touch. In the championship game in Las Vegas, Clark shot his way to 33 points and the MVP award. He quickly became a wanted commodity around the NBA, with many teams clamoring to lock him up. The Utah Jazz emerged the winner, with the main selling point being the ability to come in right away to compete for a role. He was told he'd have an opportunity to, if his performance warranted it, play right away for this young Utah team.
Could Ian Clark be the next diamond in the rough for a franchise that has long had success uncovered the hidden gems? The Utah Jazz certainly hope so.
Here's a brief look back at some guys who Clark can look to as examples:
Rickey Green was a first-round pick whose rocky first two seasons saw he make a sojourn to the CBA. Frank Layden discovered him, eventually grooming him to be an All-Star for the Jazz. "The Fastest of them All" had some excellent seasons for Utah, averaging between 13 and 14.8 PPG while never dishing less than 7.8 APG. for four seasons, For four seasons, he teamed up with a young guy named John Stockton to be one of the NBA's best PG tandems.
We all know the story: Mark Eaton, after an less than illustrious career at UCLA, was working as a mechanic – a 7'4″ mechanic. Layden offered him a chance to play professional basketball and Eaton went down as one of the most intimidating defenders in NBA history. His size and propensity to swat shots led to two Defensive Player of the Year awards, five All-Defense nods, an All-Star appearance, and his #53 being retired by the Jazz. He led the league in blocked shots four times, including a record 5.56 BPG in 1985. His career 3.5 BPG average is the highest in NBA history.
Bobby Hansen did not have an attractive game, nor was he athletic. But his grittiness and attitude also caught Layden's eye. He developed into a solid three-point shooter, but it was his defensive energy that helped him enjoy a very long NBA career (and an eventual championship behind Michael Jordan).
David Benoit was an undrafted rookie whose heady play in the Rocky Mountain Revue earned him a roster spot. He was a leaper who infused much needed athleticism into the Jazz roster. He quickly earned a rotational role, being a part-time starter for six seasons for Utah. While many recall the clanked three-pointers against Houston vividly, he came out of nowhere to become an important part of some strong Jazz squads.
Bryon Russell was a late second-round pick who surprised immediately by being named a starter his rookie campaign. But by his third season, he was on the verge of being cut. Taking advantage of some injuries and match-ups, B-Russ showed what he could truly do in the 1996 playoffs (averaging 9.6 PPG in the postseason, compared to 2.9 during the regular season). He never turned back, becoming Utah's stalwart small forward the next six years, including the two trips to the NBA Finals.
Shandon Anderson was the 54th pick, an after thought. He scrapped and hustled his way to make the team and earn PT his rookie year. His mix of instant offense, constant slashing, and aggressive defense earned Jerry Sloan's respect and he became a fan favorite. While he exited after three seasons, he too was a vital cog in some of Utah's best teams.
Howard Eisley was plucked off the trash heap by the Jazz. Waived by both Minnesota and San Antonio, the Jazz thought he could be a decent reserve. While his first two seasons were rather pedestrian, he showed what could really do in the 1997 Finals run. He was the best back-up point guard Stockton ever had, and helped extend Stockton's career by absorbing more and more minutes, even playing alongside #12. He was efficient and showed a deft outside touch.
Paul Millsap was college basketball's best rebounder, yet few had heard much about him. Many viewed him as an undersized power forward who might have difficulty adapting to the pro game. He destroyed those doubts quickly, emerging as a tremendous bench player his rookie season. He got better each season (including the wonderful string of double-doubles) until he took over the starting gig when Carlos Boozer exited. He was a borderline All-Star the past few seasons, while his advanced statistics showed he was among the NBA's best. His hard work and endless effort will always endear him to the Jazz community.
Wesley Matthews went undrafted and was trying to make a team with plenty of wings (Ronnie Brewer, CJ Miles, Kyle Korver, Andrei Kirilenko). He took advantage of some preseason injuries to eke his way onto the roster. Matthews quickly became a rotational player, even started in the playoffs and helped defend Carmelo Anthony and Kobe Bryant. While Portland stole him after one season, he was another success story for the Jazz.
There are plenty of others: Mo Williams (his first stint), Raja Bell (ditto), Greg Foster, Carlos Arroyo, John Crotty, Jarron Collins (had a nice rookie season and while not spectacular, a long career), and DeMarre Carroll all come to mind.
As I study Clark's game more, I think he will prove to be a capable rotational player for the Jazz. As a combo guard who can open up things with his perimeter marksmanship, he could see solid minutes from the get-go – especially as some teammates come back from injury.
Who knows… perhaps the Jazz have found yet one more diamond.