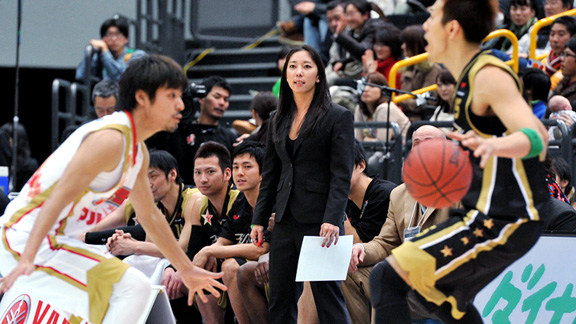 Natalie Nakase is an assistant film coordinator for the Los Angeles Clippers and former head coach of the Saitama Broncos, a men's professional basketball team in Japan. You'd be forgiven for thinking that her résumé sounds a little backwards chronologically. The film coordinator intern isn't usually a former professional head coach. But Nakase is a firm believer in putting in the work and paying her dues. She might be at the bottom of the org chart now, but she has her sights set on coaching in the NBA and was recently profiled in a great ESPN Outside The Lines piece by Kate Fagan and Shelley Smith.
Read that entire story, if you haven't already, and then come back and join us.
As mentioned in the OTL story, Nakase is a close friend of Jazz point guard Earl Watson from their UCLA days. The two remain close and both share a similar mental approach to the game and to life. A conversation with either will often include references to books like Outliers, The Power of Now, and The Seven Spiritual Laws of Success.
Her other primary NBA mentor is former Knicks, Pacers, Spurs, and Sonics coach Bob Hill, who took Nakase under his wing as the coach of the Tokyo Apache:
Hill's mentorship continued after Nakase moved on to Saitama, with the two talking regularly. When Nakase returned to Los Angeles this past spring, she knew what she wanted to do next, and Hill encouraged her. If you want the NBA, he told her, don't take your eyes off that goal. Never turn down an invitation to step foot inside an NBA facility.

Connections matter in the NBA, just like they do anywhere else. And with his lengthy résumé, 64-year-old Hill is just one degree removed from every decision-maker in the league. A quick phone call or email from Hill on Nakase's behalf can go a long way toward making people pay attention. Just having him in her corner gives her huge confidence.

"He's the reason I'm chasing this dream," Nakase says of Hill. "I was so fascinated by his experiences. With him, basketball was 24/7, and I wanted to be a part of that. He opened my eyes to what basketball can be."
The main hurdle for Nakase on her way to a spot on an NBA bench is simply the fact that it hasn't happened before:
The NBA possesses more of a herdlike mentality than it cares to admit. Just look at the analytics revolution that is sweeping the league. A few teams — the Boston Celtics, Dallas Mavericks and Oklahoma City Thunder — had success making decisions based on new statistical formulas, and the rest are now scurrying to catch up, hiring their own numbers guys. Houston Rockets general manager Daryl Morey says all NBA teams want to be ahead of the curve, but few can afford the risk. "It's always easier when you have one example to point to, so when you take that idea to your owner, you can say, 'See, it worked here.' Nobody wants to be the first."

This mentality is one reason women aren't being hired as NBA coaches — because no team has done it yet. The league loves to recycle, with teams routinely installing coaches and general managers who've been hired and fired multiple times. But, as Morey puts it, "I find it hard to believe that all of the best and smartest thinkers in basketball just happen to share the same chromosome."
I asked Earl for his response to the feature on Natalie and her path to coaching in the NBA:
Earl Watson: I think it's disappointing to even talk about gender. I think it's just stupid. If you have the skills, you have the skills. It's very ignorant to even bring up her gender. It's amazing what she does. She's dedicated to what she does. It's not a fad and it's not a trend for her; she's been focused on trying to achieve her goals since I met her when she was 17 or 18 years old at UCLA. So it's not like she's trendy or all of a sudden trying to create a movement–she's been about it. She gets a lot of criticism–even from her own gender–for not wanting to coach women, so I guess it's like reverse stereotypes. So her goal is to continue to push forward, to get better, to grow–and she's good at what she does. She's good.
She'll continue to work hard. The league is evolving so quickly–beyond borders, beyond color, beyond gender now. But it's going to happen soon and she doesn't want it any other way–she wants to work for it.
Like any coach, you have to have success. Like any coach you have to put in the work, pay your dues, you have to learn the game, be a student of the game. More than anything, you have to be addicted. Addictions are good if they're positive. For Natalie, basketball is her addiction. She's growing. She's a student of the game. She puts in the work. She can go out there and show you the drill. There are a lot of male coaches who can't show you the drill. So it's amazing how she brings a lot to the table–a lot more than what people see because she's a female.
SRH: I think there's a perception sometimes that they players aren't open–that there's a jock culture. My perception is that the players in this league don't get as much credit as they deserve for being open-minded and accepting of different kinds of people. Where do you think the league stands?
EW: I think those are very old views. I think a lot of times we get so… put in a box as people; we observe and we view and we analyze, whatever, the situation is in life, and we go off what we heard or what we grew up watching. Life is constantly evolving. Evolution is constant. If you want a players attention? You have to really know the game. You have to really be a student of the game and really understand what you're talking about–and communicate. Communication is key in anything you do–especially in this league. If you communicate and you teach things the right way, players immediately respect you. If you don't know what you're talking about? Players can sniff it out immediately.
—
Not mentioned in the OTL story is the success of Nancy Lieberman. One of the greatest players of all time, Lieberman recently coached the Texas Legends, the D-League team for the Dallas Mavericks. As a side note, Lieberman was a good friend of Frank Layden and once played for the Jazz on a summer league team. In an interview in 2011 for Yago Colas' spectacular Cultures of Basketball class at the University of Michigan, I asked Lieberman to reflect on her experience coaching men:
Spencer Ryan Hall: I like the way you've responded to the questions about coaching in the D-League, saying that men are used to having women in their lives and it's nothing new for a young man to receive advice from a woman.

Nancy Lieberman: Exactly. It's no different than being the youngest coach in the NBA, for example. Coach Spoelstra with the Heat is up against some of the same challenges. The bottom line is whether you can do your job. It's the same thing.

Imagine someone starting a new job or getting a new boss and saying 'I can't work for a women, she's too emotional.' Or 'I can't work for an African-American.' It sounds ridiculous because it is. People have to be judged on whether they can do the job or not, and I'm glad we live in a world where people have opportunities to chase their dreams.

I've actually played in the minor leagues, I've coached and played in the WNBA, I've been a commentator with ESPN. I actually know a lot about the things these guys are going through.

If I were to give up on my dreams simply because people said I couldn't do something, I would have quit a long time ago. We have a rule on the team that says "No excuses, no explanations, no deflections." And that goes for me, too. I can't make excuses for myself or ask for special treatment because I'm a woman. I have to get the job done.
While receiving an award from Niagara University recently, Lieberman noted that most of her biggest advocates have always been men:
"Every important job I've had in my life I've been championed by men," Lieberman said. "I get grilled by people asking me, 'Who did what to you? When you played how did they treat you in the locker room? They had to do something mean to you.' … The men were so supportive of me ecause I was so supportive of them. There's this trust and now I'm trying to bring that to women.

"My generation, the pie was so small that Cheryl Miller, Ann Meyers, myself all had such a big piece of the pie that there was a lot of envy or as I call it haterade," Lieberman said. "Now there's so much. We think we've come a long way. And we have. But we're still in the baby stage."
Here's hoping we see Nakase on the sidelines sometime soon.