Third-year Jazz guard Alec Burks has frequently been the topic of my adulation this season in all aspects, but particularly for his rapid improvement on the defensive side of the ball.  He's made a noticeable leap from a supremely athletic youngster showing glimpses of elite defensive potential to an on-ball stopper, and his help defense has made great strides as well.
Salt City Hoops editor Andy Larsen caught up with Alec after practice last week, and picked his brain a little on some of his development defensively.  Alec and Andy's comments will appear in bold, while I'll add some of my thoughts in a few places.
Andy: What's the biggest difference for you on defense from college to the NBA?
Alec: Just the level of athletes.  Grown men, you know, world-class athletes.  That's the biggest difference.
Andy: Is there a difference in the schemes teams play, like is there more zone in college?
Alec: I played a lot more zone in college with my team [at Colorado], but I feel like the athletes, and the level of talent at this level, it's just unbelievable.
Andy: Did you find, in your rookie year, that it was tougher to stay in front of guys?
Alec: No, just knowing when to be aggressive and not be aggressive, you know?  I feel like my rookie year, I was sometimes too aggressive and they'd go by me, sometimes I wasn't aggressive and they'[d] score, so it's just knowing the balance of it.
Alec's answers here speak to themes he's certainly worked on each year in the league, not just during his rookie season.  His defensive development began, like Andy points out, with the transition from college to the NBA.  This was a twofold segue, as Alec notes – not only the large leap in talent and athleticism, but a change from a more zone-heavy defense to a league where zones are used considerably less frequently.1
He's made most parts of this transition quite well, and as I've noted, he's taken the most noticeable leap from last season to this one.  The move from zone certainly hasn't hurt him, as he's quickly developed into a very good on-ball wing defender.  One small variation he's started to see more recently with opponents recognizing his quickness and agility goes back to his own point about managing his aggression and balancing when to turn it on and off – watch him here defending Devin Harris:
Harris is nothing if not heady2, and he loves to throw in little variations to catch his defenders off guard.  He knows Burks has elite closing speed on drives to the hoop, so he waits just until Alec has the right amount of momentum and stops up for the good look.  Here's Bradley Beal pulling the same gag:
These sorts of variations are the next step in Burks' improvement defensively, but let's be clear about something: that he's already at this point is, by itself, a positive.  It takes a majority of players longer than a couple seasons to grasp what may seem to casual fans like simple defensive principles – things like staying in front of drivers, good footwork, and positioning look easy on TV, but the game is a lot faster in person.  That Alec is already well versed in several of these areas and can already shift much of his defensive focus to containing the resulting variations is certainly encouraging.
Andy: The numbers show that this year, you've done a great job defensively.  Is that work you did over the offseason?
Alec: [It's] just the overall opportunity, just knowing how guys play and their tendencies, I'm just learning more and more.  [It's] my third year, I've just seen a lot of players play the game a lot, so I think that's what it is.
Whether or not Alec is perhaps smartly guarding some secrets to his preparation and offseason work, the numbers do indeed showcase his defensive leap this season.  He's fallen from his top-5 perch among isolation defenders league-wide3, per Synergy Sports, but with the relative infrequency of pure isolation plays and the remarkably low per-possession numbers the league's very top guys in this area put up, this is really just the result of a couple extra made baskets here or there.4
Andy: What do you think your best skill defensively is?
Alec: Just being an athlete.  I feel like I can pressure people a lot with my athleticism and that's my best [skill], just being active all the time.       
Andy: Where are you best, on ball or off ball?
Alec: On ball, I feel like on ball is my best skill.
Andy: On the other side of the coin, what do you still think you need to work on (defensively) to be the best player you can be?
Alec: Probably off ball, just always staying engaged, you know?  You've got to in this league with so many great players, you've got to be engaged all the time.
I've written a great deal already about Alec's work away from the ball, although as he readily admits it's still the area he has the most work to do in.  And even since I highlighted one or two of his less efficient tendencies, he's already made tweaks in a couple places.  He's still over-zealous on help defense, but he's starting to siphon away some of the unnecessary help and be a bit more selective.  He's also losing his man less, and even when he does collapse away he's doing a better job looking around to relocate his mark.
Just like his on-ball defense, though, he's now at a point where he can incorporate more high-level thinking into his help to seal a few cracks.  Watch him help off the weak side on this Atlanta pick-and-roll:
Burks' initial collapse here, first and foremost, is good and necessary help.  Ball-handler Dennis Schroder (17) and roll-man Mike Scott (32) are both past Utah's two primary pick-and-roll defenders, with Enes Kanter sliding off Elton Brand down low: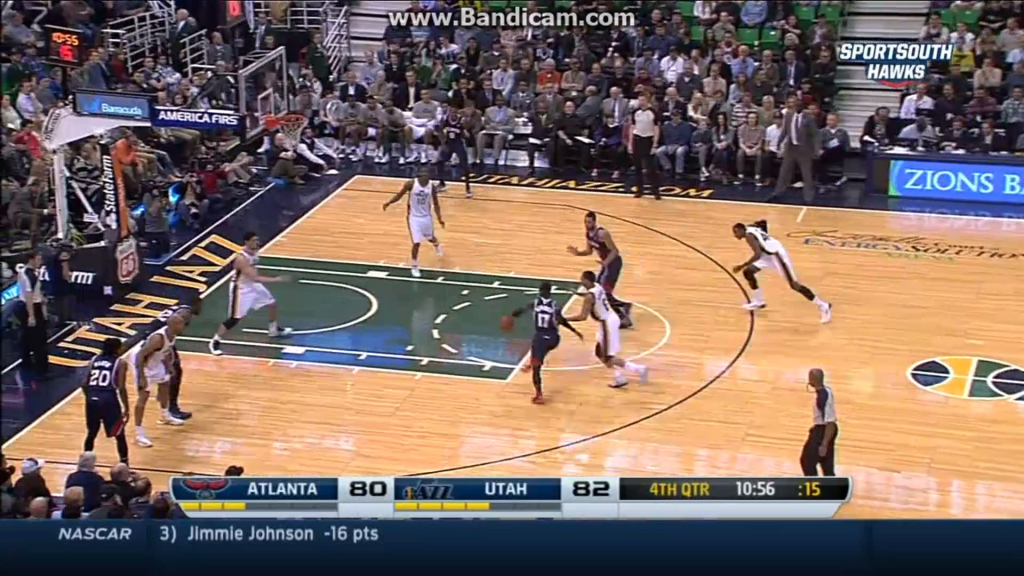 Kanter can't defend both the ball-handler and the roll-man on his own, and Burks is next in line.  But here's where some subtle adjustments could come in handy for him: Alec's microscopic mistake here is in the positioning and angling of his help, and you can see how precise good defense really can be – this still isn't even a full second after the one above, but Burks has doomed himself: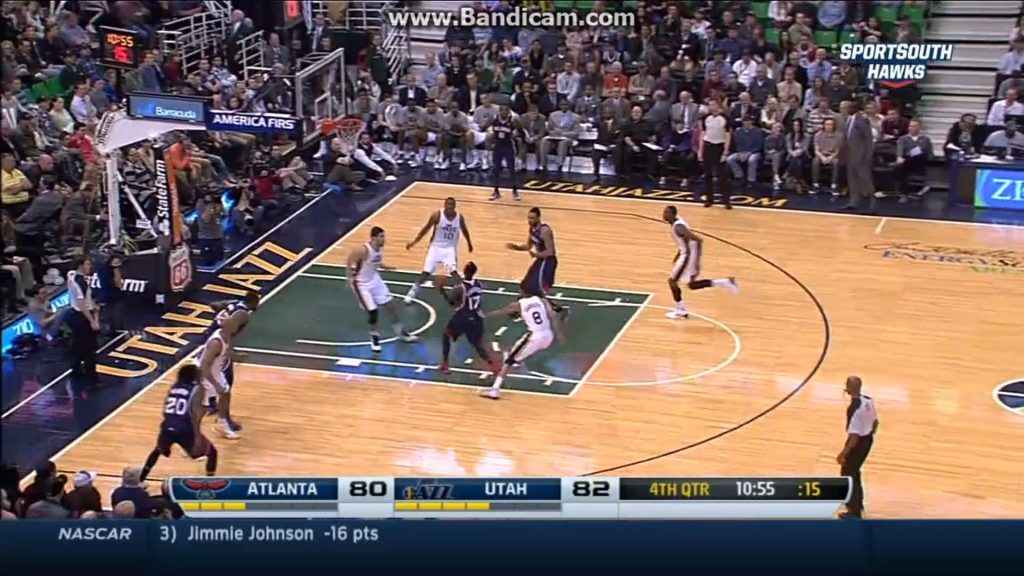 Alec needs to be a step closer to the rolling Scott, and instead of facing inward and turning completely away from his own man in the corner, he needs to only half-commit – keep his feet parallel to the baseline.  This will create something of a triple threat for Burks defensively: he's in position to stop Scott on his roll, he's between the ball-handler and his own man (Shelvin Mack) in the corner to make the pass there tougher, and his feet are positioned in such a way that, should that pass be made out to Mack, Burks should have just enough time to scamper back out.  As it is, with his extra step inside and imperfect footwork, he still nearly makes it out in time for a strong contest.
It's only one play, and the reality is that Burks and the Jazz defense are in some degree of trouble the moment both the ball-handler and screener beat both defenders into the lane.  But this example showcases the vast nuance of high-level NBA defense, and Burks has progressed to a point where he can begin worrying about elements this subtle and working to perfect them.  As I've noted at length, he's already among the league's best on the ball; a similar leap in some of these more complex areas could yield one of the NBA's top overall wing defenders before long.
Big thanks to Alec Burks for his time, along with Andy for putting everything together.  Cheers, Jazz Nation.