Did you ever make a list of preferred gifts that you'd make at Christmastime for the gift-giving power brokers? Remember waking up as a kid on Christmas morning wondering how many of those things on your list you would be able to cross off? As a kid, I can remember opening gifts that could only be described by saying, 'it's exactly what I wanted.' While I no longer keep lists for Christmas gifts (I've thankfully outgrown that), I know that as a sports fan, I have those types of lists for my favorite teams. Those lists are usually comprised of players I hope come to play in my city for my team, or for a particular player to stay on board, not leaving for what might seem to be greener pastures via free agency. These last few weeks have provided for some of those magical moments for Jazz fans that can only be described as 'exactly what I wanted,' and there have been some moments that serve as a reminder that 'what I want' may be more painful than originally envisioned.
The Draft: Like so many Jazz fans, the words that I would use to describe this year's draft was, 'Surprised, Success, and simply, YES!' Over the course of the weeks leading up to the draft, the conversation that fans and Jazz insiders had centered on was whether or not the point guard that would be available at 14 or 21 would really be the kind of player that could have a long-term career as a starter in the league. The elephant in the room was that even though everyone (including mock draft guys) knew the Jazz had a glaring weakness at that position, the kind of PG they coveted would be long gone by 14. The Jazz's next starting point guard would not be coming from the draft. If anything, the Jazz would draft their next solid backup PG, who'd steady the ship for the next year or two while the search the franchise's next floor general continued.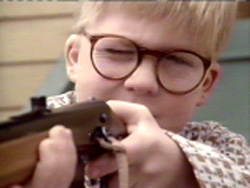 But just like Ralphie in A Christmas Story was determined to get his Red Rider BB gun, the fan base longed for their next big thing. Then it happened: I got the alert saying that the Jazz swapped their two first-round picks for the University of Michigan star. Is Trey Burke the answer to every deficiency the Jazz had last year? No. Is there something about him that inspires hope that things are heading in the right direction? Yes. What can't be underestimated is the rate in which he won at every level. From the presence of his parents at his introductory presser (his dad also serves as his agent), to leading a Jr. Jazz camp clinic the day after he was drafted, to indicating he wants to play his entire career in Utah, Trey Burke may be the guy to make Jazz fan's forget their beloved team once passed on 
CP3
.
In addition, Rudy Gobert adds an interesting piece to the Jazz's front line. If indeed, league trends in officiating continue and 'verticality' continues to favor the defensive player's efforts on that end of the floor, then this pick actually does have the potential to be the diamond-in-the-rough that most of us envisioned at the point guard position. Getting even better, Rudy Gobert tweeted that he was looking forward to working with The Mailman to improve his game. What's not to love about a guy with a 7'9″ wingspan with sharp elbows and a decisive outlet pass? What's more, GM Dennis Lindsey accomplished all of this without compromising any future assets. (More on this in a moment). Of all the things Dennis Lindsey gave Jazz fans this night, the one that proved to be most cherished: optimism.
Free Agency: WIth free agency negotiations hitting full throttle, the fan base's long history of being jilted by players surfaced once again. Why won't player A and/or B come to Utah with all of its available cap space? With all of the drama surrounding Dwight Howard, day after day, Jazz fans lived on a diet of speculation and rumors. To no one's surprise, Big Al signed with another team. As the opening days of free agency came and went, the excitement of draft night began to ebb.
Then the trade broke that had most Jazz fans scratching their heads. What started out as an interest in Andrew Bogut (and hopefully Harrison Barnes or Klay Thompson) quickly turned into the duo of Andris Biedrins and Richard Jefferson. Huh? My initial reaction was that there was no way the Jazz just enabled a Western Conference opponent to better themselves at their expense. Then the details that filled out the trade began to trickle in. The Jazz received two unprotected first round picks and multiple 2nd round picks. They also added an additional player (Brandon Rush) that may fill a substantial team need, but whose health is still to be determined.
This move allows the Jazz to accomplish a few other things:
It allows the team meet the minimum salary requirements without overspending for a player whose contract may handcuff them in the years to come.

It will maximize the amount of time the young players will get if they can keep themselves on the court. Ty won't have the game management considerations that he admittedly had to take into consideration last year.

This move allowed the Jazz to acquire multiple draft picks, which is still the most viable way for this franchise to continue to acquire talent.

Lindsey's ability to get Golden State to give up what they did is a reminder that a long term vision is needed to be successful. I think in the end, Golden State will regret conceding so much in this trade.

Without the presence of a dominant veteran figure, the desire for leadership to emerge from the young core is not only expected, it will be necessary (I'm convinced this will end up being a hybrid of Burke/Hayward next season).

Most importantly, the financial flexibility reinforces a commitment to the youth movement in that it gives the Jazz an opportunity to keep guys like Burke, Favors, Kanter and Hayward around for as long as possible. There is no one on the market who is available now that I'd rather have long term than any of the four players I just mentioned.
Conclusion: So far, Dennis Lindsey has indicated that the Jazz wanted to be aggressive on draft day. They were. He indicated there were no skipping steps in the rebuilding process, and the trade with the Golden State Warriors is evidence that this process is well under way. Jazz fans should be excited about the youth movement, even if it means more L's than W's in 2013-2014. Lindsey has spoken about 'financial flexibility' to anyone who asks him about the teams' long term success. It's an asset that, once invested, can take years to show returns. There are no guarantees, but if this means that for the next 10+ years Jazz fans are treated to the finished product that is often imagined with the young guys, that will truly be the gift that every Jazz fan wants.