(Including these highlights in case you missed it. Here's the recap.)
Some notes:
It's time to stop booing Deron Williams.
It's fun when Randy Foye hits a million threes. (8-9 on the night, tying the team record held by assistant Jeff Hornacek).
Memo Okur has a beautiful family and should be very proud of what he's accomplished: NBA championship with the Pistons, a great run with the Jazz, All-Star selection, and probably the best post-career life of any player in recent memory. Well done, sir.
Al Jefferson busted out a legitimate Dream Shake (seen at the 3:32 mark of the video above). It was filthy–and looked even better from the reverse side where we sit. I'm as guilty as anyone for paying too much attention to what he DOESN'T do, instead of enjoying his near-mastery of the left block. A true virtuoso.
The Gordon Hayward v. Deron Williams matchup is one of my favorite things all year. It's a shame the teams only meet twice. For whatever reason, the two seem to have a rivalry that pre-dates the Baseball Pass from Hayward's rookie year. The two battled all night. The defense they played on each other was the only defense to be had in the game, however.
D-Will finished the night with 21 points and 11 assists, but he's now 0-4 against his former team.
Violet Palmer. Nobody does it better.
---
The Block: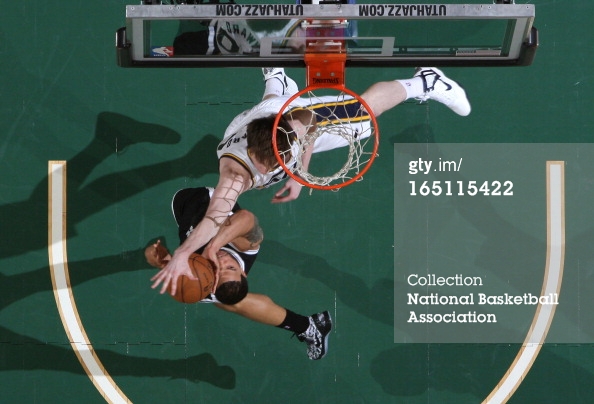 (Sorry about the watermark. You pay for it.)
---
Memo honored during a timeout: