In anticipation of the Jazz playing the Lakers at the Staples Center tonight, I wanted to break down what, historically, has been a very rare phenomenon: both the Jazz and Lakers are well out of the playoff picture heading into the All-Star Break. Both teams have been middling playoff teams, or near-playoff teams, the last several years. Never good enough to make it very far, but never bad enough to get a top draft pick to help turn things around. Where are they similar, and how are their trajectories parallel or do they diverge?
Injuries
Both the Jazz and the Lakers have had players miss a large number of games due to injury. At the beginning of the season, the Jazz were without Trey Burke and Marvin Williams as they recovered from a broken finger and Achilles surgery, respectively. Since then, a few more minor injuries have sprung up, first a hip flexor injury to Gordon Hayward, and then to Derrick Favors, followed by a bruised tailbone for Jeremy Evans. Other tweaks and pulls have happened here or there, keeping the Jazz from being full strength for a significant chunk of games.
The Lakers have had more significant and longer-term injuries, especially to All-Stars Kobe Bryant and Steve Nash. The two have combined to play 15 games so far this season. The Lakers have also seen injuries to Pau Gasol, Jodie Meeks, Xavier Henry, and Jordan Hill recently. In a win against the Cavaliers last week, the Lakers lost Nick Young to a knee injury in the second quarter, and Jordan Farmar suffered from a leg cramp that took him out of the game. Because of injuries and because Chris Kaman fouled out early in the fourth quarter, the Lakers only had five available players to finish out the game. Robert Sacre picked up his sixth foul and would have been disqualified except for a little-known rule that, because there were only four available players, Sacre could stay in the game but the Cavs would be awarded a technical free throw for each of Sacre's fouls after that. Crazy things have happened this year to the Lakers due to injuries.1
Considering how the bruises and tweaks that are mere annoyances at the beginning of the season become compounded and can turn into more substantial injuries as the season goes on, it'll be interesting to see if either team is able to finish strong, or if they limp to the bruised-and-banged-up finish.
Strength of Roster
At the beginning of the season, I don't think anyone would have said the Jazz had the stronger, deeper roster. And while plenty of the national sportswriters wrote the Jazz off as tankers before the season had even started, with the injuries to Bryant and Nash, the Lakers are now finding that T-word being used on them, as well. In fact, the Lakers currently sit mere percentage points above the Jazz with a 18-33 record, while the Jazz are currently 17-33, though the Lakers are 2-8 in their last 10 games while the Jazz are 4-6 in their last 10.
With Bryant out and Nash newly integrating himself back into the lineup, the Lakers have been starting guys like Nick Young, Wesley Johnson, Xavier Henry, Ryan Kelly (I had to look him up, too), and sometimes Kendall Marshall—who's nearly averaging a double-double with 10.3 ppg and 9.3 apg (go ahead and weep, Jazz fans, especially David J. Smith). These are all names no one would have expected to be starting and playing significant minutes; they were mostly cast-offs from other teams and signed to minimum contracts.
The Jazz have somewhat of an inverse situation with severely bloated contracts to cast-off players Richard Jefferson ($11 million), Andris Biedrins ($9 million), Marvin Williams ($7.5 million), though Williams probably isn't considered a cast-off as much as the former two.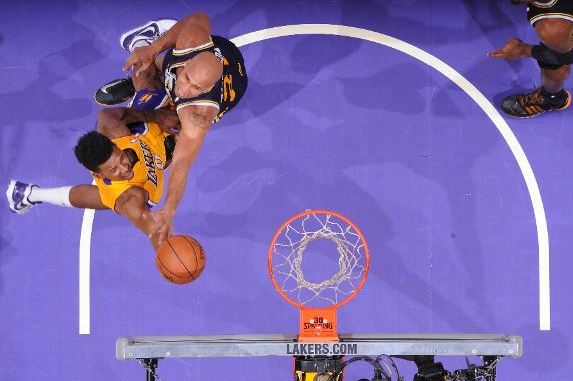 As much as the Jazz were maligned by the national media at the beginning of the season for their strength of roster, Jazz fans knew that Gordon Hayward, Derrick Favors, Enes Kanter, Alec Burks, and Trey Burke were and are very talented—probably more so than many outside of Utah realized. Whether or not they'll ever reach star or superstar level is another issue entirely—and part of what contributes to so many fans' desire for a top draft pick in this star-studded 2014 draft—they're certainly a more talented and skilled bunch than the starters and significant rotation players for the Lakers right now. Is there a healthy player on the Lakers that you'd take instead of Hayward? Instead of Favors? etc.
Both the Lakers and Jazz, thanks to being bit by the injury bug, have found themselves feeling the pinch of a weak bench and being either lauded or criticized for tanking, depending on the point of the view of either the fan or the sportswriter.
Salary Cap/Future Contracts/Free Agency/Trades
As Lang Greene pointed out in his great Basketball Insiders article this morning, while the Jazz have $56.2 million in guaranteed contracts this season, they're only on the hook for $27 million next year—Gordon Hayward's possible contract/RFA-matching contract pending. The $31 million currently tied up in Jefferson/Biedrins/Williams/Brandon Rush will be off the books next season, giving the Jazz a substantial amount of cap space with which to pursue a free agent in the offseason. If they're able to (and want to) re-sign Marvin Williams to a more reasonable contract—I've seen folks throwing out numbers in the 3 years, $3-5 million/year mark—early on in the free agency period, the $8 million cap hold would be eliminated and would give the Jazz even more flexibility.
The Lakers are in a different position, currently on track to pay the luxury tax this season with nearly $60 million tied up in Bryant/Gasol/Nash alone. But Gasol's contract expires at the end of this year and Kobe's extension is something of a discount at $48 million over two years, so the Lakers are presently set to pay out $35 million in guaranteed contracts next year, at this point, to five players. So while the Lakers don't have much wiggle room for trades and pickups at this point—though they're willing to listen to any offers for Gasol—their financial situation moving forward offers more flexibility, though paying an aging, over-the-hill, injury-ridden superstar $48 million over two years may come back to bite them.
Interestingly, what both teams are finding is that expiring contracts don't have nearly the same appeal under this CBA that they did under previous CBA's.
Draft Picks
As has been discussed many times here and also in Greene's article this morning, the Jazz have a bevy of draft picks lined up thanks to deals with Golden State. In addition to their own lottery-bound pick this year, here's what's coming for the Jazz: 2014 1st round draft pick from Golden State; 2016 2nd round draft pick from Golden State; 2016 2nd round pick to from Golden State; 2017 1st round draft pick from Golden State; 2017 2nd round draft pick from Golden State; 2018 2nd round draft pick from Denver.
The Lakers face a similar lottery-bound 2014 draft, but have a very different picture of draft-picks-as-assets beyond 2014. They sent their 2014 second rounder to the Bucks, their 2015 first rounder to the Suns (as part of the Steve Nash trade), their 2015 second rounder to the Magic, and their 2017 first rounder to the Magic. If I'm understanding that right, after this year's draft first round, the Lakers won't have another first round pick until 2016, and a second-round pick in 2017.
Until we see which way the lottery balls fall, it'll be hard to see who has the advantage here, but the Jazz have the advantage at this point as far as the sheer number of picks incoming. The part that has any conspiracy-theorist Jazz fan nervous is the part where the Lakers have a chance at a top pick in a talent-laden draft.
Coach
Interestingly, both coaches were thrust into situations where it's inevitable for some fans to compare to a previous Hall of Fame coach and find the current coach lacking. I can't proclaim to know whether or not the feedback I see and hear about Tyrone Corbin on Twitter and in person represents just a vocal minority or if it's more representative of the majority. But I know that Mike D'Antoni was put in a situation where Lakers fans thought Phil Jackson was coming back to coach. 2 Combined with an ineffective run while Dwight Howard was in Los Angeles, he's been the subject of similar criticism and perhaps vitriol on Twitter and elsewhere. Will each coach remain with his respective team after this season? Will they each get a pass because of injuries? Because of strength of roster?
Conclusion
As much as Jazz fans hate the Lakers, both teams are at an interesting intersection: the Jazz with a lot of young talent, expiring contracts, loads of draft picks including one lottery pick in 2014, cap space, and a coach without a contract beyond this year; the Lakers with some middling talent, an aging superstar with two additional years on his bloated contract, cap space, very few draft picks other than this year's lottery-bound pick, and a coach who's been met with middling reviews. Tonight's game won't be the lone, deciding factor in each team's trajectory, but these two teams have never been more similar than they are right now.