The Utah Jazz just announced a new $15 million dollar upgrade to Energy Solutions Arena, in the form of a massive video board and new audio system. The project, done by local Utah company YESCO, is scheduled to be finished in late September. Fans attending the Jazz's draft party next Thursday will see these mockups to indicate the final size of the side boards: 42 feet long by 24 feet high. The scoreboards will also be at 1080p resolution, the old Jazz scoreboard was lit by individual bulbs and was literally at this resolution:
There will also be scoreboards containing information in the upper bowl corners, as indicated in this mockup (the court, however, will not feature mountains nor the mountain logo):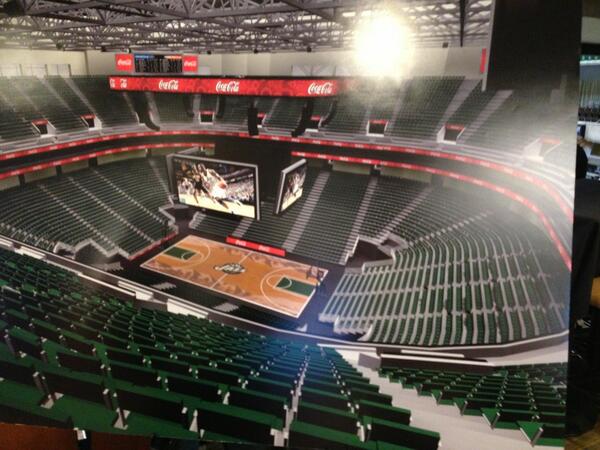 More specifications and details can be found in the Jazz's release on UtahJazz.com. More mockups below:
Personal feelings on the issue: OMG THAT IS SO HUGE! WOW WOW WOW IT IS LITERALLY IMPOSSIBLE FOR ME TO IMAGINE HAVING SCREENS THAT LARGE AS I WATCH A JAZZ GAME I AM ALSO ATTENDING. IT IS UNIMAGINABLE. AND STATS FOR THE UPPER BOWL CITIZENS LIKE MYSELF TOO? AND THREE VIDEO RINGS FOR SOME REASON? I HAPPILY WILL GIVE MY MONEY TO YOU, JAZZ, OVER THE COURSE OF 82 GAMES. HAPPILY.