Despite scoring 35 points in the fourth quarter and having a chance to win it at the buzzer (on a Jingles game-winning 3, 'cause: sure), the Utah Jazz dropped a winnable home game to the Brooklyn Nets who collected just their 6th road win of the season.
Fast break points are killer
Gordon Hayward had an excellent line of 27/6/3, but his dominance wasn't quite enough to keep this Utah team above board after 48 minutes. A big reason for that were the Jazz's turnover woes and fast break points allowed, with 21 of the former and 23 of the latter. The Nets went 10/11 on those fast break chances, BTW, being hindered little by the Jazz's transition defense.
Coach Snyder said of the Nets' offense: "The turnovers kind of gave them a boost… that gave them baskets and took baskets away from us." He went on to say, "It was more than that, than the turnovers. We didn't get back. It's been something that we've been doing well."
Positives: Rudy has a bit of a bounce back game
Though Brook Lopez still had an impressive night, recording 19 points and grabbing 6 rebounds, he got zero offensive boards throughout the game and a more physically-minded Rudy (hopefully) blocked him what seemed like a bazillion times. Well, 3, but still. And they were all 3 feet or more away from the basket.
Brook also missed 5 of his 11 shots in the restricted area.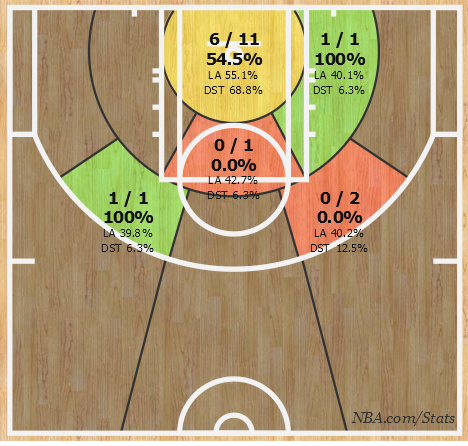 Rudy recorded a season-high rebound total of 19 with 12 defensive and 7 offensive in a game where he didn't look as bullied as he had in the previous 3 contests.
He also had 12 points and a monster 6 blocks.
There were a few moments when Gobert was battling in the paint that felt as though they might result in a turnover or Frenchman flail in an attempt to get a call, but Rudy battled through and grabbed the rebound and made a smart play out of, which is encouraging. His progress will be something to keep an eye on, especially during this 4-game roadie that is bound to be brutal.
We hope The Stifle Tower has started to turn the corner.
Quin goes PG-less down the stretch
Despite playing all three point guards throughout three quarters, Coach Snyder decided to go without a traditional PG during the critical stretch where the Jazz came back to make it a two-possession game.
Again, the point guard thing is still a major team weakness that is seeing some blatant inconsistencies. Shelvin Mack played the most time with 25:25, scoring 6 points and recording 2 assists, and Raul got the second-most PT with 12:29, scoring 4 points (all from the free throw line) and dishing a single assist. Trey Burke got into the game in the 3rd quarter and only played 6:21, scoring no points and recording 0 assists.
It makes sense, then, that Coach Q stuck with CJ through the middle of the 4th and he had an important and-1 in that time period to bring the Jazz within striking distance of the Nets. Coach said in the postgame interview that he appreciated what Johnson and Booker brought to that game, namely hustle and energy.
"Chris and Book gave that [energy] to us late, but we have to have that throughout the game."
BUT, because I think sports owe it to its fans to make them happy, Quin also said some good things!
"(The lack of effort) would be concerning if we didn't have a team that, probably as well as any team of the league, has had consistent effort."
He also said, "If there's one thing that these guys hang their hat on, it's playing hard. There's some games, for whatever reason, you don't have a lot of juice."
There you have it. Stuff happens. Losses are inevitable. Hopefully this Jazz team can bounce back.
Derrick doesn't appreciate an artists' rendition of him
So, the Jazz door prize tonight was an awesome matryoshka nesting doll set. Easily a top 5 giveaway item.

Problem is, Derrick didn't think his likeness was very fitting, saying it looked more like Klay Thompson. He's not wrong.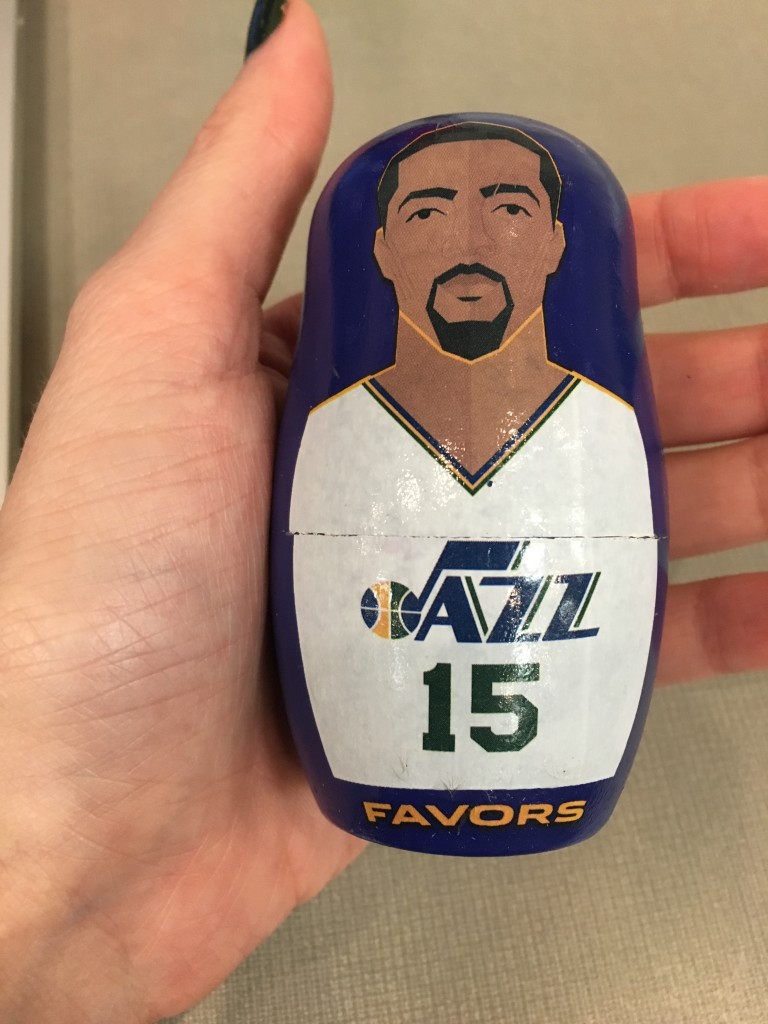 "It doesn't look nothing like me," D-Fave said. "It looks like Klay Thompson. Who is that guy?"
I think it kind of looks like a tattoo-less J.R. Smith.
Though he thought his teammates looked alright.