There's nothing like a good nickname, right? A good nickname can convey a lot with very little. Or, if you're me, the nickname can be very long and slowly gets shortened over the years for brevity: "Little One of Many Moons and Many Cuts and Bruises" was given to me, affectionately, after I beat my older sister in pool. She was not happy about it. Over the years the nickname was shortened to "Little One" since I'm pint-sized.
But think about some of the classic basketball nicknames: Air Jordan. Magic. Dr. J. King James. Muggsy. Black Mamba. They convey so much with so little, as the best nicknames should.
What are the top nicknames both former Jazz men and current Jazz men? Let's start with former players first.
The Mailman.
The best Jazzman nickname, in my opinion. "Neither rain, nor sleet, nor holding, the Mailman always delivers." The perfect nickname for an incredibly consistent player. You knew you were getting 25-10 with Malone every night.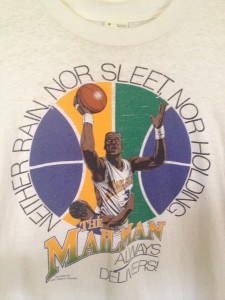 (I got this t-shirt when I was 10 at Karl Malone's basketball camp. He gave out some prizes to kids with good moves. I had a pretty good reverse layup at the time, so he picked me out and gave this to me. No way I'm ever tossing this.)
AK47.
With the initials A-K, a jersey #47, and a belief that he was a sharpshooter, AK-47 was born. Hey, he even had some fun with the nickname in a press conference for CSKA Moscow. Can you imagine if an NBA player brought a rifle to a press conference in the U.S.? Yikes!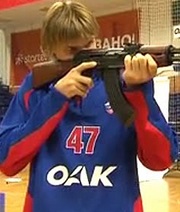 Horny.
Wikipedia says this one started because Jerry Sloan and Hot Rod Hundley affectionately called Jeff Hornacek "Horny." Saving a syllable is always ideal, especially if you're announcing the game and need to get to another name or an action quickly.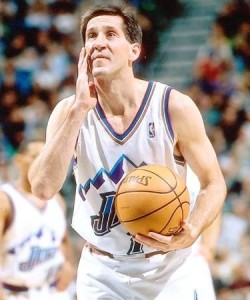 Big Dog. Or is it Big Dawg?
A great backup PF, at 6'9'' and 225, Big Dog was the perfect complementary piece for the Finals runs. He played angry, he was tough; in short, the nickname fit him perfectly.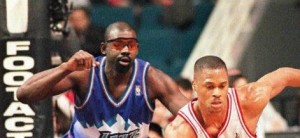 Thinking over other Jazzmen nicknames, I think it's an utter travesty that we didn't come up with something better for Stockton. "Stock" was about as close to a nickname as we got, right? Or "The Stamp" because of the "Mailman." But, gratefully, that never stuck. The Stamp? Seriously?
So, what about our current players? Going through the some of their nicknames in my head, I feel like we've become far too boring in our nickname creativity. What's happened to nicknames in the last decade?  I blame Jennifer Lopez and Ben Affleck, because Bennifer is the worst and most unoriginal nickname ever, but it was everywhere and it infected our nickname abilities. We have, unfortunately, mostly themes on names and initials.
G-Hay. G-Man. G-Time. Soup. (from KOC's "best thing since canned soup" comment)
DFavs.
Big Turkey. (Hey, at least we're getting a little more creative here) The Up-and-Under-Kanter.
The Stifle Tower. (courtesy Jody Genessy.) I really like this nickname.
Human Pogo Stick.
Surely we can do better. C'mon, Jazz fans, what do you have? And what about Trey Burke? Alec Burks? The three Warriors-players-turned-Jazzmen? John Lucas III?
Bring on the nickname ideas.