Behind a monster line from Derrick Favors (23/10/6/3) and far more effective point guard production than last night when they were blown out by the Wizards, the Utah Jazz came home from their faraway makeup game in the nation's capitol to decidedly handle the Boston Celtics at home, 111 to 93.
Point guard play was much improved
So, John Wall made Raul Neto and Trey Burke look straight up silly last night, and for the guards to bounce back with a cumulative 8/14 shooting, going 4/10 from three and tallying 6 assists, is a testament to their ability to correct some of their mistakes in a short amount of time.
Raul is best when he plays aggressive and looks to distribute. He has a special talent for keeping his dribble alive, finding teammates and making some silly circus shots. Though his season stats aren't anything fancy, the team is better when Raul does well. Here's a taste for how he is as the Jazz's bell weather:
Raul ended the night with 15 points on 5/5 shooting while looking as adorable as usual.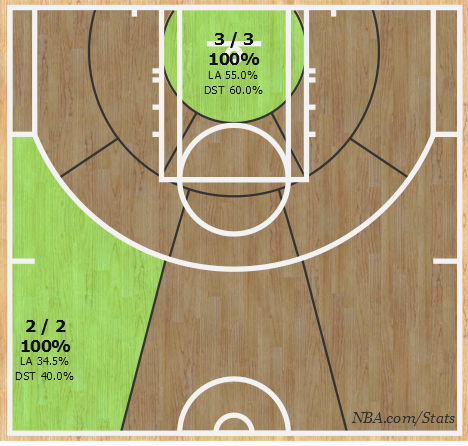 Celtics limited Rodney Hood
With all the talk of the Jazz's "hot wing" tandem Gordon Hayward and Rodney Hood heading into the All-Star break, the Celtics did a good job of limiting the Utah pair. In the first half, G "H20" Hayward was 1/6 and Rodney only got off three shots (though he shot 2/3, making two from deep).
The Boston boys did a nice job limiting the wings, which led to the guards feeding Fav and Rudy who feasted in the paint, including one play that qualified for the #GobertGiggles.
WHAT PLANET IS RUDY FROM?!
Rodney ended the game going 2/6, though he made his way to the line six times. It will be interesting to see how Rodney adapts his game with defenses beginning to key in on him the way Boston's wing defenders did tonight. He did have a spectacular chase down block. Another piece he's adapting from Gordon's game, perhaps?
Gordon is a vet player at this point and started doing Gordon things down the stretch of the 4th quarter when it seemed as though the Celtics were chipping away at the lead. G ended the game with a slick line of 22/3/4.
Jazz deal with Boston's brutality
There were 80 (EIGHTY) combined free throws in tonight's game, including 16 free throws in the final 3:16 of the 3rd quarter. This was a physical game that got chippy with a tech on Amir Johnson for pushing Rudy after the play and Avery Bradley pushing into Rodney Hood's knees during a broken play. Earlier in the season, this Jazz team struggled with physical teams that held and pushed and bullied in the paint. Utah's guys didn't back down tonight, and proved they can turn what was once a weakness into a strength.
Turnovers corrected
Turnovers looked like they were going to be a problem tonight after having 23 against the Wizards and then 8 cough-ups in the first quarter. They turned that around and took care of the ball, having only 8 after that.
Referring to tonight's game as opposed to last, Quin said there were a few things that made the difference:
"…we attacked. You can't play tentatively. It's a little counterintuitive because sometimes when you do that, you make some mistakes, but if you're not aggressive you play afraid. The other thing is, when you do that, everybody's got to help. It's not just one guy attacking, two guys, three guys, because once you beat someone there will probably be somebody else there."
Quin also called the spacing much improved and that turning defense and offense was key to the win.
"It starts with possessions, whether we're taking care of the ball. Even if we don't score, the way we play hopefully we make them guard us. That makes it a little harder for the other team to run."
Exhibit A – – – >
And Jazz's bench celebration continues to be 💯
Jazz PR Rocks
So apparently Jae Crowder's dad played for the Jazz in '91-'92 and the team had a pair of his game-worn shoes in storage. They gave those shoes to Crowder before the game today and he put them up on Instagram. It was the coolest.
Up next
Jazz play the red-hot Blazers on Sunday who torched the historically great Warriors. Damian Lillard had 51. It'll be a good one.
FUN STAT
Angie Treasure is now 4/4 in games covered for Salt City Hoops. I've come a long way from SCH fangirl/t-shirt model to site MVP. I deserve a max contract.