The Utah Jazz, sans Gordon Hayward, were able to keep the frazzled Phoenix Suns under 70 points in a major blowout at The Viv Thursday night, extending the home-team's win streak to four before hitting the road for a five-game road trip.
Defense wins the day
The Jazz's defense was positively stifling Thursday, only allowing the Suns to score 69 points on 28 of 82 shooting. Yeesh.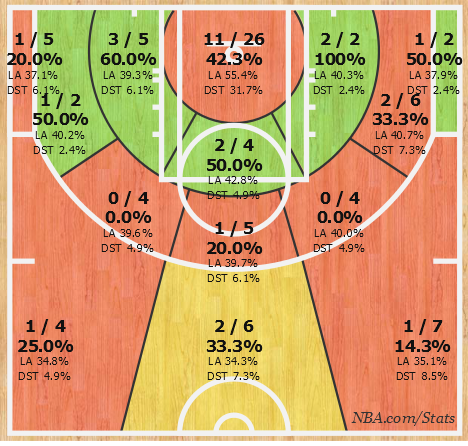 The Suns shot 34.1% from the field on the night, 25% from deep and only converted half of their 14 free throws. If you look at their shot chart, basically the only shots this Suns team was making were midrange jumpers, which is the look you'll live with. The Wasatch Front, who also collected four swats between them, allowed just 42.3% shooting in the paint for 26 points to the Jazz's 48.
There were also extended stretches where the Suns could not get a basket.
Head Coach Earl Watson said, "We couldn't hit a shot, we couldn't stop their runs, and we buckled down the stretch in that. That's not acceptable. That can't happen."
Well, it did.
Jazz coach Quin Snyder said that though it hasn't been where it was post-All-Star break last year, that defense is still the identity of the team.
"That's where I think our focus has been, and that's where we want it."
The Jazz's record was 20-0 when holding a team below when allowing 90 points or fewer coming into tonight's game.
Make that 21-0.
Mack near triple-double
The Jazz haven't had a guy record a triple-double since 2008. Yes, Carlos "Yes, that is my real hairline" Boozer was the last Jazzman to earn that honor. Mack ended the night with a sweet line of 15 points, 10 assists 1 and 8 rebounds. Five of his assists came really, really early in the game.
When I asked Quin about the near trip-doub in postgame, he said it's not something he's aware of during the course of a game. For him, the focus is different.
"I'm more aware of him continuing to learn to use our team and use our players."
In regards to how close Mack was to that magic line, Quin continued: "If that happens, I'd certainly been happy for him but I'm not going to adjust anything we do to get that."
You could feel the crowd sigh when S. Mack was taken out during the fourth quarter. WHO'S GOING TO BE THE NEXT PLAYER TO GET THERE?! 2
Rookie vs. Rookie
*Corny announcer voice*
In one corner, we have a flexing, bench-celebrating rookie out of Kentucky shooting 38% from three and averaging 4.9 points in 16 minutes per game.
In the other, a teenager who looks shockingly like Rufio from "Hook" 3 and averaging 12.3 points on 25.9 minutes per game.
WHO WILL EMERGE VICTORIOUS?!
Look, we've been through enough seasons where we've compared draft class members to each other to put too much stock into one single matchup. Devin Booker has had much more opportunity on an unequivocally bad Suns team and has the stats to show for it, including four games where he's scored more than 30 points — one more time than Jazz's leading scorer, Gordon Hayward.
But it was Trey Lyles, who led the team in scoring with 17 points on 60% shooting, hitting three of five threes who looked like the better rookie. 4 And he did it all in under 20 minutes.
Devin Booker made only 3 shots on the night, missing 11 and was a whopping -41 in just over 31 minutes. NEGATIVE FORTY-ONE. Which, incidentally, is Trey Lyles' number. So that's fun.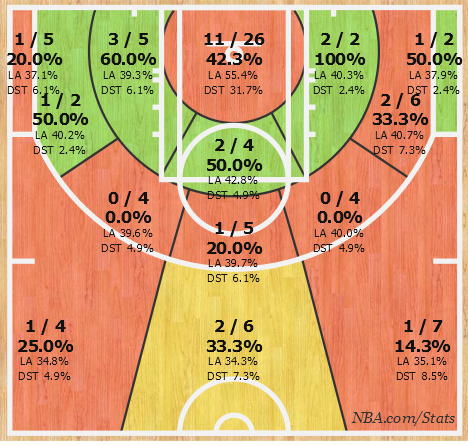 Lyles wasn't taking the three-point shot in college and only made four during the 2014-15 season at Kentucky. To that, he said, "I knew that I was capable of it, I just needed I chance to do it."
As more of an explanation, Lyles credits his added skill to, "…continuing to shoot it and having a coach that allows me to shoot it." Which he said with a noticeable smirk.
Fun things we were low-key rooting for on press row
So the Mack near-triple double would've been fun. I tapped KSL.com beat writer Andy Larsen pretty firmly on the shoulder when Shelvin snared his 8th rebound of the night. Alas, it wasn't meant to be.
FAIL
The Jazz nearly held the Suns to the lowest point total of any team during the course of the NBA season at 67, but missed out when Chase Budinger made an 11-foot jumper with 2.9 seconds left in the game. Drat.
FAIL
Though many crowd members filtered out, Jon Leuer obliged the roaring remainders when he missed two free throws in the fourth quarter to grant everyone free Chick-Fil-A. It happened again when former Jazzman Ronnie Price missed two in a row. The in-arena announcer had to let the crowd know they only got one sandwich.
WIN WIN WIN!
Upcoming roadie
The Jazz head on a five-game road trip, beginning with back-to-back games in Chicago and Milwaukee on Saturday and Sunday. Gordon continues to struggle with plantar fasciitis, which Rodney Hood — who suffered from the injury last season — said, "feels like your foot is burning." Yikes.
"It's a tough thing to go through. Just hopefully we get him back, you know, somewhat healthy before the end of the season," Hood said.
Get well soon, G. We'd rather have your hands on fire instead of your feet. And not literally. Figuratively. You get it.