Journeyman: Any experienced, competent, but routine worker or performer.
As the Utah Jazz prepare for the 2013-2014 season, most of the fan base's interest is going to be in watching how the core of young players develop. While the front office's big off-season move involved trading for their point guard of the future and taking on one-year salaries for more financial flexibility and future draft picks, another signing seemingly went under the radar.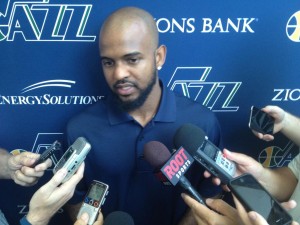 On July 22, 2013, the Jazz franchise signed 5'11" point guard John Lucas III to a two-year contract, without much fanfare. Lucas's most memorable highlight might forever be one that occurred before he ever donned an NBA jersey: he hit the game winning shot that sent the Oklahoma State Cowboys to the Final Four over St. Joe's in the 2004 NCAA tournament.  His willingness to take the big shot reminded many NBA fans of his basketball DNA; would he have the same on-court success as his father, John Lucas Jr.?
Before singing with the Jazz, Lucas had spent time with three other NBA franchises (Houston, Chicago and Toronto). He's also spent time playing the game globally in Italy, Spain and China. His career numbers are modest, with career averages of 5.1 pts, 1 rebound and 1.5 assists per game. It's about what one might expect for a backup point guard. For stat geeks, his advanced stats suggest that he'd be a productive player given more minutes, which is reassuring if he's ever called on to play extended minutes. For many, John Lucas III is the quintessential NBA journeyman. However, if beauty is in the eye of the beholder and if it's true that the numbers don't always tell the entire story, then Jazz fans have one of the game's true character guys who could help continue to mold some of the younger guards on the Jazz's roster.
Fathers can cast long shadows over the lives of their sons. For some, a lifetime can be spent trying to create an identity apart from this shadow. For others, the bond between a father and son runs much deeper. Our culture is all too familiar of the narrative that involves a child's exposure to substance abuse. There are too few happy endings. However, on occasion, we are reminded that redemption is still a better story. Most people familiar with the sports landscape know that John Lucas Jr has dedicated his life to helping athletes who struggle with substance abuse. JL3's journey has no doubt been shaped by these experiences. It's no wonder then, when Baylor University basketball was rocked by a scandal involving widespread drug abuse and the murder of a teammate, Lucas III had the wisdom to continue his education at Oklahoma State. His life's experiences up to that point (his father had turned his life around by then) had prepared him to handle this type of adversity and respond accordingly, an intangible virtue for an NBA point guard.
For most Jazz fans, the love of their team also includes loving the individual parts that make up the whole. It matters to the organization and to the larger Jazz community that the 'right kind of player' finds his way into a Jazz uniform. John Lucas III's narrative fits that description perfectly. It should be easy for Jazz fans to cheer for someone who has experienced so much adversity yet gracefully embodies what it means to overcome. It should be easy to cheer for someone who will contribute to the team's success on the court and have an influence on his teammates off of it.
With John Lucas III, the numbers don't tell the entire story. While his stats may suggest to some that he's just a typical NBA journeyman, the sum total of his life suggests so much more.