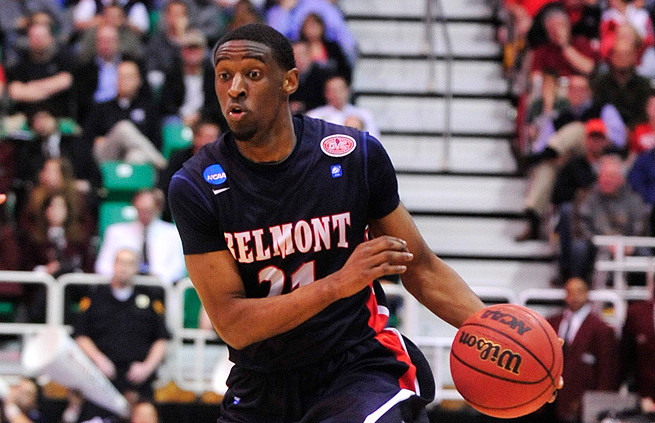 Editor's note: This is the second in the annual series from Salt City Hoops ranking the current players on the Utah Jazz roster. Throughout the preseason, we'll count up through the current Jazz roster, from worst to first, profiling each player as we go along. The profiles are individually written by Salt City Hoops' staff of writers, while the ranking was selected by me (Andy Larsen). To go through JazzRank articles from this or past preseaons, visit our JazzRank category page. Ian Clark is #12.
I really like Ian Clark. This isn't a particularly auspicious start for a player profile, in some sense meant to be objective. This is especially true because it's from myself, now a reporter after getting credentials from the Jazz and therefore subject to the written and unwritten rules of the reporter/reportee relationship.
I don't really even have a particularly good reason to like him: I've met him exactly once, and the only actually endearing thing he did was to get nervous when we, the assembled media, asked him our eighth question. The question itself wasn't notable, but his reaction was adorable. Here's what happened:
Media: Talk to us about the relationship between (boring reporter question ensues)…
Ian (lost in thought): Wow! I've actually made it to an NBA team! This is very definitely what I've wanted my entire life! And indeed, look how important I am! There are a bundle of reporters gathered around me! This is glorious!
Media: *expectant stares*
Ian: *with the sheepish look of a child who has just screwed up* Wait, sorry, can you repeat the question?
But I suspect the bigger reason I like Ian Clark is his immediate backstory. Small school Belmont took on large-school Arizona in the NCAA tourney, but didn't win, because upsets are upsets for a reason. Definitely the leader on his school's team, and literally the best shooter in the nation, Clark was only barely gets invited to the Portsmouth Invitational Tournament, which is basically composed of 30% fringy second-round types and 70% good college players who have no chance to make the NBA. It's ostensibly a tournament for NBA scouts, but often, it takes on a bigger role for international teams, trying to decide if any of these American players are worth pro contracts. Only one player (James Ennis) invited to the PIT was drafted this year, the rest were left to fight for summer league jobs, or worse, looks overseas.
He did well at Portsmouth, making the all-tournament team (BYU star Brandon Davies was named MVP), which probably raised his profile enough for him to get a summer league invite from the Heat and Warriors. Then, he performed pretty well in Orlando, but exceptionally well in two or three games in Las Vegas, including notably the final. Clark's summer league MVP. This is all largely because he continues to do what he's always done, shoot well.
Then, he had multiple teams hounding him, offering him an NBA contract with guaranteed money. Can you think about how ridiculous that is? In the space of a month, he went from completely unheralded, entirely off anybody's draft radar, to definitely playing in the world's best basketball league and being paid the princely sum required of anyone who does so. In fact, it's so ridiculous as to be seemingly damning for the scouting system overall: how does 12 games at the derided standard of summer league play merit such a huge jump in a team's evaluation of a player?
Interestingly, there's actually a decent statistical case for signing someone like Clark. Kevin Pelton took a look at the relevance of summer league play for ESPN.com this summer, and found that there was a .288 correlation overall between summer league stats and regular season stats. On a scale from -1 to 1, this isn't a very high value.
However, when the study was restricted to only rookies in summer league, the correlation coefficient jumps to .463, a much higher value, and one nearly identical to what their college statistics tell you, a coefficient of .468. In short, a rookie's summer league statistics tell you approximately as much about their eventual regular season success as the entirety of their collegiate statistics.
Luckily, Ian Clark has very good summer league and collegiate stats. He was ranked 44th in projected WARP (based solely on his pre-draft performance) among rookies in ESPN's projections, above such high drafted names like Alex Len, Gorgui Dieng, Mason Plumlee, and even Jazz selection Raul Neto. He had the best True Shooting percentage (67.4%!) of any player in college basketball last season. Remarkably, he shot 55% on 2 point jump shots last season, which is an excellent total on its own, but it's especially mind-blowing when you consider that he was only assisted on 10% of those shots. Pull-up jump shots are generally among the least efficient shots in basketball, but Clark made them one of his most important weapons. Undoubtedly, he's shown himself to be a superlative shooter.
Scouts point to Clark's lack of strength, secondary production, and small-school competition as reasons why he wasn't on their radar, but after his last fabulous year, he's shown that he deserves to get an NBA contract.
In 2013, Clark's defeated levels 1 (NCAA) and 2 (summer league), but levels 3 (preseason) and 4 (regular season) are still to go. While the odds are undoubtedly long for any undrafted player to succeed at the highest level, Clark may just be the one to bet on. I won't be the only one rooting him on.