Editor's note: This is the first in the annual series from Salt City Hoops ranking the current players on the Utah Jazz roster. Throughout the preseason, we'll count up through the current Jazz roster, from worst to first, profiling each player as we go along. The profiles are individually written by Salt City Hoops' staff of writers, while the ranking was selected by me (Andy Larsen). To go through JazzRank articles from this or past preseasons, visit our JazzRank category page. Toure' Murry is #14.
Having seen Toure' Murry for just 11 preseason minutes, Jazz fans don't have a lot to go on with regards to his actual on-court production. Instead, we're going to use Murry as instructional evidence for how the Jazz's front office thinks.
Kevin O'Connor's reign as Jazz General Manager featured a lot of point guards who couldn't defend their position. A quick run-through1: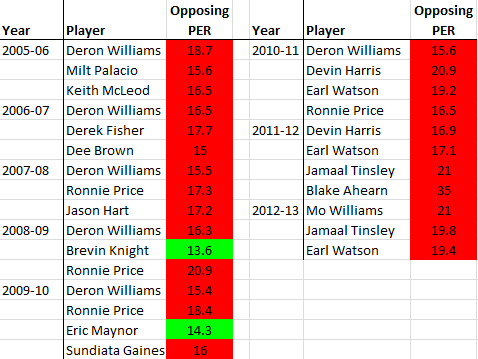 Average PER is calibrated to be 15 each season,2 so out of the above 27 point guard player-seasons, only 2 featured above average defensive performances. That's not a very good ratio.
Dennis Lindsey has seemed to try to fix this (or at least give his coaches a more defensive option) by picking up point guards with significant size. Of course, Dante Exum is the most notable example (standing at 6'6"), but he's not the only one.  Last year's D-League pickup-turned-rotation-member Diante Garrett is 6'4", recently waived training-camp invitee Dee Bost is 6'3", and finally, the subject of this post, Toure' Murry, is 6'5". 3
In today's ESPN Insider player profiles, Kevin Pelton described Murry's defensive prospects thusly: "The upside for Murry is largely at the defensive end. He's big enough to play either backcourt spot and has long arms, yet more than quick enough to defend point guards. Murry's 2.7 percent steal rate in limited action would have put him in the league's top 20 if he qualified." In practice, Murry seems to be showing this talent. When I asked Quin Snyder about how Murry was performing overall in training camp, he immediately turned to his defense, saying: "I think defensively he's giving us something. He's long, he gives effort on the defensive end. He's done a good job."
Whether this defensive PG plan comes to fruition is up in the air. Last year's point guards were just as bad defensively as the point guards of years prior, and while Diante Garrett's 6'4" frame helped him average the second-highest steals per minute on the roster, they didn't help him prevent his opposing backup point guards from going off on him, as they had a 19.0 opponent PER. For Murry's part, he's been perhaps too eager to show this part of his game: in just 11 total preseason minutes, he's had 4 fouls, and somehow picked up 6 in a 24-minute scrimmage with a running clock. Last season, his 4.4 fouls per 36 minutes would have led all rotation players on the Jazz4. If he can't tone it down, he'll hurt the Jazz by fouling more than help with steals.
Offensively, Toure' Murry shows another part of Dennis Lindsey's thought process: that maybe a pure point guard isn't always necessary. In 2013, after drafting Trey Burke, Lindsey said the following: "I think in some programs the 'pure point' thing is, frankly, overstated. You just need a good player. But here, with this system, with this market, they want their points to lead, to orchestrate, to organize, to pass, to create pace (and) to be able to make shots." Since this quote, the Jazz have entirely changed their system to a scheme in which everyone acts as a playmaker, naturally de-emphasizing the pure-point abilities of the PG himself. Murry can run an offense, but he's mostly a scorer. He's capable of attacking the basket and finishing once he gets there, as well as hitting 3 point shots (5-12 with the Knicks last year, 36% in the D-League).
Let's be clear: at the NBA level, Murry isn't elite or even above-average at these things. That's why he wasn't drafted, why he didn't get a qualifying offer from the Knicks this offseason, and why he was available for the Jazz to sign for only a $250,000 guarantee, or about 6 weeks of his 2 year, $2 million contract. If he doesn't show ability, it wouldn't be a surprise to see the Jazz cut him before the January 10th contract guarantee date, and have the Jazz move on to a new role player prospect.
That $2 million figure, though, could represent a bargain for the Jazz if Murry does put it together. The idea is that maybe, just maybe, the Jazz can find the next Danny Green, Tony Allen, or Patrick Beverley by taking a chance on one of these long, athletic players with defensive potential and adding enough of an offensive game to keep them on the floor. If it doesn't work out, the team is out $250K, nearly nothing in NBA terms. Why not take a shot?