On any franchise, there are particular positions that come with weightier expectations. For the Utah Jazz, that position is point guard. John Stockton's Hall of Fame shadow still imposes itself over the many who have come after him as the floor general for the team; he will always be the gold standard for point guards who put on the Jazz jersey. Dennis Lindsey and the front office brass are hoping their 2013 1st round draft pick ushers in the next great point guard era in Salt Lake City.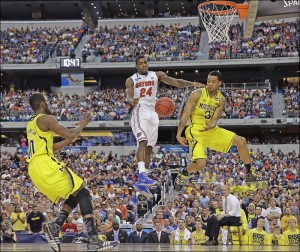 Trey Burke's resume is a reminder of his basketball pedigree. His accomplishments are every bit a reflection of his own dedication to his craft as well as the result of the influence of those closest to him, especially his father, Benji. Trey Burke is the most decorated collegiate that the Utah Jazz have ever drafted, and with that decoration comes lofty expectations. There are lingering questions concerning Trey's transition to the NBA. After all, we are talking about the 9th pick in the draft. Had there been no question as to his impact at this level, he would have gone sooner. In a radio interview with 1280, Nick Baumgardner from MLive.com said about his time at Michigan, "He was everything people thought he would be, times 100." Jazz fans would love to say that about this young man.
Trey's strength as a player is in his ability to run the pick-and-roll and get other players involved. His collegiate numbers also suggest he has the game to score when needed. He finished his last year at Michigan shooting over 46% from the floor (over 38% from 3-point range) and 80% from the FT line. His offensive numbers are solid and his assist to turnover ratio (3.5 to 1) suggests that he knows how to take care of the ball. However, with an upgrade in competition playing NBA point guards night in and night out, will Trey enjoy the same success that he enjoyed during his two years with the Maize and Blue? There is still quite a bit of an enigma surrounding the question as to what kind of pro Trey will be. Trey may be considered a 'pure point guard' in the sense that he only plays that position, but there is some debate as to whether he is a pass-first point guard or a scoring guard in a point guard's body.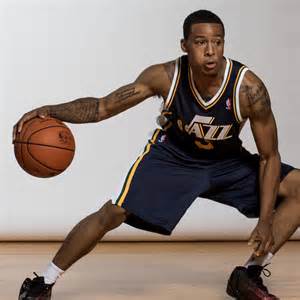 Jazz fans had their hopes set high for his debut in the Orlando Summer League, but if Trey's spring run in March Madness whet the appetites of Jazz fans, then his performance in the Orlando Summer League had the opposite effect. Trey struggled to make a jump shot, seemed to have issues running the offense and his performance was pedestrian at best. In fact, his learning experience included watching a game from the bench, so he could observe the game from the sideline. Some within the fan base were quick to call the pick a bust and even wondered if Raul Neto, the Jazz's 2nd round pick from Brazil, was more prepared to take the reigns as the Jazz's next point guard. Once the dust settled in Orlando, Trey left Summer League with a shooting average of 24% from the floor, and only 5% from 3 point range.
No doubt, there was pressure to perform and Burke admitted to putting too much on himself. Furthermore, playing meaningful college games into April and preparing for the NBA draft left him with little in the tank. While some may take more convincing that his performance was the exception and not the rule, since summer league, Burke has been committed in preparing himself to be a successful pro. He spent time with John Stockton in Spokane, learning what it takes to be a point guard for the Utah Jazz. His comments to play-by-play man David Locke upon his return as to what he learned are telling: that he'd work to get his teammates involved early and often and then let his game come to him later. Unfortunately, his pre-season was cut short when he broke his finger in the Clippers game. The diagnosis that he would need surgery and an overall uncertainty as to when he will return has dampened some of the optimism that surrounded the team going into training camp. While the injury is a set back, Jazz fans should still get plenty of doses of Trey this season.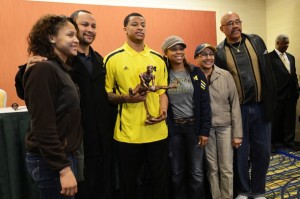 Trey's agent is his father Benji. Trey indicates they are now close, but that wasn't always the case. Benji was a college player himself back in the day, so he knows something about the dedication it takes to be successful. He also has grown to appreciate that his desire was to be a father that coached Trey and not a coach who was also Trey's father. (Read that story here). Benji pushed Trey to be great and mentioned at his press conference in Salt Lake City, that he and Ronda (Trey's mom) raised him to be a pro. Benji's influence has shaped Trey's life in countless ways, including the decision to attend Michigan in the first place. Their relationship was far from perfect, but it's refreshing to see an instance where a familial closeness expresses itself in such meaningful ways. I don't pretend to know Benji or Trey, but there is a sense that despite their growing pains, Trey trusts Benji, both as a father and as his agent. A man who values his family so highly just might find a home in Salt Lake City, UT.